Wednesday 13th December 2006
My Holiday Gift to You!
As a small holiday gift to you all...

I welcome you to download Bron Marshall's PDF Calendar for 2007!. The calendar includes a collection of my favourite photos and images taken throughout my 2006 food blogging year.

It is ready to download now completely free and in plenty of time to print for the New Year! Whilst you are printing out one, you're welcome to print some more for your friends and family too!

Naturally none of this would have been possible without some much appreciated help from my wonderful hubby! Thank you J, I love you!!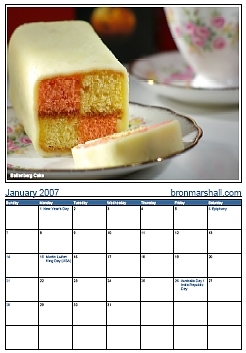 The calendar can be downloaded by clicking here and is 1 MB in size.

Along with 12 photos from my blog, the calendar includes most internationally recognised holidays and important dates for both the Southern and Northern Hemispheres, with plenty of space to add in your own special days too.

The photos chosen are my personal favourites and include images from the following blog posts and recipes.



I hope you will download and enjoy revisiting these photos in the months of 2007! They are a small gift from me in appreciation of all of you, my readers and the truly delightful and lovely comments I have received throughout the year, Thank you!

Happy Holidays, Happy Hanukkah, Merry Christmas and a very very Happy New Year to you all!

Many Thanks


Home · About Bron · Portfolio · Recipe Index · Unit Converter
RSS Feed · Atom Feed · Twitter · Facebook · Flickr · Bron's Amazon Store