Wednesday 19th July 2006
Green Bean, Goat cheese and Kalamata Salad
We were very fortunate to have some warm sunny NW weather during the weekend and after reading all the Northern hemisphere blogs celebrating summer over there I had a sudden urge for some fresh cool salads. Not to mention berries and icecream! - that post to follow soon.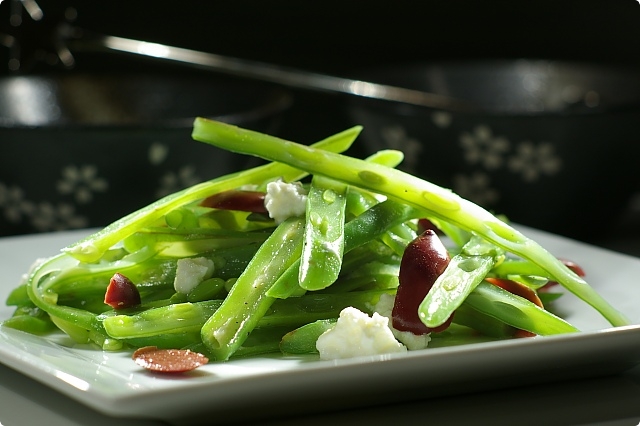 Salads are fantastic eating, from a very simple salad with few ingredients to the more complicated with a complex mix of different flavours. Warm salads, cool salads… I think they are all terrific!

We shouldn't only enjoy them in summer or warmer weather either. Just as we enjoy hot soups all year round, salads can be equally enjoyable all year round.

This is a favourite simple salad of Green Beans, soft goat cheese and Kalamata olives which I've adapted from a recipe I found in magazine several years ago. Any French style green beans, runner beans or even Mangetout work well. However, only blanch them enough to bring out their vibrant green colour - make sure they still retain some of their crunch!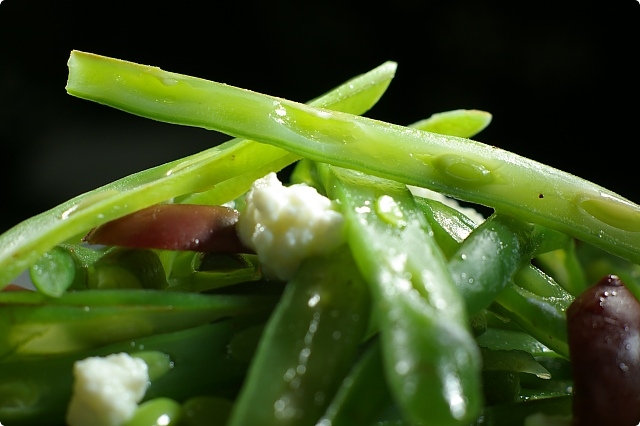 Green Bean, Goat cheese and Kalamata Salad
250 grams of fresh green beans, topped and tailed
75 grams of Kalamata olives, stoned and sliced
Juice of 1 lemon
2 tablespoons of extra virgin olive oil
freshly ground black pepper
maldon sea salt to taste
75 grams of goat's milk fromage blanc, ricotta, soft feta or similar

First blanch the green beans in boiling water for 2 to 3 minutes and refresh in iced water.
When cool, slice the beans as thinly as you can lengthwise.
In a bowl toss the beans, with sliced olives, lemon juice, extra virgin olive oil, pepper and salt to taste.
Lastly, crumble the cheese and very gently fold through the beans so as not to break it up too much or turn it to a creamy dressing!
Divide into 4 portions and serve immediately.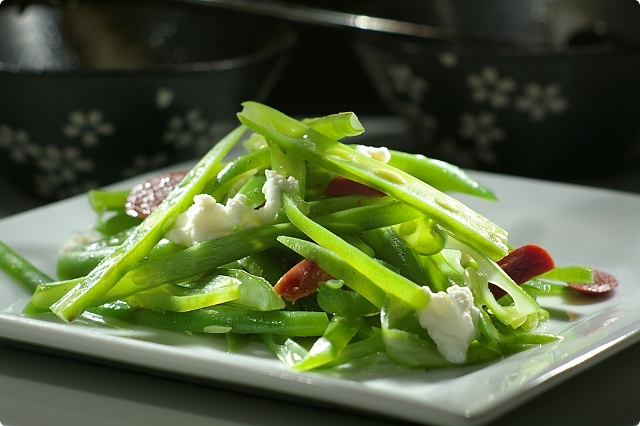 Enjoy!


Home · About Bron · Portfolio · Recipe Index · Unit Converter
RSS Feed · Atom Feed · Twitter · Facebook · Flickr · Bron's Amazon Store