Wednesday 21st November 2012
Petites Elderflower Madeleines
I had hoped to post these little ones up yesterday, but with one thing and another, having spent a lot of time waiting in queues on humpty bumpty Christchurch roads in the wet... sigh. I ran out of time.
I actually made these on Monday afternoon after the
crepes we had for lunch
to have with a cuppa.
Now isn't it funny how sometimes you can't see what is right under your nose?
We have several wild Elderflower bushes around home, but the inspiration for these came from time, again spent in the car on the weekend. It took that down time to notice the Elderflowers starting to bloom along side our local roads which are thickly lined with them, together with Hawthorn.
In fact we often find we are pulling new seedlings out at home as the birds continually spread their seeds and have them sprouting much like weeds.
I'm not complaining, as I love the delicate flavour of elderflower and always keep a bottle of cordial syrup in the fridge for quenching my thirst or adding a splash to flavour whipped cream and the likes.
The worst part of Elderflowers is that they attract these tiny, measly, little black bugs. I'm not sure what they are.
They are the smallest things you can see with your eye, seriously less than one eighth of the size of a flea!
And in the past they have caused me untold grief finding their way into my laptop screen and dying behind the glass and into the LCD screen on an old point'n'shoot I gave my fairies... grrr!
So it was at a huge risk I brought the flowers into the studio to snap beside these madeleines. It was not before I spent a good 20 minutes flushing them out under the tap however, changing my clothes and praying I hadn't missed any of the bastards!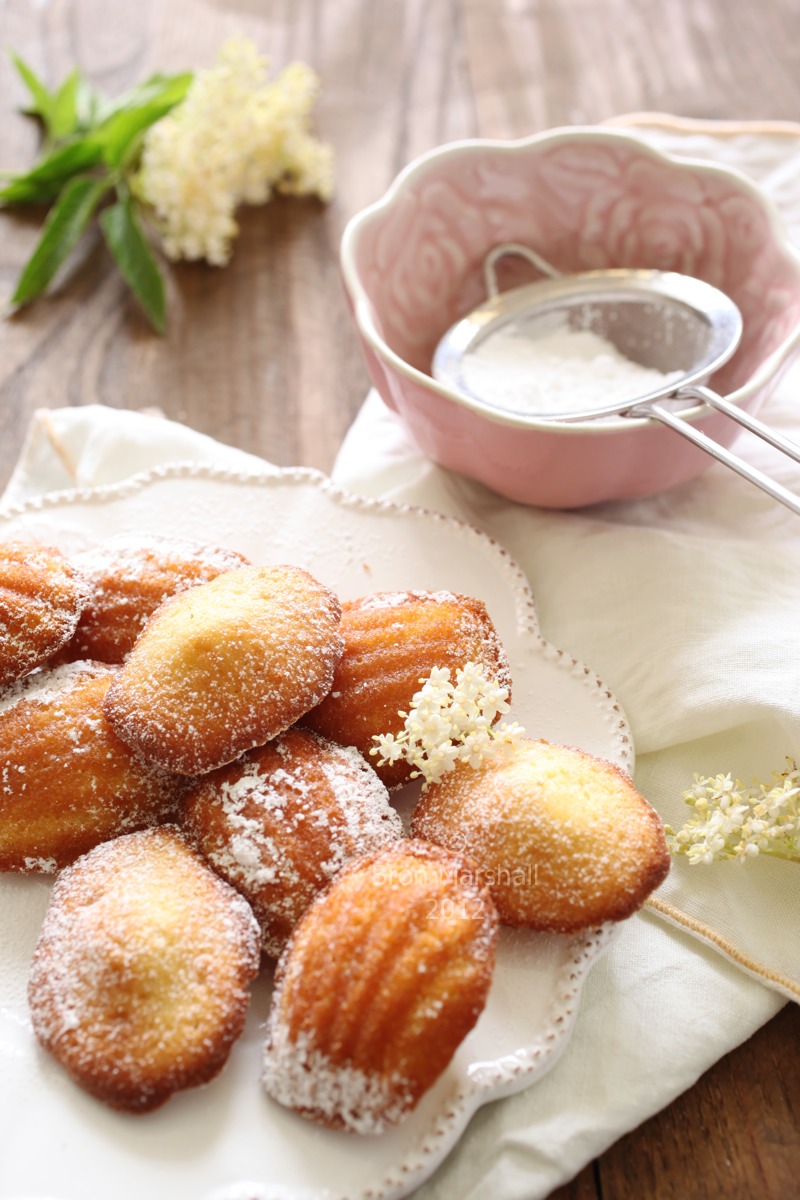 Elderflower Madeleines
75 grams of butter, melted and cooled
2 medium sized free range eggs
75 grams of white sugar
3 tablespoons of Elderflower cordial syrup
zest of ½ a lemon
¾ cup / 100 grams of plain all-purpose white flour, sifted
½ teaspoon of baking powder
Extra Elderflower cordial syrup, to glaze
Icing / confectioners sugar
In a large bowl, whisk the eggs and sugar together until they are thick, pale and fluffy.
Sift together the flour and baking powder.
Combine the Elderflower syrup, zest and butter.
With a flat spatula fold the sifted the dry ingredients into the fluffy egg mixture alternating with a little of the butter mixture until just combined.
At this stage you can refrigerate the mixture to help ensure the signature "bump".
I prefer to transfer the mixture into a plastic piping bag first, as it takes up less room compared to the bowl, be sure to secure the end so there is no spillage.
Let the mixture rest in the fridge for at least 4 hours. (You can make the mixture ahead of time - it will keep fine for about 3 days)
When ready to bake; grease the madeleine pan with plenty of butter and dust with sifted flour, be sure to cover every nook and cranny, so your madeleines don't stick.
Place the pan in the freezer to chill for a couple of minutes while you preheat the oven to 200°C (390°F)
Pipe the chilled mixture into each madeleine mould ¾ or until almost full.
Bake for 8 to 12 minutes depending on the size or until the madeleines are golden and spring back when you touch the centre.
Brush the warm madeleines with the extra syrup and dust with icing sugar, serve right away or allow to cool and store in an airtight container.
Makes 12 large madeleines and approximately 24 smaller ones.
I raised to my lips a spoonful of the tea in which I had soaked a morsel of the cake. No sooner had the warm liquid, and the crumbs with it, touched my palate than a shudder ran through my whole body, and I stopped, intent upon the extraordinary changes that were taking place.
~ Marcel Proust
May your next madeleine experience be extraordinary too!

Blog Recipes · Cake Recipes · Cakes Recipes · Spring Recipes
Home · About Bron · Portfolio · Recipe Index · Unit Converter
RSS Feed · Atom Feed · Twitter · Facebook · Flickr · Bron's Amazon Store