Thursday 20th July 2006
Hay Hay It's Donna Day #4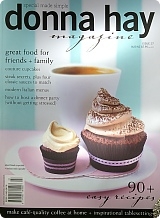 The lovely Barbara, (founder and creative genius of the Hay Hay it's Donna Day Event) and I have taken the liberty of starting this 4th round of Hay Hay it's Donna Day while we standby by for Clare's HHDD#3 round up at Eatstuff.

As the privileged host for this 4th round I went straight to my copy of Donna's latest magazine, Issue #27 - this one with cupcakes on the front cover!

The feature on Bruschetta and Crostini (pages 44-50) leapt right out at me. The stunning photos of tempting toppings on crisp char-grilled breads really inspired me and got me thinking about just how many wonderful and different flavours can be included to make Brilliant Bruschetta!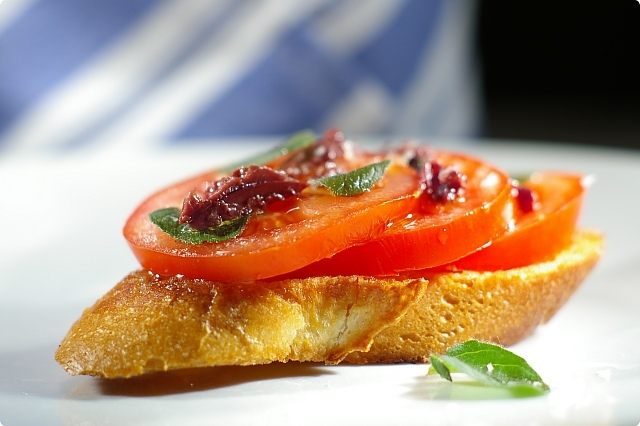 I thought it an ideal theme for the HHDD event, something that would likely appeal to most palates, I had also thought perhaps it was time we did a savoury theme, since the last 3 Donna Hay events had all been sweet recipes. However, having said that there is nothing to stop you making a sweet style bruschetta if you so desire!

So it is with much excitement I announce this new round of
Hay Hay It's Donna Day - Round #4 to be Brilliant Bruschetta!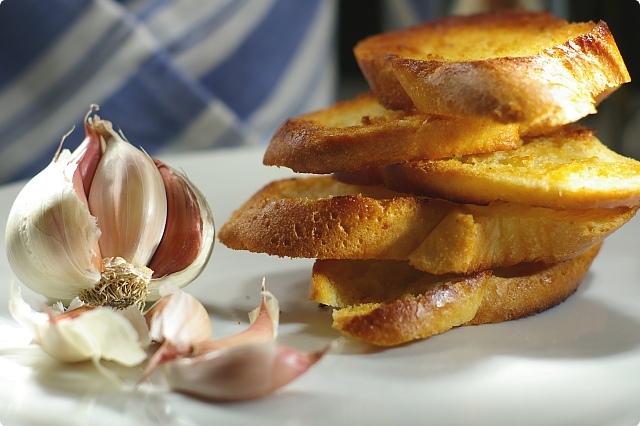 To get you started here are Donna Hay's Basic Bruschetta and Crostini Recipes


Donna Hay's Basic Bruschetta Recipe
Cut 1 loaf sourdough bread into 12 slices
Brush with olive oil and cook on a preheated char-grill (broiler) pan for 2 minutes each side or until golden.
Makes 12.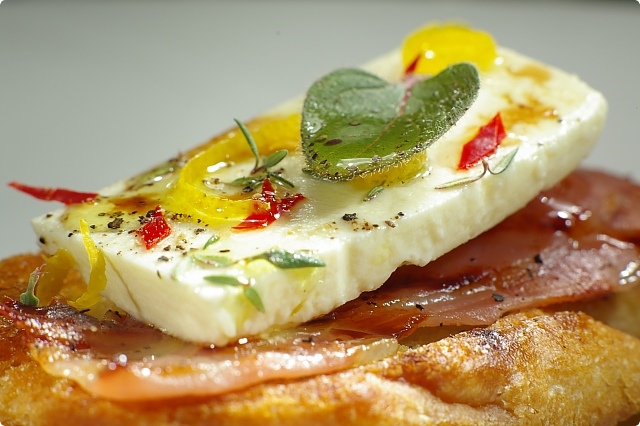 Donna Hay's Basic Crostini Recipe
Preheat the oven to 160°C (320°F).
Cut 1 baguette into 24 slices, brush with olive oil and place on a baking tray.
Bake in the oven for 10 minutes or until crispy.
Makes 24.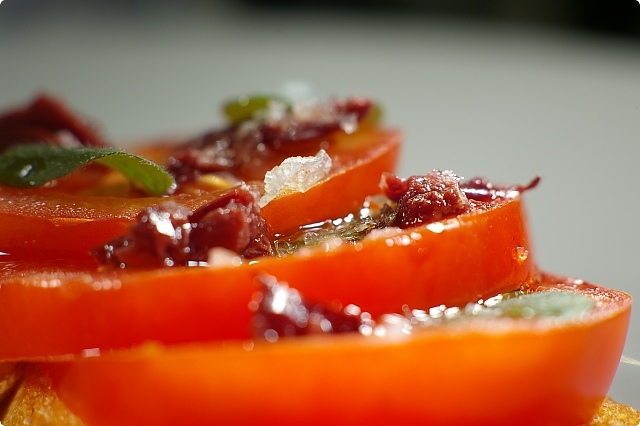 The rules of this HHDD #4… or in the words of Barbossa 'they're more what you'd call guidelines than actual rules'


Make at least two different bruschetta or crostini and blog about them.
The base of your bruschetta or crostini can be any char-grilled crispy bread, cake or baked goods.
Use any toppings you like, sweet /savoury it's totally up to you.
Have your entries to me (bronLITTLEDOTmarshallREMOVE@gmail.com) before the end of the month, that's BEFORE the 31st of July. Please include ALL of the following in your entry email...
1) your name,
2) your blog's name,
3) your location,
4) the url for your blog,
5) the url for your bruschetta,
6) the name/s of your bruschetta]]
Including this information in your email will make my job a lot easier, and therefore I will be able have the round up produced very shortly afterwards! You can also copy and paste the following technorati tag into your blog post if you wish.


The Bruschetta or Crostini voted most original and delicious looking will be decided by Friday the 11th of August. The winner's prize? Some fantastic Donna Hay goodies, yet to be advised!

The ideas and recipes for my bruschetta and crostini pictured also came from Donna Hay's magazine feature.


Tomato and Anchovy Bruschetta - Donna Hay
1 quantity basic bruschetta
2 garlic cloves, halved
6 vine ripened tomatoes, sliced
12 anchovy fillets, sliced
2 tablespoons oregano leaves
2 teaspoons extra virgin olive oil
2 teaspoons balsamic vinegar
¼ teaspoon dried chilli flakes
sea salt to serve
Follow the basic bruschetta recipe (above).
Rub each slice of bruschetta with the garlic.
Top with the tomatoes, anchovies and oregano.
Place the oil, balsamic and chilli in a bowl and whisk to combine.
Spoon the oil mixture over the tomato and anchovy bruschetta and sprinkle with salt.
Makes 12.
Quick Tip: If you are making large amounts of bruschetta, keep the smoke out of the house by cooking the bread on the char-grill (broiler) plate of the barbecue.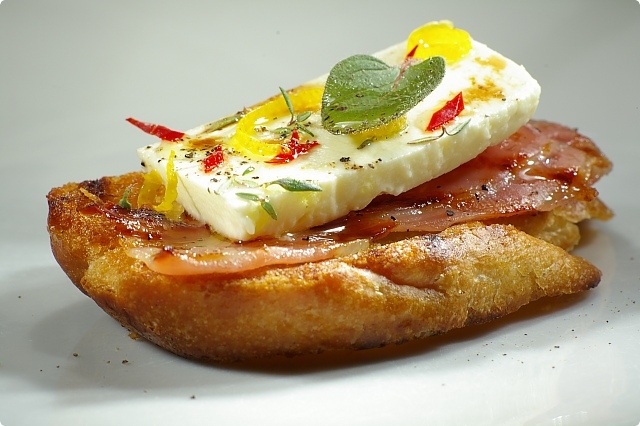 Chilli Feta and Crispy Pancetta Crostini - Donna Hay
1 quantity basic crostini
200 grams (7 oz) feta cheese
1 tablespoon lemon zest
1 red chilli, chopped
1 teaspoon lemon thyme leaves
¼ cup (2 fl oz) extra virgin olive oil
cracked black pepper
12 pancetta slices, halved
24 basil leaves
Follow the basic crostini recipe (above).
Cut the feta into 24 slices and place in a bowl with the lemon zest, chilli, thyme, oil and pepper.
Gently toss to combine.
Heat a non-stick frying pan over a high heat.
Cook the pancetta for 1 minute each side or until golden and crispy.
Layer the crostini with the pancetta, feta and basil to serve.
Makes 24.
Quick Tip: If you are serving these appetisers at a dinner party, save time by making the crostini a day in advance. Store in an airtight container to keep crisp.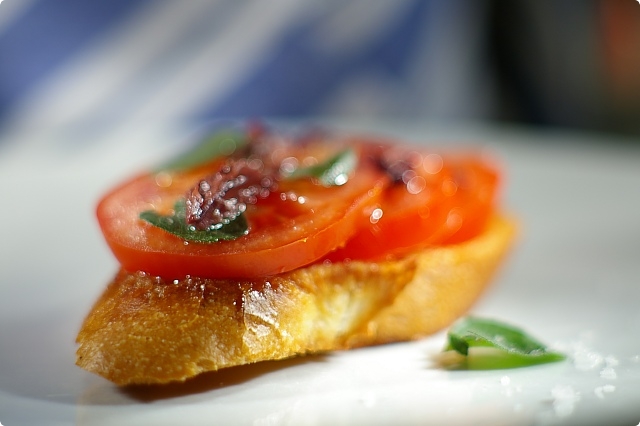 So get ya skates on, you have 10 days to send me your entries. I can't wait to see them. Come on, flood my inbox with Brilliant Bruschetta!

Cheers


Appetizer Recipes · Blog Recipes · Bread Recipes · Food Blog Events Recipes · Fruit & Veges Recipes · Vegetables Recipes · Winter Recipes
Home · About Bron · Portfolio · Recipe Index · Unit Converter
RSS Feed · Atom Feed · Twitter · Facebook · Flickr · Bron's Amazon Store