Thursday 22nd November 2012
Miners Lettuce with Sundried Tomatoes and Apricots
Often I'm not very good at planning lunches. We do breakfast rather well.
Basically if there's coffee I'm good, toast or cereal and the rest of my crew are happy.
Lunches are however rather
"What have we got?" "What can we make in a hurry?"
Exactly how this salad came about today.
Other than Miners lettuce being what we have and so easy to grow (difficult to get rid of!) I think my favourite thing about it is how my fairies describe it...
"like delicate lilly pads."
How cute is that?!
It's true even though it grows like a weed year after year, (besides to survive in my garden it has to be a fighter!) it's amazingly delicate.
Probably why you don't see it in supermarkets, far too short on shelf life and bruises very easily.
It also has other feminine-like graces in it's unusual full round skirt shape and pretty white flowers in the centre.
The texture and taste is much like baby spinach, the leaves stay tender and sweet all through summer given enough moisture, unlike other salad leaves which can quickly turn bitter with too much sun.
If you wanted to make this simple salad more substantial than what I've listed here you could add some crumbled blue cheese, or toasted pinenuts and shaved pecorino and of course if you don't have Miners lettuce, baby spinach will work just fine.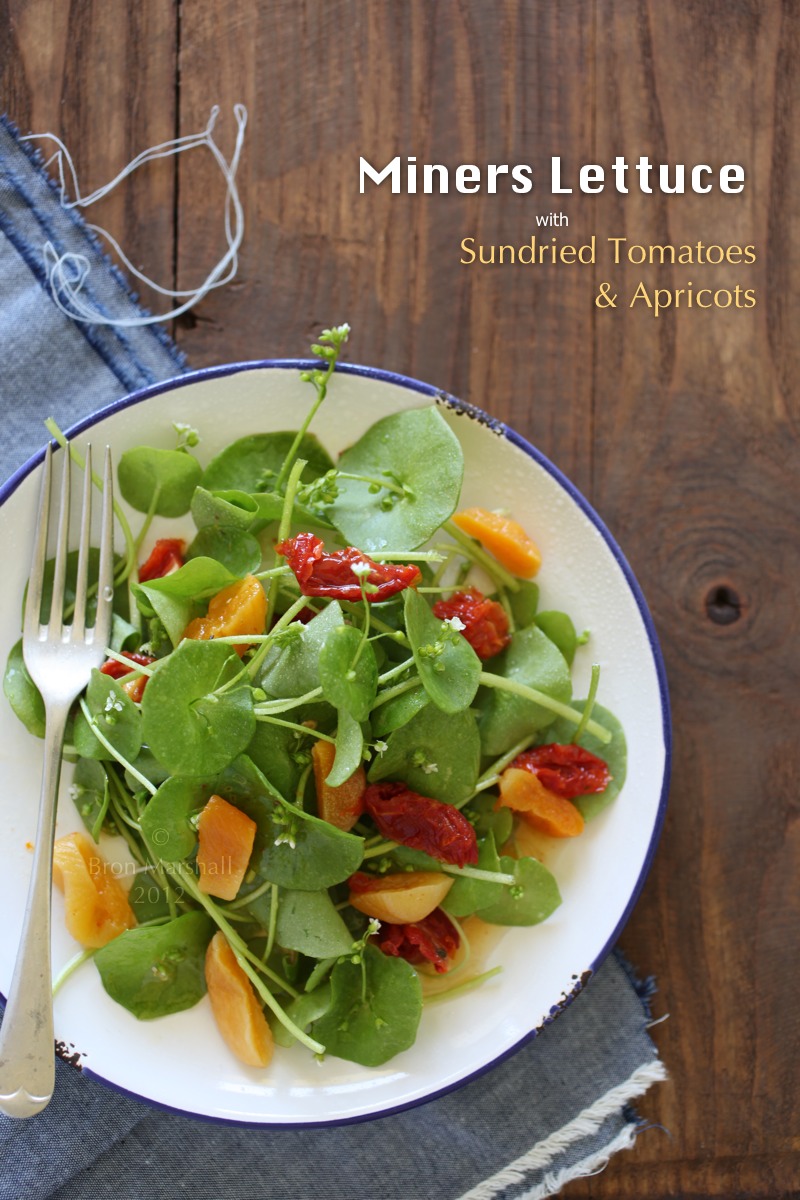 Miners Lettuce with Sundried Tomatoes and Apricots
3 to 4 loose cups of Miners lettuce (or baby spinach)
¾ cup of dried apricots, chopped
4 to 6 marinated sundried tomatoes halves packed in oil, I used Delmaine
For the dressing
4 tablespoons of fresh squeezed orange juice
2 tablespoons of white balsamic vinegar
2 tablespoons of cold pressed walnut oil
good pinch of natural flaky sea salt
Whisk together the dressing ingredients.
In a small bowl pour the dressing over the chopped apricots and sundried tomatoes to soften for 10 minutes while you collect your salad leaves.
Share the miners lettuce equally between four serving plates and top with the softened apricots and sun dried tomatoes.
Enjoy immediately.
Serves 4
Enjoy!

Blog Recipes · Fruit Recipes · Lunch Recipes · Salad Recipes · Spring Recipes · Vegetables Recipes
Home · About Bron · Portfolio · Recipe Index · Unit Converter
RSS Feed · Atom Feed · Twitter · Facebook · Flickr · Bron's Amazon Store