Thursday 29th November 2012
Chocolate and Marzipan Tea Cakes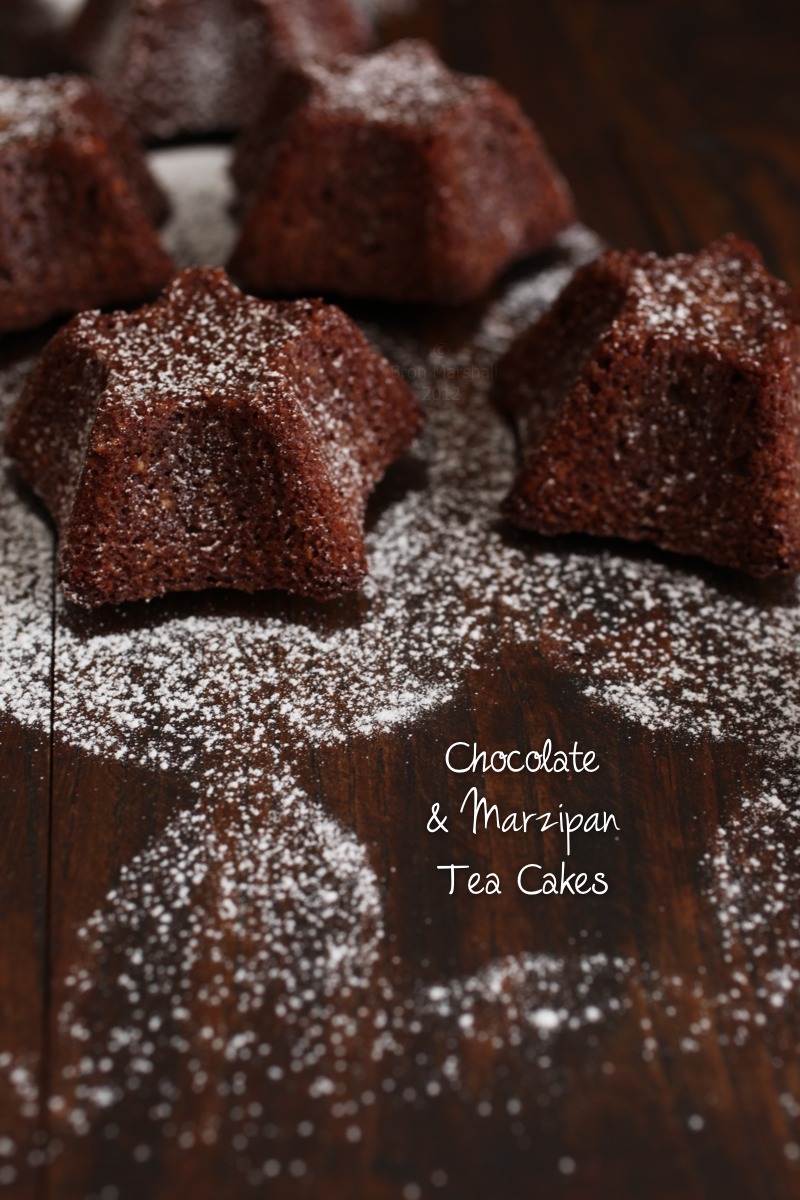 When I woke this morning at 6:00am with the sun beating in, it very quickly became too hot to stay in bed and all too soon J and I were up and getting about.
In true New Zealand style, an hour or so later after we finished our breakfast the southerly had arrived and it was bitterly cold again.
Sigh, if it had only rolled in a little quicker we wouldn't have been woken up so early. And after quite a few late nights, besides still weathering my cold I would have enjoyed a few more minutes.
Being cooler though is always a good excuse to bake, not that I need an excuse. In fact I had already planned to make
Ilva's Chocolate and Hazelnut Eggless cake
this morning.
BTW I did.. and it's great!!
I knew I had to make something else as well, after all I needed something to share with you.
H and I racked our brains and flicked through a pile of my recipe books looking for inspiration.
Even though Ilva's chocolate cake was in the oven, we kept coming back to more chocolate ideas.
H also wanted to make something Christmasy -
"Even though we have our Christmas in July Mum everyone else is thinking about Christmas"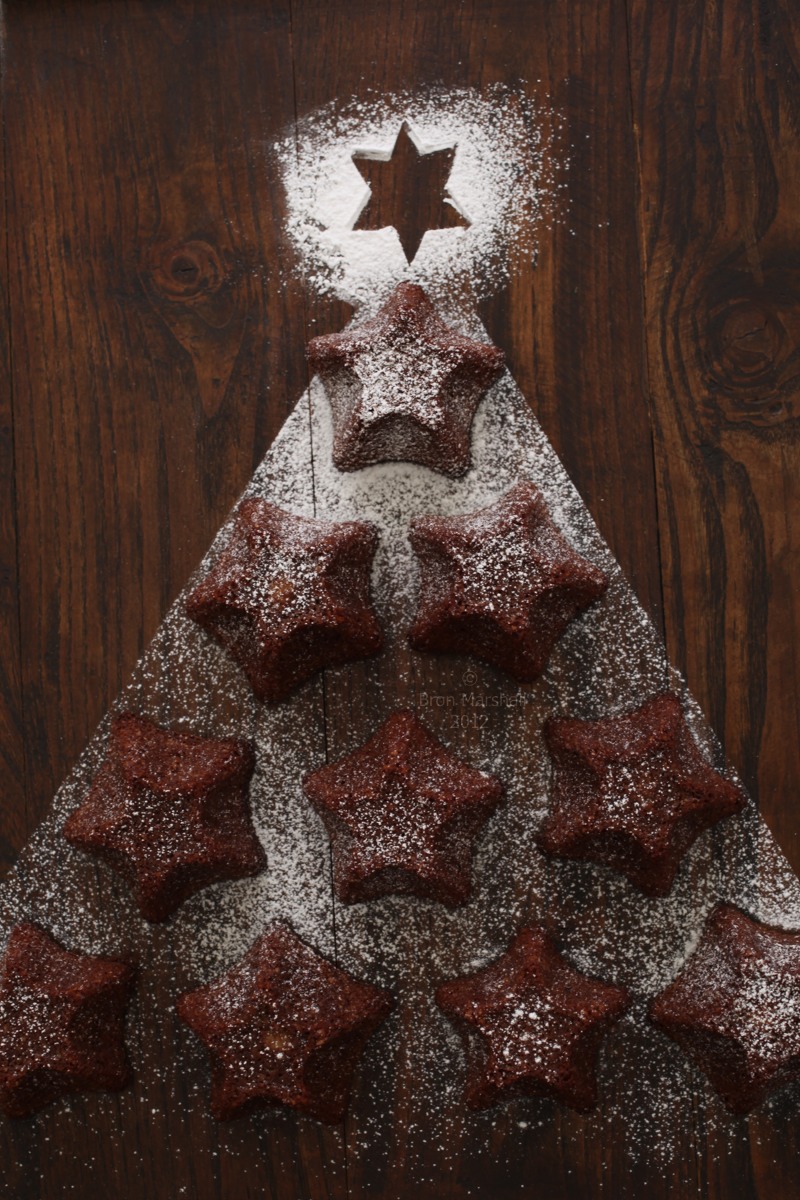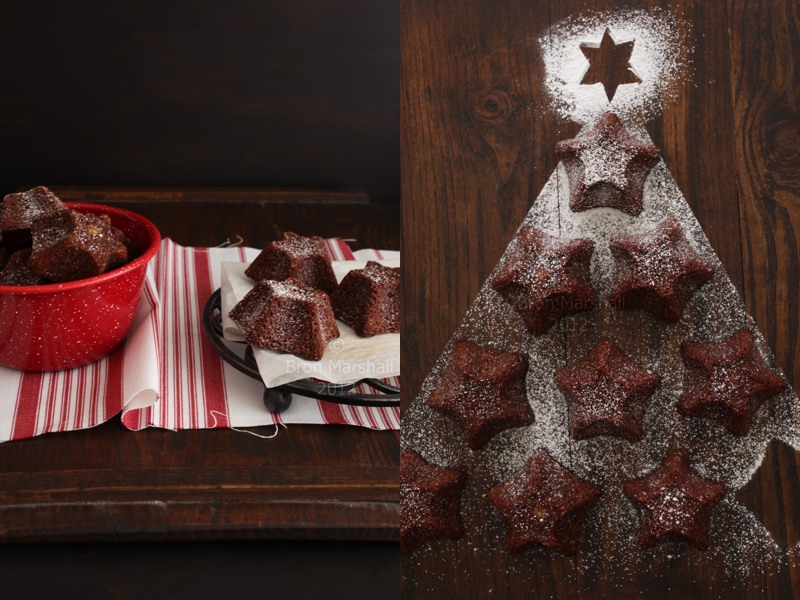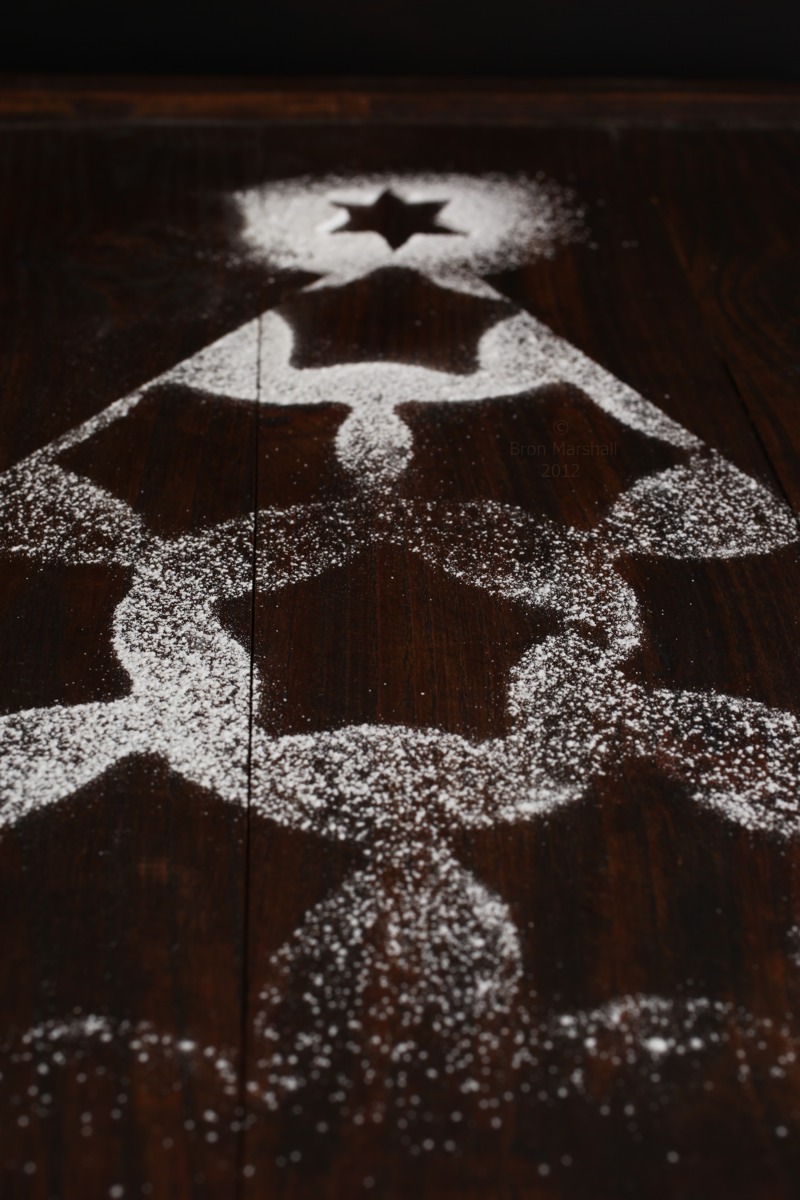 That's when I came across the idea of
Julie Le Clerc's
Marzipan Baby Cakes, her recipe isn't a chocolate batter and is a much denser cake than these lighter tea cakes.
The batter for my variation is so soft and luscious, it's almost like chocolate mousse.
Making it doubling difficult to refrain from lapping it up before spooning it into the moulds.
It's worth noting it only has a few of tablespoons of flour, which are easily replaced with buckwheat or quinoa flour if you need them to be gluten-free.
And if the batter wasn't gorgeous enough alone, the almondy marzipan is a pure delight hidden in the centre of each cake. Scrumptious!
I imagine you could recreate the marzipan using ground hazelnuts or walnuts for a different twist or add a piece of crystalized ginger or candied citrus to the marzipan for even more fancy cakes.
Whatever route you choose to take, I think you'll agree they are very "Christmasy!"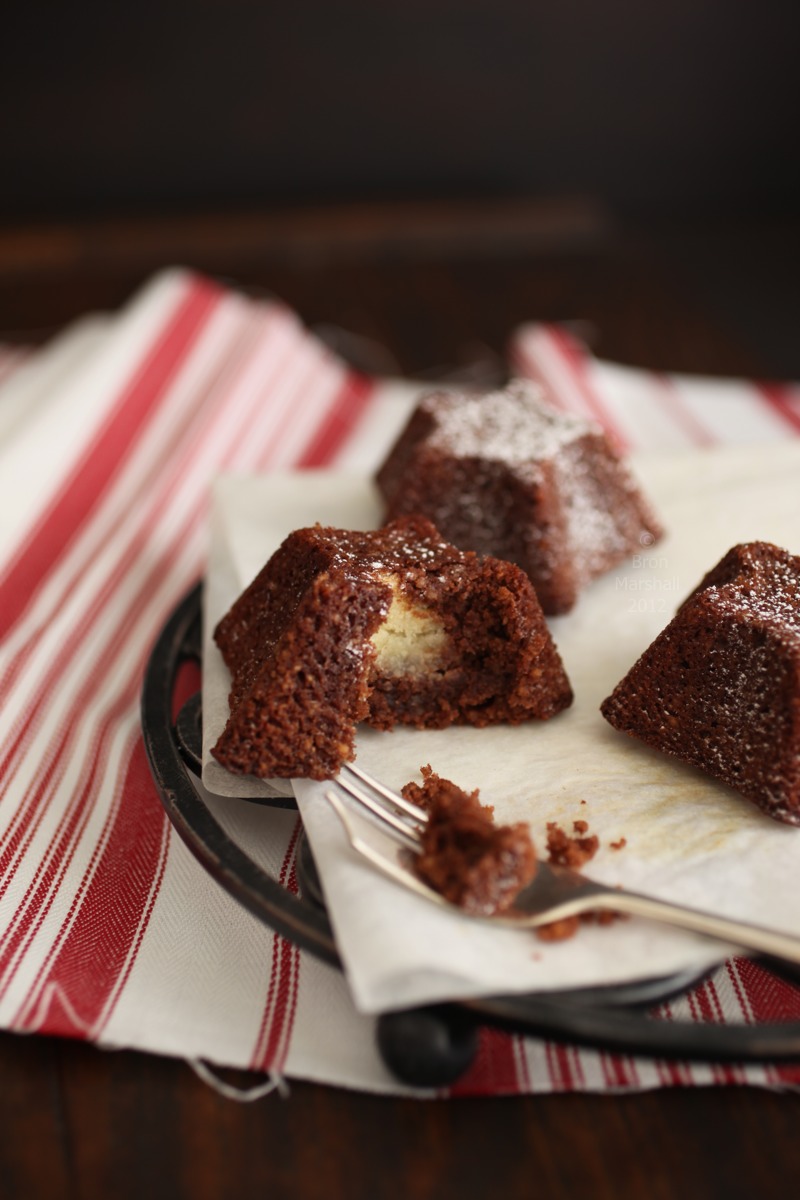 Chocolate and Marzipan Tea Cakes
For the Marzipan Filling:
70 grams of ground almonds
50 grams of icing sugar
1 egg white
1 teaspoon of almond extract
For the Chocolate Batter:
100 grams of salted butter
100 grams of dark bittersweet chocolate, minimum 60% cacao, chopped
2 whole eggs & 1 egg yolk
50 grams of golden caster sugar
50 grams of soft brown sugar
70 grams of ground almonds
3 tablespoons of plain flour, sifted (for gluten-free cakes substitute buckwheat or quinoa flour)
To make the Marzipan filling:
In a small bowl mix the ground almonds and icing sugar together.
Add the egg white and almond extract. (Save the yolk as you need it for the cake batter below!)
Mix well to form a stiff dough.
To make the Chocolate Tea Cakes:
Preheat your oven to 170°C (340°F)
Grease or line 12 muffin or friand sized moulds with cupcake papers - I used greased star shaped silicon moulds.
In a small saucepan over a low heat gently melt the butter.
Remove from the heat and add the chopped chocolate, stir well until smooth and all the chocolate has melted, set aside to cool.
In a large bowl and electric beaters or your stand mixer beat the 2 eggs and remaining egg yolk until fluffy.
Gradually add the golden caster and soft brown sugars and continue beating until very thick and pale.
With a large metal spoon gently fold in the ground almonds and sifted flour.
Finally fold in the cooled chocolate mixture until just combined.
Spoon just enough batter to fill your moulds ½ way and make a small indentation in which to fill with a small teaspoon sized ball of the marzipan mixture.
Cover the marzipan with a little more chocolate batter and bake for 15 to 20 minutes or until a skewer inserted into the middle comes out clean.
Once cool dust with extra icing if desired and put the kettle on for a lovely pot of tea to accompany them.
Makes 12
Happy Christmas Baking!

Blog Recipes · Cake Recipes · Chocolate Recipes · Christmas Recipes · Gluten Free Recipes · Sweet Recipes
Home · About Bron · Portfolio · Recipe Index · Unit Converter
RSS Feed · Atom Feed · Twitter · Facebook · Flickr · Bron's Amazon Store