Saturday 6th February 2016
White Nectarine and Purple Basil Mini Cakes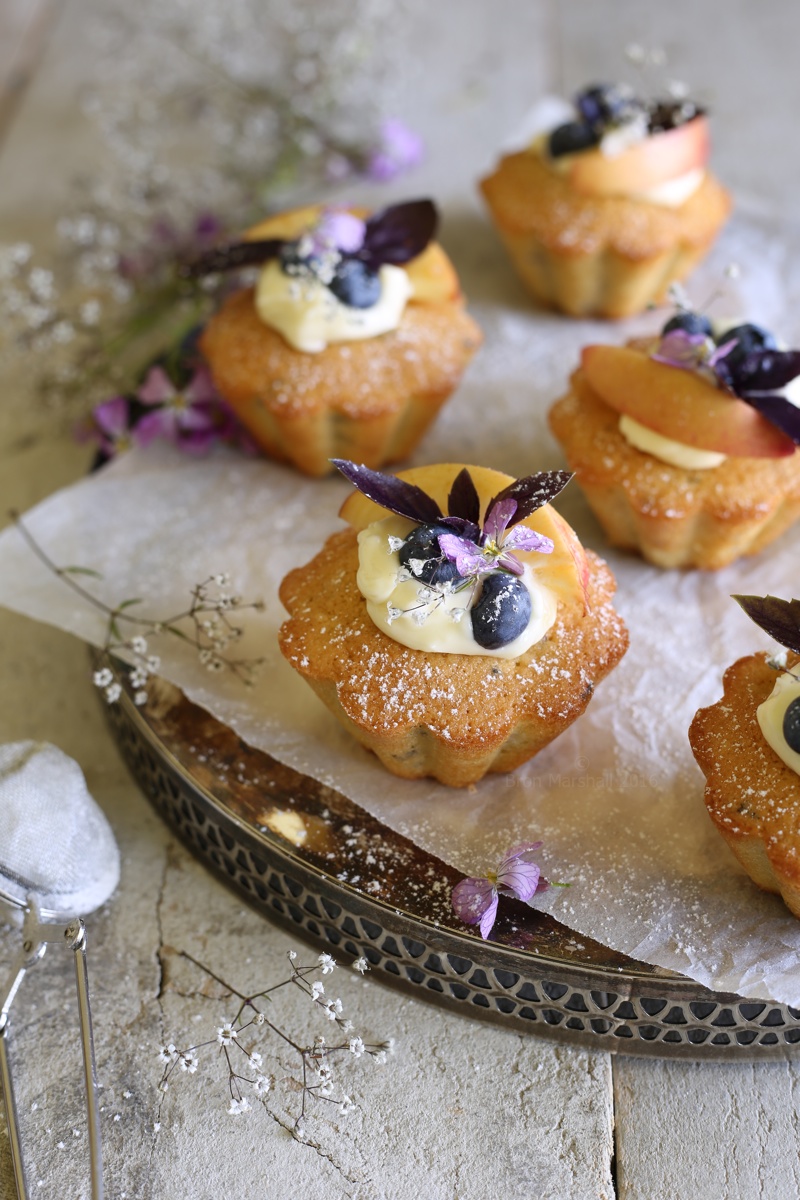 We grow and encourage many flowers within our vegetable patch to attract the bees and beneficial insects, but there are loads of other benefits too. Some we grow for companion planting, some are grown purely for their flower or scent such as sweet peas and poppies. Others are the vegetables themselves that have run to seed.
It all makes for a very pretty, if rather wild and unkept looking garden. Which we all enjoy walking around, running our hands through and watching the hive of insect activity as the wind jostles them about.
A stark contrast to the acres on acres of scary / boring barley crops next door, that have little to no life in it.
Of course many of our flowers are edible too, so make great additions to salads or decorations for cakes.
This year has been a particularly purple year (try saying that with a mouthful of these yummy cakes!)
with many radishes bolting into beautiful soft flower stems and where my purple basil has outdone the more common green varieties.
While obviously there are many savoury things basil enhances, fresh or cooked, we also enjoy basil in sweeter fruit salads and this week in these pretty
White Nectarine and Purple Basil Mini Cakes.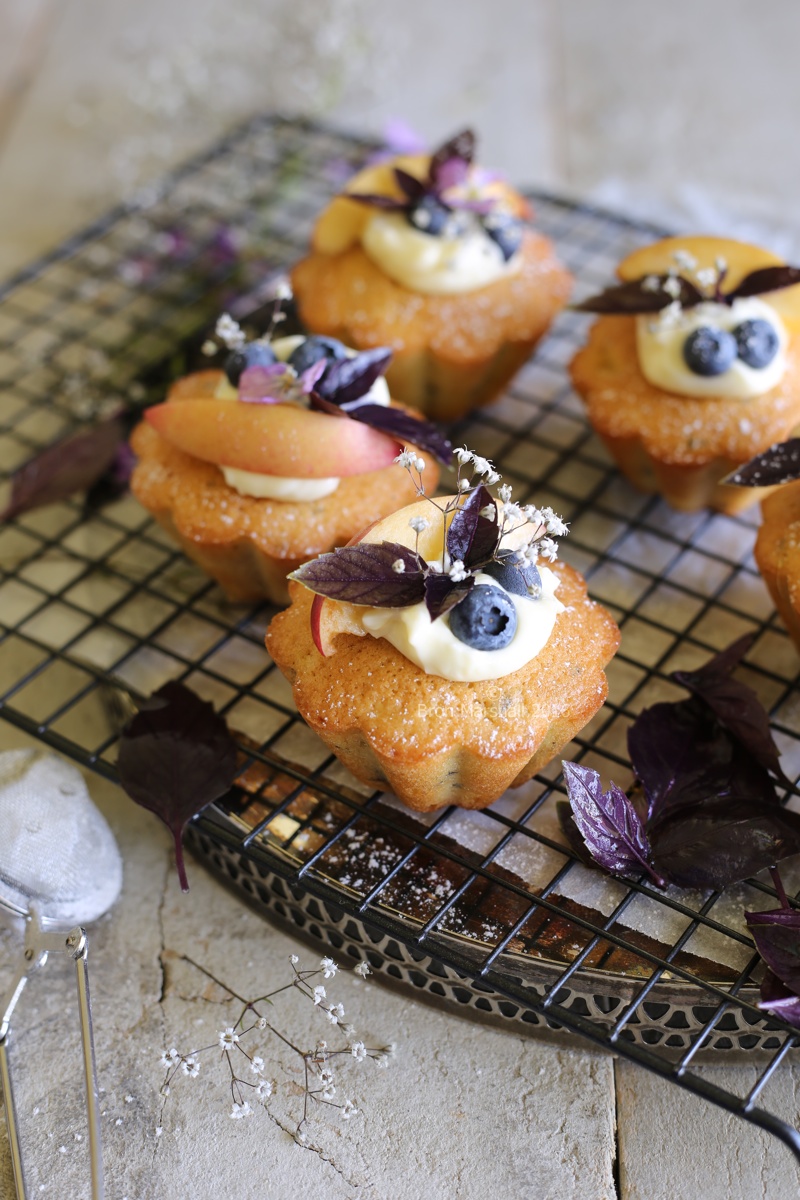 I put a little cream cheese icing on these as glue to hold some extra nectarine, blueberries, the basil and flowers in place. However that's entirely optional as they are perfectly sweet and delicious without icing too.
White Nectarine and Purple Basil Mini Cakes
75 grams of unsalted butter, melted
pinch of salt
2 ripe white nectarine, finely diced or mashed
small bunch of purple basil, finely sliced
3 eggs
¾ cup of caster sugar
1 teaspoon of vanilla extract
1 cup of flour
1 teaspoon of baking powder
40 grams of ground almonds
½ cup of cream cheese, softened
1 dessertspoon of unsweetened thick yoghurt
icing sugar
white nectarine, sliced and drizzled with fresh lemon juice to prevent browning
purple basil, blueberries, edible flowers to decorate
Preheat your oven to 180°C (360°F)
Grease 10 silicon muffin moulds (or other ¾ - 1 cup capacity cake mould shapes of your choosing) with some of the butter.
Mix the remaining butter together with the salt, diced nectarine and sliced purple basil and set aside.
In your stand mixer or with electric beaters, whisk the eggs in a large bowl until thick and pale.
Gradually add in the caster sugar and vanilla and continue to whisk until the sugar has dissolved.
Sift the flour, baking powder and ground almonds together and gently fold ½ into the whisked egg with one ½ of the butter and nectarine mixture. Repeat with the remaining mixtures until fully combined.
Place large spoonfuls of the mixture into each muffin mould until they are ¾ full.
Bake for 20 to 25 minutes until golden and cooked through when tested by inserting skewer into the middle.
Leave the cakes in their moulds for 5 minutes before placing on a rack to cool.
Mix the the cream cheese and yoghurt together and add icing sugar to taste or just enough to make a thick paste that holds it's shape. You may wish to refrigerate the icing to firm it up, and avoid using more icing sugar.
Decorate the mini cakes with a spoonful of cream cheese icing, slices of nectarine, a few blueberries, purple basil and edible flowers as desired.
Blog Recipes · Cake Recipes · Cakes Recipes · Fruit Recipes · Herbs Recipes · Summer Recipes · Sweet Recipes
Home · About Bron · Portfolio · Recipe Index · Unit Converter
RSS Feed · Atom Feed · Twitter · Facebook · Flickr · Bron's Amazon Store