Friday 23rd November 2012
Salted Caramel Custard and Baked Rhubarb with Orange
I believe it's always a good idea to end the week on a sweet note and after all the gorgeous Thanksgiving pie I've seen today on
instagram
and
flickr,
I had a huge sweet craving to quell this afternoon.
My recipe is slightly inspired by a recipe I read recently in
Nigel Slater's
new volume of
The Kitchen Diaries II,
it's on page 206 if you have a copy and it's called
"Rhubarb with Butterscotch Sauce."
He gently stews his rhubarb in the saucepan on the stove and then creates the Butterscotch sauce from the remaining syrup after removing the soft rhubarb pieces.
Today's recipe creation is also due to a my childhood memory of my grandmother's caramel custard and fighting over who would get the spoon or clean out the jug with my siblings.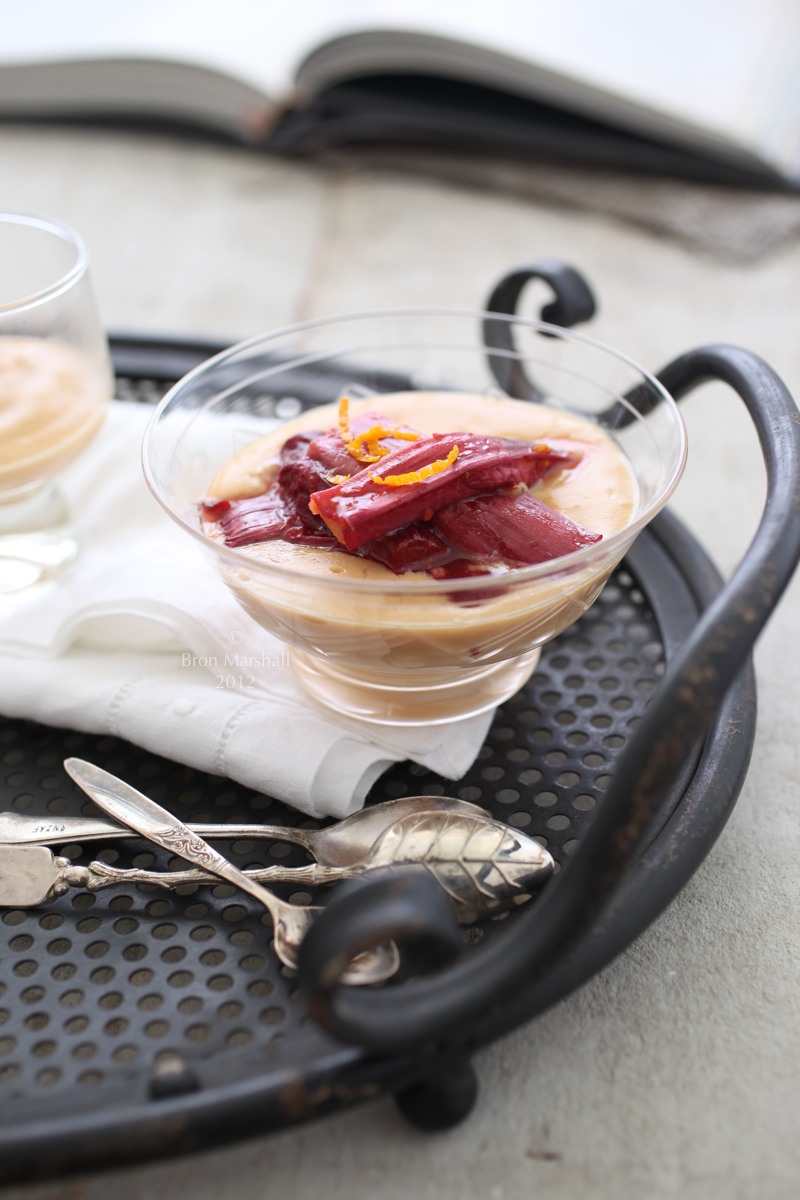 Salted Caramel Custard and Baked Rhubarb with Orange
400 grams of rhubarb, cut into rough batons
grated zest of one orange
2 to 3 tablespoons of soft brown sugar
For the Salted Caramel Custard:
¼ cup of caster sugar
500ml of full cream milk
3 egg yolks, lightly beaten
1 teaspoon vanilla extract
2 to 3 tablespoons of soft brown sugar
2 tablespoons of cornflour
1 teaspoon of natural flaky sea salt, or to taste
Preheat your oven to 200°C (390°F)
Rinse the rhubarb batons under cold water and place in a baking dish.
Sprinkle over the orange and soft brown sugar and toss to coat.
Bake for 15 to 20 minutes until soft and syrupy.
Meanwhile make the Caramel custard.
In a very clean medium sized stainless steel saucepan slowly melt the caster sugar over a medium heat - it is important not to stir the caramel to prevent it forming crystals.
As the sugar begins to melt, swirl the caramel around the pan to caramelise evenly.
Once it is a warm amber colour, carefully pour in the milk.
Keep on the heat and gently stir to fully dissolve the caramel into the milk.
Remove from the heat.
In bowl combine the egg yolks, vanilla, soft brown sugar and cornflour and slowly whisk in the warm caramel milk.
Return the custard mixture to the saucepan and continually stir over a medium-low heat until the custard thickens.
Add flaky sea salt and a little more sugar if necessary to taste.
You can choose to either serve the Caramel custard warm topped with the Baked Rhubarb, or cover and refrigerate for several hours to serve chilled.
Serves 4 to 6
Some more beautiful Rhubarb linky loves:
Rhubarb Tart - At Downunder
Rhubarb and Pistachios over Thick Yogurt - Leites Culinaria
Rhubarb and Apple Pie with Warm Cinnamon Custard - Gourmet Traveller
Rhubarb Rye Soda - Chez Us
You might also like my
Rhubarb Berry Buckle
Happy cooking

Blog Recipes · Dessert Recipes · Fruit Recipes · Spring Recipes · Sweet Recipes
Home · About Bron · Portfolio · Recipe Index · Unit Converter
RSS Feed · Atom Feed · Twitter · Facebook · Flickr · Bron's Amazon Store