Friday 14th April 2006
Chocolate, Lime Curd and Pink Peppercorn Meringue Tartlets
Spooky things seem to have been happening to me recently! (… what's more, another one happened yesterday! Post to follow soon!)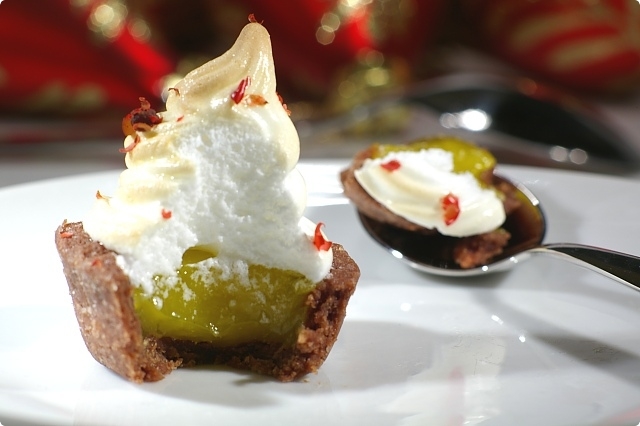 It was only a couple of weeks ago that I was reorganising my pantry cupboard and I came across a small jar of Pink Peppercorns I'd completely forgotten I had. That evening before heading to bed with my usual armful of cookbooks, I left the jar on top of the kitchen bench, so as not to forget about it again and start exploring some ideas on how to utilize them.

The very next morning while refreshing my favourite blogs, what should happen?! Yep, the creative and talented Béa from La Tartine Gourmande had dedicated a whole post to Pink Peppercorns! That's simply is too spooky! No!?

Following this came Béa's gorgeous recipe for seared pink peppercorn tuna with zucchini and the promise of some sweet preparations using Pink Peppercorns. I was excited and thrilled at the prospect.

Then a few days later the "magnificently experimental" Rob from Hungry in Hogtown posted the most beautiful wafer thin white chocolates with pink peppercorns and fennel fronds. You really have to see these gorgeous delights to believe them. They're way cool!

Naturally I was inspired to have a go at making my own sweet treats with my own pink peppercorns and this is what I came up with ...

Chocolate, Lime Curd and Pink Peppercorn Meringue Tartlets


Chocolate Pastry
1 cup of plain white flour
2 tablespoons of quality cocoa
a pinch of salt
85 grams of butter
½ cup of caster sugar
1 small egg or 1 large yolk
Sift the flour, cocoa and salt into a large bowl or food processor.
Cut the butter into small cubes and rub into the flour either with your hands or using a food processor, until it resembles fine breadcrumbs.
Whisk the castor sugar and egg together and add to the mixture to make a firm dough.
On a lightly floured bench or board knead the mixture until it forms a smooth ball.
Handle as little as possible to prevent the pastry from becoming hard when baked.
Cover the pastry with plastic wrap and refrigerate for 20 minutes.
Preheat the oven to 180°C (360°F) or gas mark 4.
On a lightly floured board or bench carefully roll out the pastry.
With a round cookie cutter cut the dough into rounds to fit patty or mini muffin tins.
Bake blind for 6 to 8 minutes and remove from the oven.
Lime curd
¾ cup of white sugar
1½ tablespoons of cornflour (cornstarch)
½ cup of water
½ cup of lime juice
grated zest of two limes
2 egg yolks
30 grams of butter, cubed
Stir the sugar, cornflour, water, lime juice and grated lime zest over a low heat until all the sugar has dissolved
Continue to heat gently until the mixture has thickened somewhat.
Remove from the heat and whisk in the egg yolks and butter.
Continue to cook over a bain marie until the desired, fairly thick consistency has been reached.
Meringue
2 egg whites
pinch salt
½ cup of caster sugar
1 tablespoon of pink peppercorns, crushed
Beat the egg whites and salt in a extremely clean bowl until soft peaks form.
Gradually add the sugar, beating well until all the sugar is dissolved and the meringue is glossy.
Fill the baked tartlet shells with a spoonful of lime curd and then pipe the meringue on top of each tartlet.
Finally, sprinkle with a few crushed pink peppercorns.
Place them back in the oven for 5 minutes until the meringue is cooked through and slightly golden.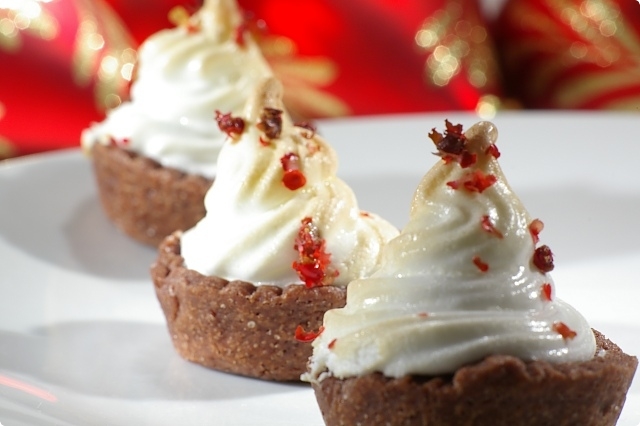 Enjoy


Autumn Recipes · Blog Recipes · Chocolate Recipes · Desserts Recipes · Eggs Recipes · Fruit Recipes · Fruit & Veges Recipes · The Baking Tins Recipes
Home · About Bron · Portfolio · Recipe Index · Unit Converter
RSS Feed · Atom Feed · Twitter · Facebook · Flickr · Bron's Amazon Store