Wednesday 5th July 2006
Mustard Crusted Pork Fillet on Tamarillo Carpaccio
And now back to our regular broadcasting...

Tamarillo (Cyphomandra betacea) are an oval or egg-shaped fruit, their gorgeous glossy skins are burgundy in colour with yellow to deep red flesh inside and tangy, tart flavoured seeds. When choosing Tamarillo be sure to pick firm, but not hard fruit with no skin blemishes.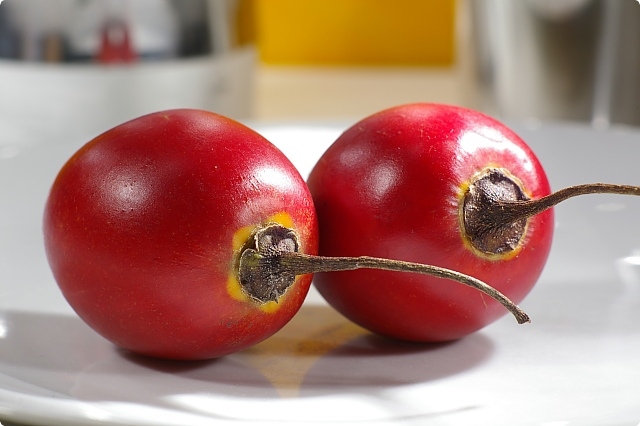 Tamarillo are also known as tree tomatoes and are native to Brazil and Peru, although they are commercially grown and very popular in New Zealand and Australia and are available May through to September downunder. Tamarillo are a great source of Vitamins A, B6, C and E and are rich in iron and potassium. Low in calories (when served without sugar!) and high in dietary fibre. The skins are tough and therefore basically inedible, most preparations call for blanching in boiling water for several minutes to remove the skins, however you can scoop out the flesh with a spoon.

Tamarillo are commonly made into chutneys, baking and desserts, however they are delicious in more savoury dishes and salads too, in truth you could substitute tamarillo in almost any recipe that calls for whole tomatoes.
Personally I think they are particularly delicious with white meats, such as pork in this case, but chicken and also fish.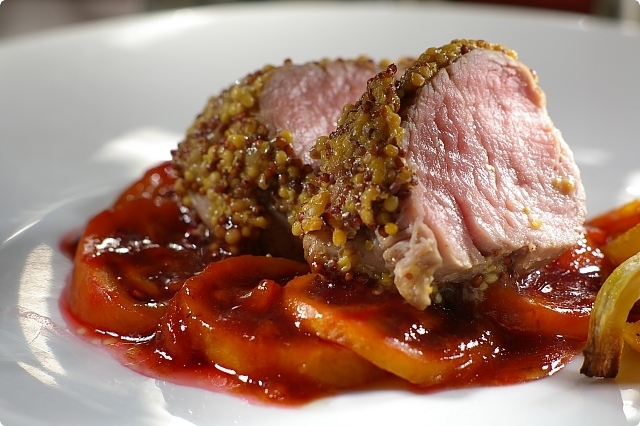 Mustard Crusted Pork Fillet on Tamarillo Carpaccio
For 4 people
2 pork fillets
olive oil
freshly ground salt and pepper
¼ teaspoon of mixed spice, approximately
1 cup of mild whole seed mustard
Preheat oven to 190°C (370°F).
Trim pork fillets on any fat and sinew and cut each fillet in half.
Roll each piece of fillet in olive oil, and season well with salt, pepper and mixed spice.
Heat a large skillet over medium high heat and sear the fillets evenly all over.
Remove from the heat and when cool enough to handle, coat each with the whole seed mustard.
Finish cooking the pork in the oven for 5 or so minutes or until done to your liking and the mustard has formed a lovely golden crust.
Remove the pork from the oven and let it rest for a couple of minutes before slicing thickly.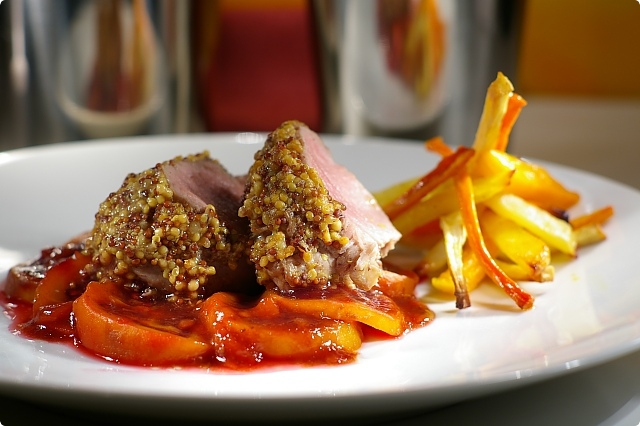 Tamarillo Carpaccio
5 tamarillo / tree tomatoes
¾ cup of water
3 tablespoons of honey
1 tablespoon of cornflour / cornstarch
1 teaspoon of mixed spice
¼ cup of balsamic vinegar, approximately - to taste
2 tablespoons olive oil
salt and pepper
With a very sharp knife gently score a small cross on the bottom of each tamarillo.
Blanch the tamarillo in boiling water for 3 to 4 minutes, refreshing in cold water, this assists peeling and removing the tamarillo skins.
Once peeled, slice the tamarillo very thinly, chopping the rough looking, less neat slices and ends etc. very very finely.
Arrange the best slices in neat circular patterns on each of the four serving plates and set the plates aside in a warm place until ready to serve.
Mix the water, honey, cornflour, mixed spice with the finely chopped tamarillo together in a small saucepan and bring gently to the boil, stirring continuously until smooth and thick.
Remove from the heat and add the balsamic vinegar, olive oil and salt and pepper to taste.
Napper or spoon the warm sauce over the tamarillo slices and arrange the mustard crusted pork on top.
Serve immediately with a selection of roasted root vegetable batons, (carrots, parsnip, potato) and steamed greens.
Enjoy!


Blog Recipes · Fruit Recipes · Fruit & Veges Recipes · Meat Recipes · Vegetables Recipes · Winter Recipes
Home · About Bron · Portfolio · Recipe Index · Unit Converter
RSS Feed · Atom Feed · Twitter · Facebook · Flickr · Bron's Amazon Store