Sunday 30th April 2006
Yesterday's Brioche, Frangelico, Chocolate and Pear Cakes
Kiwi chef Julie Le Clerc would have to be one of my most favourite Kiwi food writers and chefs. I adore her recipes and her books;"Little Café Cakes", Simple Café food and More Simple Café food. While choosing something for this month's Is My Blog Burning? IMBB #25, hosted by Derrick of An Obsession with Food, I naturally turned to her Little Café Cakes book for inspiration.

This recipe is based, yet adapted from her recipe for Little Brioche, Pear and Chocolate Cakes.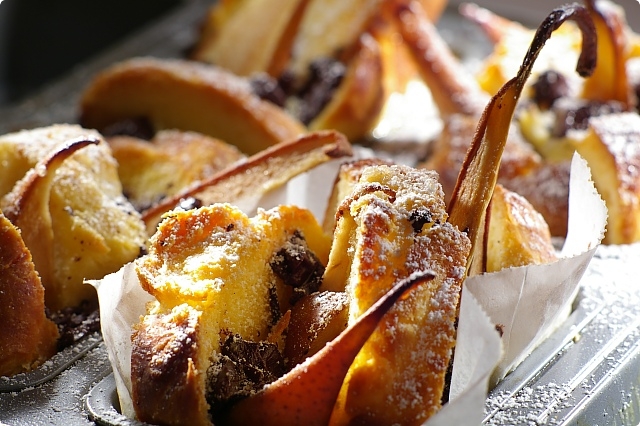 Living out of the city and far from any decent bakery, I have to rely on my own baking skills for nice bread, especially specialty breads such as brioche. I really love the country life, but there are a few draw backs like the lack of a bakery within walking distance.

So the first step for this event was to make some brioche and let them go stale. I love making mini ones, that way I can throw some in the freezer and just take out one for two for breakfast. I also really enjoy them warmed along side a slow braise of oxtail or some Boeuf Bourguignon to mop up the sauces ... mmmm!

However today I'm creating a sweet afternoon café style dish - the kind of treat that's just perfect with a short black espresso!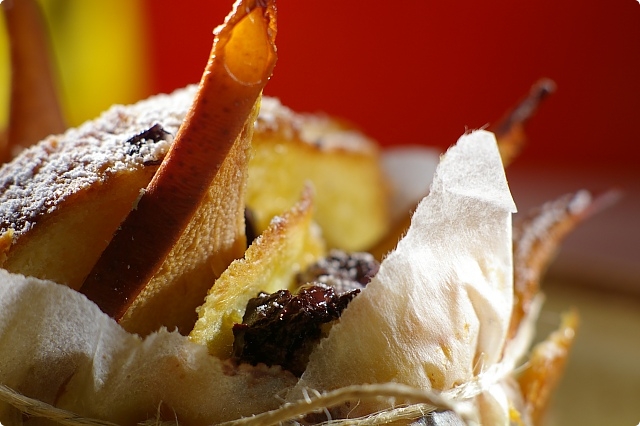 Yesterday's Brioche, Frangelico, Chocolate and Pear Cakes
4 stale mini brioche, sliced in 4, (approximately 400 grams of brioche)
3 pears, sliced with the core removed but stalks still intact
50 grams of quality dark chocolate, roughly chopped
2 eggs
A pinch of salt
¾ cup of milk
½ cup of cream
4 tablespoons of Frangelico
¼ cup of demerara sugar
icing sugar to dust
Grease and line 6 small individual cake or mini loaf pans.
Prop up and layer slices of brioche and pear in prepared tins, sprinkle the chocolate evenly between each.
Beat the eggs, salt, milk, cream, Frangelico and sugar together, measure and pour equal quantities into each cake.
Rest the cakes for 30 minutes to absorb the custard mixture.
Preheat the oven to 170°C (340°F)
Bake the cakes for 25 to 30 minutes until puffed up and golden.
Cool slightly before removing from the pans, during which time the cakes will deflate a little.
Dust with a little icing sugar and serve warm, but honestly they're equally good cold.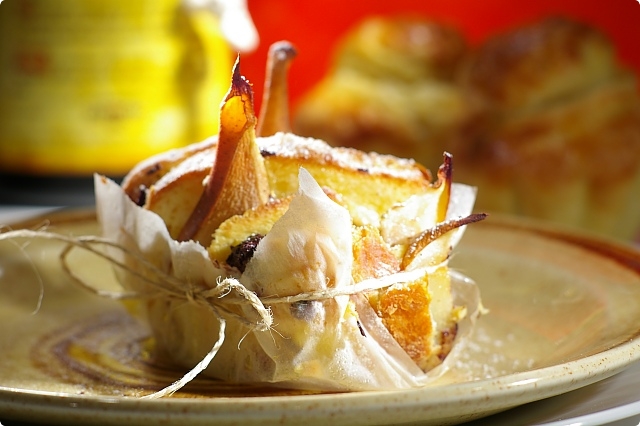 Enjoy!



Blog Recipes · Bread Recipes · Cakes Recipes · Desserts Recipes · Food Blog Events Recipes · Fruit & Veges Recipes
Home · About Bron · Portfolio · Recipe Index · Unit Converter
RSS Feed · Atom Feed · Twitter · Facebook · Flickr · Bron's Amazon Store