Monday 10th July 2006
Corn Doughnuts with Coriander Sugar and Honey, Banana and Pine nut Icecream
The ingredients for this round of Paper Chef #19 once again hosted by Kevin at Seriously Good, were…

Corn
Ground Coriander
Pine nuts
and in celebration of Independence Day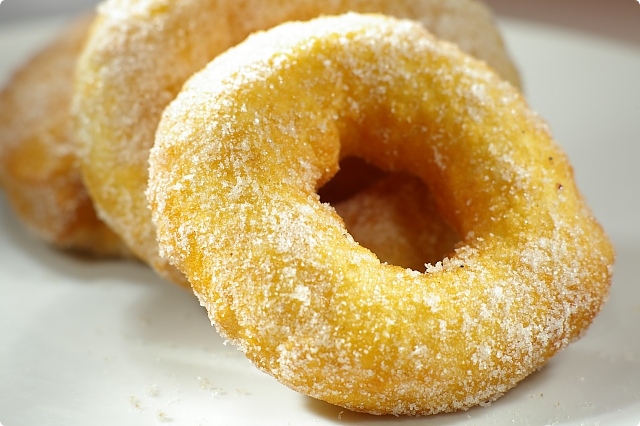 I pretty much coped out with regards to New Zealand's Declaration of Independence, unlike Emma who obviously knows her New Zealand history better than I do!
We're not particularly patriotic when it comes to our national holiday here in Aotearoa / New Zealand, most Kiwi's spend the day shopping for some imported junk at, what is commonly known here as the "Red Shed".
So anyway to cut a long story short I decided to celebrate "The Land of the Free" along with the rest of you! I think it's apt to say Americans generally perceive the Fourth of July holiday as a celebration of all things U.S of A and as cliché as this is, I decided to make 'Donuts' in honour of America. Since doughnuts are without a doubt one of the most distinct and recognisable foods of America, right alongside hot dogs, hamburgers and apple pie. However according to Wikipedia, Canadians consume the more doughnuts per capita.
Opps! "Doh" as Homer Simpson would say!

"Mmmm Donuts" droool!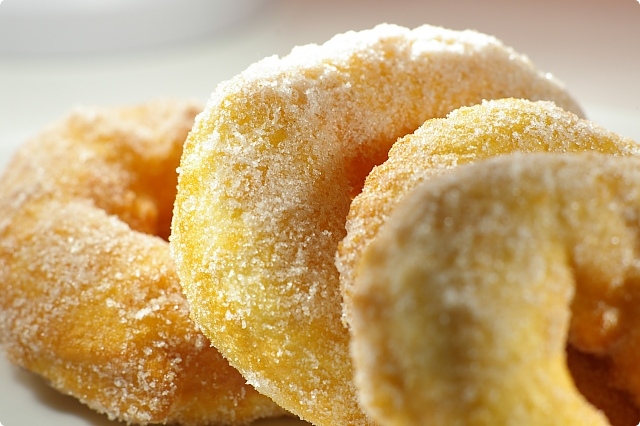 Fine Cornmeal Doughnuts with Coriander Sugar
2 cups of strong flour
1 cup of fine ground cornmeal
1 teaspoon of salt
½ cup of warm milk
¾ cup of warm water
1 teaspoon honey
3 teaspoons of dry active yeast
1 small egg, beaten
vegetable oil for deep frying
½ cup caster sugar
2 teaspoons ground coriander
Place the flour, fine ground cornmeal and salt into a large bowl.
In a smaller bowl place the warm milk and water, stir through the honey.
Sprinkle the yeast over the milk mixture and set aside to foam for 5 minutes.
After 5 minutes stir the yeast until dissolved.
Make a well in the flour and pour in the yeast mixture and beaten egg.
Stir the dough until well combined, then turn out onto a lightly floured bench and knead until smooth for 5 to 8 minutes.
Place the dough back in the bowl and leave to rise for 45 minutes to an hour.
Meanwhile combine the caster sugar and ground coriander for coating the doughnuts.
Knock the dough back and pat the dough out into flat rectangle, take a round cookie cutter and a very small round cookie cutter and cut rings of the dough.
Heat a saucepan of vegetable oil, no more than ¾ full to between 190°C (370°F) and 200°C (390°F) and fry the doughnuts for 1 and a half minutes or until puffed and golden.
Toss through the sugar and coriander mixture and serve immediately.
Makes 16 large doughnuts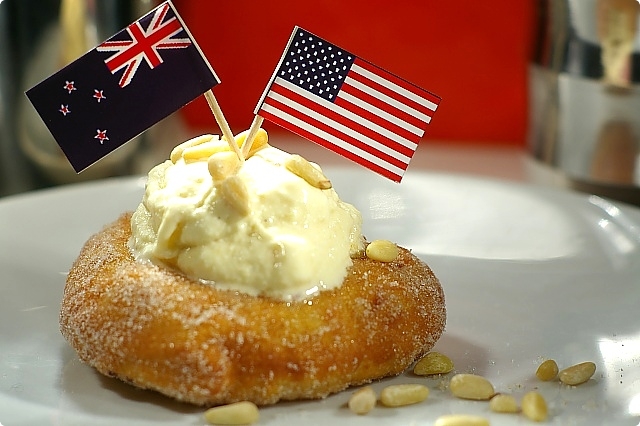 Honey, Banana and Pine nut Icecream
Crème Anglaise / Custard
500 ml of milk
1 vanilla bean, or substitute vanilla essence
5 egg yolks
60 grams of caster sugar
In a saucepan heat the milk with the split vanilla bean, and the scraped seeds.
Whisk the egg yolks with 60 grams of caster sugar until thick.
Remove the vanilla bean from the milk and just bring the milk to the boil.
Slowly pour the hot milk into the egg mixture whisking quickly and continuously to prevent the egg scrambling.
Strain the custard back into a clean saucepan and gently heat the custard stirring with a wooden spoon until it thickens.
Set aside to cool.
250 ml of cream
2 tablespoons of honey
2 bananas, mashed
¼ cup of toasted pine nuts, plus extra to garnish if desired.

Place the Crème Anglaise, cream, honey, banana and pine nuts into an icecream maker and churn according to the manufacturer's instructions.
Gabriella, winner of the previous Paper Chef is judge for this round, good luck!


Blog Recipes · Bread Recipes · Desserts Recipes · Food Blog Events Recipes
Home · About Bron · Portfolio · Recipe Index · Unit Converter
RSS Feed · Atom Feed · Twitter · Facebook · Flickr · Bron's Amazon Store