Wednesday 26th March 2008
Hay Hay it's Donna Day #19 - The Clafoutis Edition
Hay Hay Hay, have you heard?!
It's my turn again! I get to host the #19 round of Hay Hay it's Donna Day! (I hosted waaaay back in July 2006 for the 4th round!)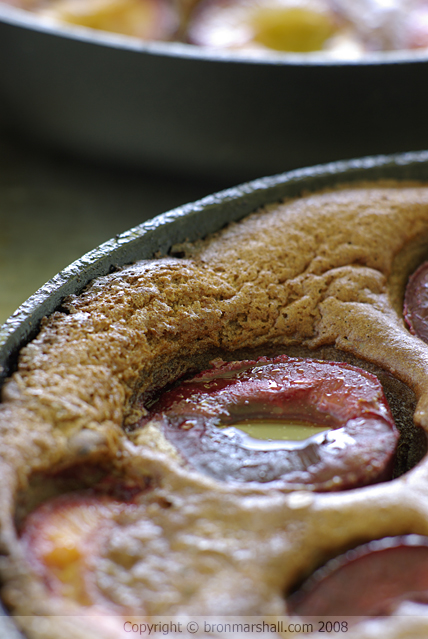 Donna Hay's "Plum and Chocolate Clafoutis"

Yes, I was absolutely delighted to hear from Bordeaux a week or so ago, that I had won the #18 round hosted over at his blog Marita Says with my Coconut and Lime Chocolate Tart creations.

I am a big fan of Donna Hay's style and her "special made simple" recipes and as most of you will know this very popular food blogging event is the brainchild of my good friend Barbara over at Winos and Foodies.

Now one of the best things about being the host of this event is that you get to choose the theme, and which of Donna Hay's delicious recipes will lead the festivities! I was so excited flipping through my huge piles of Donna magazines and recipe books. I initially started out jotting down a fairly long list of possibilities. I struggled on, managing to trim the list down to 3 possible recipes. It was at that stage I had to call up three and fourpence, errr, I mean reinforcements to help make the final decision.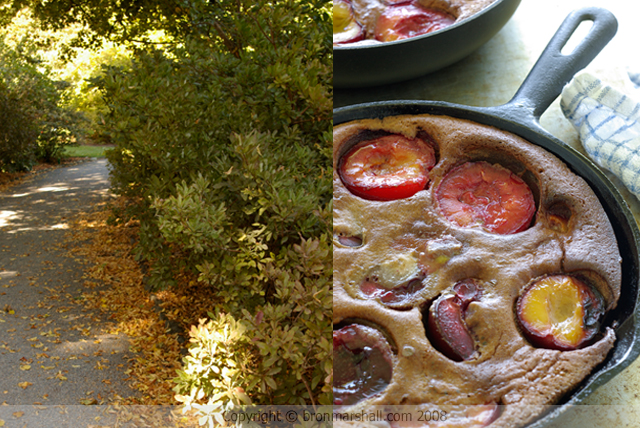 Over Summer we were so very fortunate to indulge in masses of berries, many from our own garden and others from a local berry farm. Naturally I served them in many different forms, but countless times we enjoyed them as "Berry Island" as it was coined by our girls. For breakfast, brunch and dessert, yes, this dish is well loved any time of the day in the Marshall household. So it's with the help of all 4 of us Clafoutis loving Marshalls that I bring to you...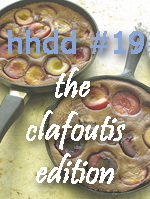 Hay Hay it's Donna Day round #19 - THE CLAFOUTIS EDITION!

As the Summer berry season is well and truly over down here I chose one of Donna's recipes that included Autumnal plums. The recipe featured in Donna Hay Magazine's Autumn issue last year (Issue 32, page: 118). As an added bonus, this recipe not only includes Plums, but it is in fact "Plum and CHOCOLATE Clafoutis!"

However, to enter this event you can make any variation on Clafoutis, either using Berries, (btw... Donna has another delicious looking recipe for "Mixed Berry Clafoutis" in her past Christmas Issue, (Issue 36, page: 108) or the more traditional cherry clafoutis. You could create a sweet clafoutis with chocolate, vanilla flavours or a savoury clafoutis with vegetables... whatever takes your fancy!

Also you can enter as many times as you like* - make as many clafoutis as you care to or have the eggs for! But please make each entry to this round a new blog post and mark it specifically for the Hay Hay it's Donna Day #19 - The Clafoutis Edition event.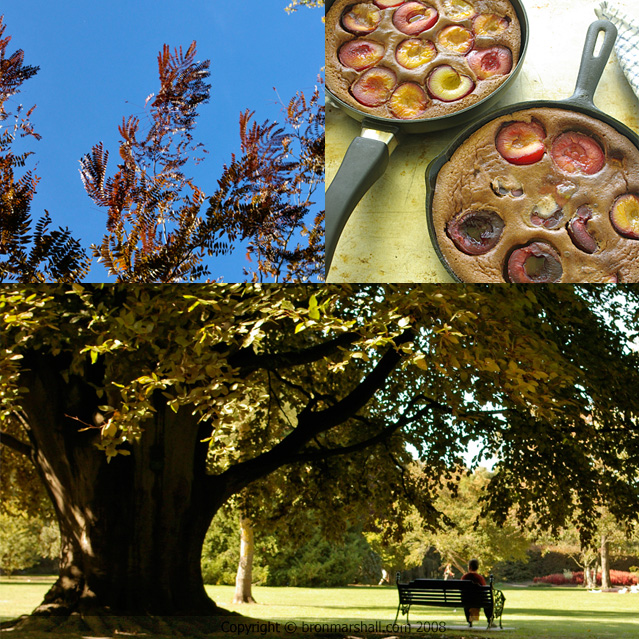 So, to tie up the remaining loose ends or questions you may have...here are the "RULES!" Although, to be honest, I'm not really one for following the 'rules' - but apparently according to Barbara I have to post these few points up:


- Hay Hay It's Donna Day is open to all food and wine bloggers.
- Entries submitted for HHDD must be made specifically for this event, (*I made the bit up about entering as many times as you like - so I hope I don't get in trouble for that one!) although photos may be submitted to Does My Blog Look Good In This.
- The host (that's me!) will select, make and post the original Donna Hay recipe without any changes. (See below!)
- Participants may make the same recipe as is, or put their own spin on the recipe by altering the ingredients whilst remaining true to the original theme.
- Entrants should include a link to the host (that be me again - bronmarshall.com!) in their post.
- Entries can be made at any time once the event has been announced (i.e. from now on) but must be posted and emailed to the host (me!) by the closing date.
- Deadline for all posts to be up and submitted is Monday April 28th, 2008. I will be posting the round up shortly after that and voting will then begin!
- Email all your entries to DEADLINE EXTENDED TO April 28th, 2008.- In your email, please include the following information: your blog name, your name, your location, your recipe name, and the permalink/url to your entry.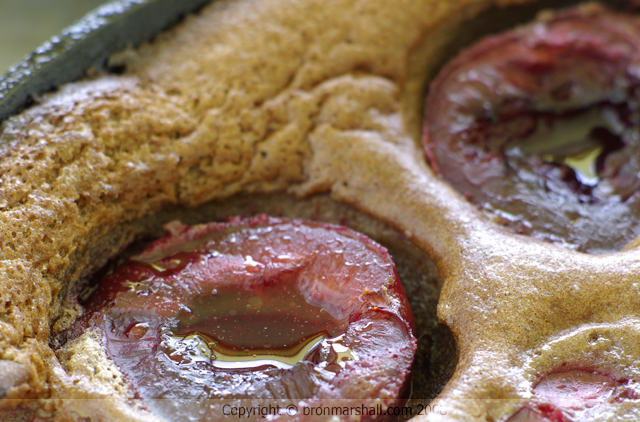 And lastly but by no mean least... the RECIPE!


Plum and Chocolate Clafoutis - Donna Hay's Original Recipe
1/3 cup (50g/1 3/4oz) plain (all-purpose) flour, sifted
1/4 cup (30g/1oz) cocoa powder, sifted
1/3 cup (75g/2 2/3oz) caster (superfine) sugar, sifted
1 teaspoon vanilla extract3 eggs
1 cup (8 fl oz) (single or pouring) cream
1 cup chopped dark chocolate
20g (3/4 oz) unsalted butter
6 blood plums, halved and stones removed
Preheat the oven to 180°C (360°F).
Place the flour, cocoa and sugar in a bowl.
In a separate bowl, place the vanilla, eggs and cream and stir to combine.
Add the vanilla mixture to the flour mixture and whisk to combine.
Stir in the chocolate.
Divide the butter between 2 x 2 cup (500ml/16 fl oz) capacity 13cm (5in) frying pans over a medium heat until melted.
Pour over the chocolate mixture, top with the plum halves and bake for 20-25 minutes or until puffed and cooked through.
Makes 2.
So what are you waiting for?!
Flood my inbox with Clafoutis!!

Cheers


Autumn Recipes · Autumn 08 Recipes · Blog Recipes · Breakfast Recipes · Chocolate Recipes · Clafoutis Recipes · Desserts Recipes · Eggs Recipes · Food Blog Events Recipes · Fruit Recipes · Fruit & Veges Recipes
Home · About Bron · Portfolio · Recipe Index · Unit Converter
RSS Feed · Atom Feed · Twitter · Facebook · Flickr · Bron's Amazon Store