Thursday 20th March 2008
A Play on Words Inspires 'Hot' Crossed Easter Truffles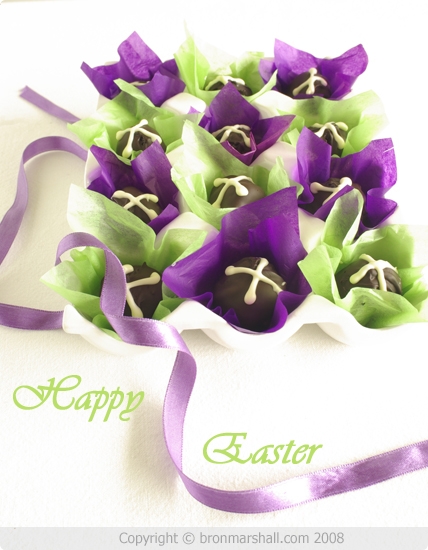 Where do your best ideas happen? Whereabouts do you think the best?

For me it's in the shower. Maybe it's because it is one of the rare moments during my day where it's quiet and peaceful and I'm left to my own thoughts. A time for myself, without the seemingly constant interruptions I endure the rest of the day. I'm sure many great ideas are born in the shower. I wonder what amazing inventions (inventors?) of our time were first conceived there, in the shower.

A few days ago when I was showering and I was dreaming about what treats I would make the blog for Easter, I was reminded immediately how I would, at the very least, be making Hot Cross Buns for Easter weekend. But for Easter, a chocolate treat of some sort would be the obvious choice for my blog, but what exactly?! What new spin could I put on a favourite Easter treat?


These thoughts progressed to my love of chocolate truffles and how I wanted to try flavouring them with chilli, as I had read about so often, but never tried myself. Then like a lightening bolt through the warm spray of water I thought, Eureka!, chillies are "HOT", "HOT cross buns" - "HOT cross truffles". And there my idea was conceived!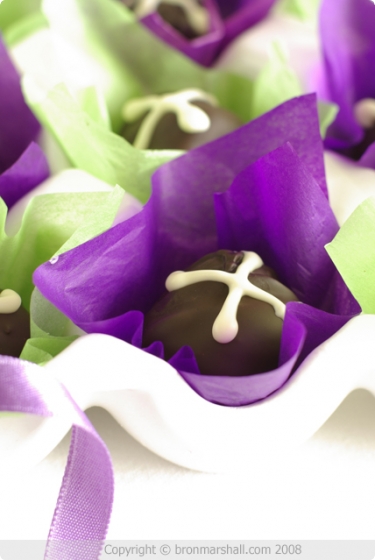 As I set to work making the truffles, I felt a little guilty, knowing my family doesn't enjoy dark chocolate all that much. J won't be touching them, I knew that for sure. However, I really wanted to use dark chocolate. I like dark and "these are for the blog" I convinced myself.

When the truffles had set, I packaged up 12 of my them to gift to a friend and seeing the pretty parcel tempted the girls to give them a try. Although they still weren't too sure of the dark chocolate, they were surprised by the chilli and immediately asked for another! Kids are funny, aren't they! Even though they're not enjoying them as much as they do milk chocolates - "it's still chocolate" and they are reluctant to admit it isn't their favourite and "miss out". We ended up sharing 6 of them between us - such is our love for anything chocolate.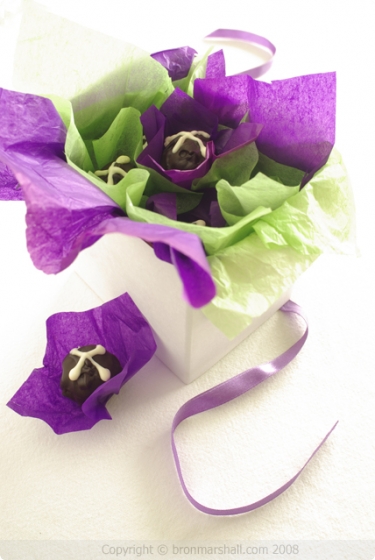 So what am I planning to do with the remaining 6 truffles?

Well I'm secretly hoping to take them back to the bathroom, where they were first conceived. This time it won't be into the shower, but a long soak in the tub, with bubble bath, some candles and a foodie magazine or two! Heaven!!


'Hot' Crossed Easter Truffles
½ cup of cream
2 red chillies, finely chopped
350 grams of dark chocolate, I used 62%
40 grams of white chocolate
Heat the cream and chopped chillies in a saucepan, but be careful not to scald. Remove from the heat.
Rest and infuse the cream for a further 5 to 10 minutes.
Chop 250 grams of the dark chocolate into smaller pieces and melt over a double boiler (bain-marie).
Pour the cream through a sieve on to the melted chocolate and discard the chillies.
With the chocolate still in the double boiler, mix together until evenly combined.
Refrigerate the mixture until it has set, at least 4 hours
With a small spoon or parisanne scoop roll small balls of the mixture.
Place the truffles on a lined tray and refrigerate again until hard.
Melt the remaining dark chocolate in a clean bowl over a double boiler (bain-marie), stirring to assist the tempering.
Once perfectly smooth drop each truffle into the chocolate and coat completely - a chocolate dipping swirl utensil makes this a painless exercise.
Place each dipped truffle on a lined tray to set.
Melt the white chocolate and spoon into a piping bag with a small size nozzle hole, pipe crosses on each of the truffles.
Leave to set and place into small paper or foil cases to serve if desired.
Makes 25ish
Have a wonderful Easter everyone!


Blog Recipes · Chocolate Recipes · Easter Recipes · Sunday Afternoon Teas Recipes
Home · About Bron · Portfolio · Recipe Index · Unit Converter
RSS Feed · Atom Feed · Twitter · Facebook · Flickr · Bron's Amazon Store