Sunday 2nd March 2008
Coconut and Lime Chocolate Tarts for HHDD #18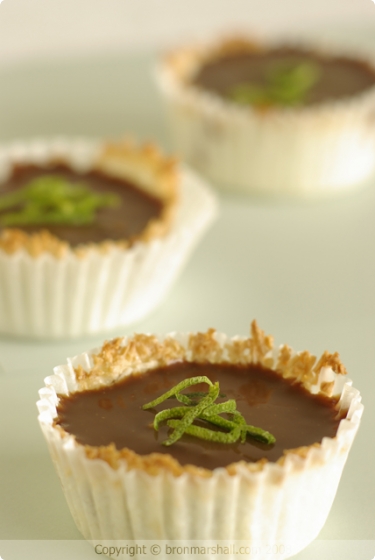 Coconut and Lime Chocolate Tarts

I was a bit nervous when I saw these were the recipe for the #18 round of the Hay Hay it's Donna Day event hosted by Bordeaux @ Marita Says. I've tried making a coconut crusts before as a gluten free alternative base for various desserts, such as Lemon Meringue pies, but sadly the coconut has never worked out as well as I would have hoped.

Normally the coconut base won't stay together whether it's lightly cooked and therefore too soft to hold the filling, or after more cooking when it's too dry and brittle for a filling - shattering with the weight. However I persevered with this recipe, maybe it would work this time?!

I lined my regular sized muffin tins with 12 cupcake paper cases as Bordeaux had suggested, and pressed the coconut mixture firmly and evenly in each cup with wet hands, rinsing my hands after each with a bowl of water at my side. Once the 12 cups were complete I cleaned up my hands and placed them in the oven and crossed my fingers!!

After watching them closely for 7 minutes I could see they were starting to brown quite quickly and I really didn't want them too dark. I quickly removed them from the oven, unsure if I was doing the right thing or not - perhaps they should have stayed an extra couple of minutes? I decided to leave them in the muffin tins, the extra heat perhaps helping their bottoms cook just a little more.

I left them to cool for half an hour before giving them the extra addition I had already planned as well as the original chocolate ganache filling.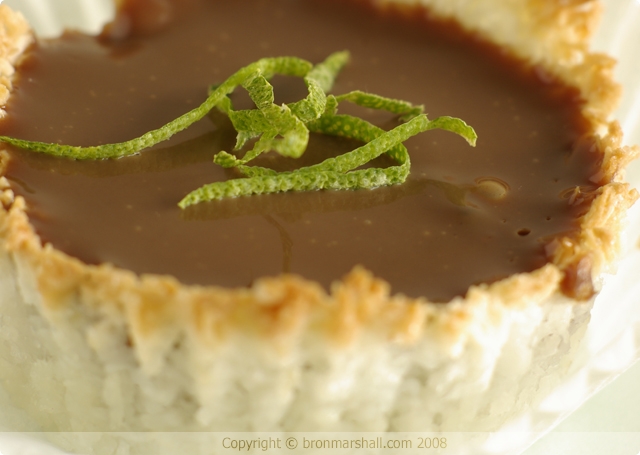 When I saw the combination of coconut and chocolate in Donna Hay's recipe, I immediately starting thinking of the addition I would make to the recipe. Bordeaux had listed several ideas in his announcement, but I had another idea and quite a different take on them.

When I was younger I had a favourite chocolate biscuit treat I enjoyed from the supermarket. I think they were called "Choc-lade", however I'm unsure - it's been some time. They were a combination of 3 layers beginning with a plain vanilla biscuit / cookie base, filled with orange marmalade and finally topped with a disk of chocolate. Although I suspect there wasn't a lot of actual cacao content, they were still a favourite and unfortunately I haven't seen them for several years now.

Bordeaux's beautiful tarts reminded me of my favourite treat from the past and I knew then that I wanted to create something similar by adding a 3rd element to the tarts - a filling of marmalade. The coconut also suggested tropical flavours to me, so I thought lime marmalade would be most appropriate - and "Roses Lime marmalade" is a particular favourite at our breakfast table.

So there it was, my variation on Donna's recipe was born.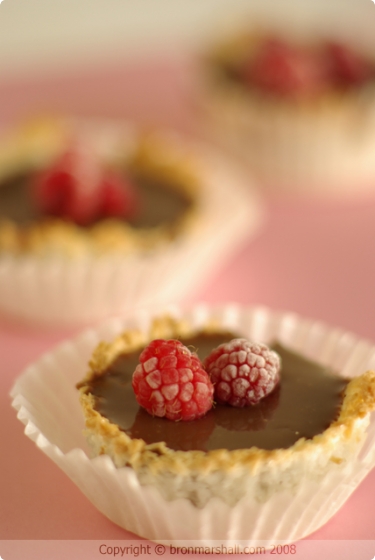 I also tried a raspberry jam filling although we much preferred the lime marmalade - being more zesty it countered the rich cream and chocolate ganache nicely.

As Bordeaux had said he had chocolate ganache leftover I reduced the original recipe to 250 grams instead of 300 grams and altered the cream accordingly. Again, I still had a little leftover but that wasn't a big problem - the leftovers are delicious spread on bread and a spoonful stirred into your coffee is equally indulgent.

I kept my tarts in the muffin tins throughout the whole assembly, only removing them from the paper cases at the very end - straight out of the freezer before serving. The day I made them was rather hot, so they were best eaten straight from the freezer while still very firm, the frozen coconut crusts holding together quite nicely. If I were serving these to guests I would have put the tarts back onto fresh paper cases for serving.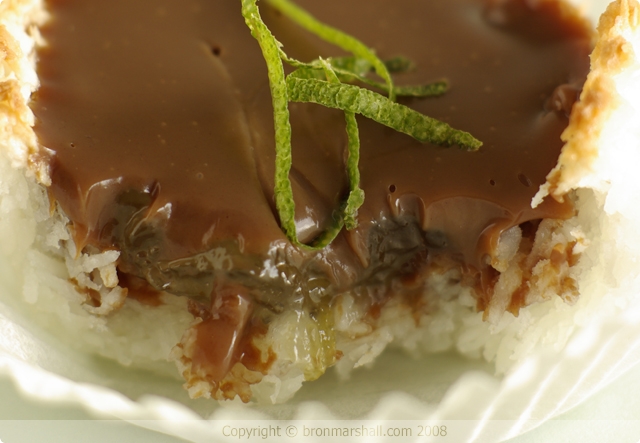 Coconut and Lime Chocolate Tarts
For the shell:
2 egg whites
1/2 cup of white sugar
2 cups of dessicated coconut
For the filling:
1/2 cup of lime marmalade (or raspberry jam)
For the topping:
260 ml of cream
250 grams of chocolate, chopped
fresh lime zest (or raspberries) to garnish
Preheat your oven to 180°C (360°F).
In a bowl mix the egg whites, coconut and sugar until well combined.
Spoon the mixture into paper cup lined muffin tins and press firmly with wet hands to create a base and sides for each tart.
Place the tarts into the oven and bake for about 7 minutes, or until they begin to lightly brown around the edges.
Remove from the oven and let cool for 25 to 30 minutes.
Meanwhile heat the cream and pour over the chopped chocolate, stirring until they're well combined and smooth, with no lumps of chocolate.
With the tart shells still in their case in the muffin tin mould, place teaspoonfuls of the marmalade into each shell and place in the freezer for 10 minutes.
Remove them from the freezer and very carefully ladle the chocolate ganache into each tart covering the marmalade filling with the liquid.
Place the tarts back into the freezer for 20 minutes or until set.
Remove the tarts from the muffin tin and garnish with a few strands of fresh lime zest or berries.
You can either serve your tarts in their paper cases, or gently remove them.
Makes 12
Update: It's with great excitement to hear that my tarts above won this round of "Hay Hay it's Donna Day" - Please visit Bordeaux's blog to see all the interpretations of Donna's Coconut tarts recipe in his HHDD #18 roundup

Enjoy!


Blog Recipes · Chocolate Recipes · Desserts Recipes · Food Blog Events Recipes · Summer Recipes · Sunday Afternoon Teas Recipes
Home · About Bron · Portfolio · Recipe Index · Unit Converter
RSS Feed · Atom Feed · Twitter · Facebook · Flickr · Bron's Amazon Store