Friday 25th April 2008
A Treat to Share Between Friends - ANZAC Pavlova Sandwiches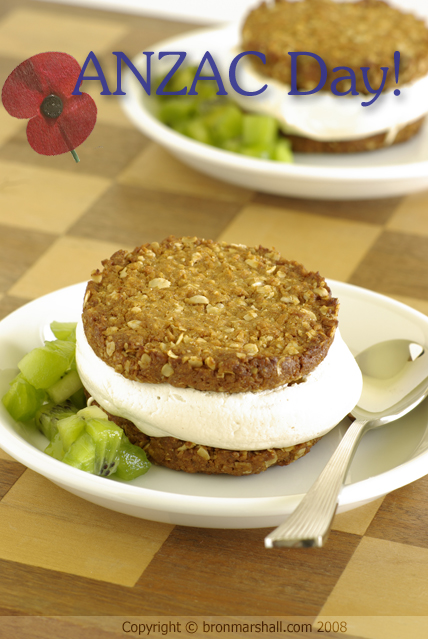 Today is ANZAC day, the 25th of April, a day when two countries forged one bloody great friendship on the shores of the Gallipoli peninsula in 1915. This year I'm not going to go into huge details about this day during the Great War - WW1, you can learn more about it in my previous posts remembering this awful day in history, when so many of our young men lost their lives.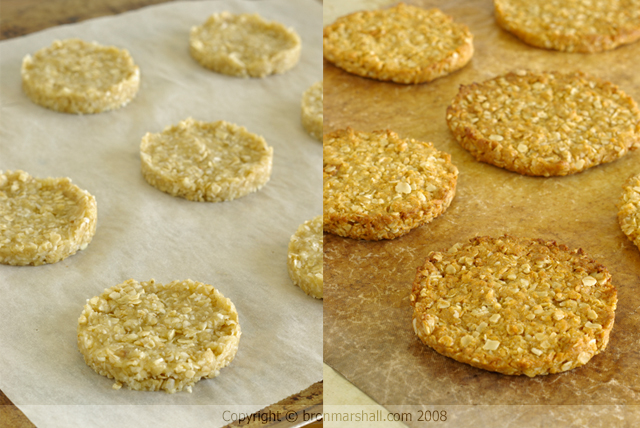 Instead I'm going to focus on the positives of this event, the kinship that resulted between two nations, New Zealand and our Australian neighbours. To my knowledge never have two countries been so alike and so united. Together we share many great loves, like sport; namely Rugby Union, Cricket and Netball, a love of the outdoors; camping and watersports.

A love of cold beer, vegemite sandwiches, scones and billy tea, but when it comes to food there are two things that stand way out in front... and they are ANZAC biscuits and of course - Pavlova!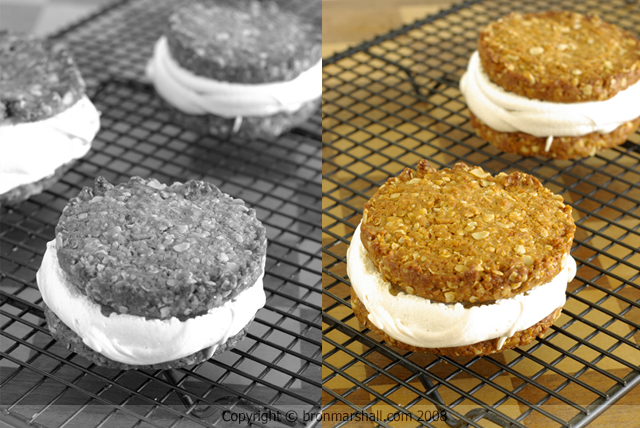 So in honour of our friendship, a day that together we remember our fallen and our two delicious and favourite sweets I've been experimenting in the kitchen to also bring them together in a combined gorgeous friendly treat!

ANZAC Pavlova Sandwiches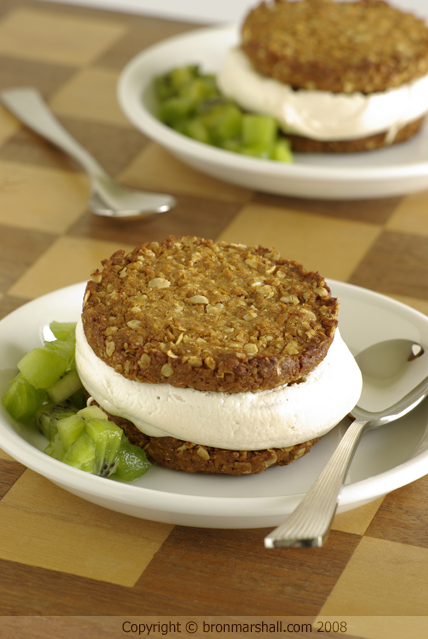 Now for a few notes to hopefully ensure your success, if you do decide to give these unique wee sandwiches a try...

- Naturally the ANZAC biscuits (bases and tops!) can be made a day or two ahead, store them in an air tight container.
- ANZAC biscuits are traditionally made with golden syrup, however it can be substituted with honey.
- I made my biscuits in two different sizes (using 6cm/2½ inch and 5cm/2 inch rings) - the bigger biscuits on top of a larger Pavlova centre tended to crack open a little, so I do recommend the smaller 5cm size
- Remember they do spread initially during the first bake!
- Your Pavlova eggs should be at room temperature, older eggs also prevent weeping if your sandwiches are to be made in advance.
- You can store the completed cooked ANZAC Pavlova Sandwiches in an air tight container also for a day or so.
- You may be left with a little extra meringue, depending on the size of your egg whites.
- Try not to put too much meringue in the centre, 3 tablespoons is about right. I find the Pavlova middle always expands (like my tummy) more than you expect!
- Don't be tempted to open the door while the oven is still hot, your sandwiches will collapse!
- I served my whipped cream in a bowl to the side and let people help themselves

I hope these tips help, however if you don't think these are your thing, here are some other treats I've made previously for ANZAC day or in celebration of all things Antipodean.


Pavlova with Berries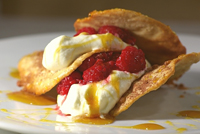 ANZAC Tuiles with Raspberries and Crème Chantilly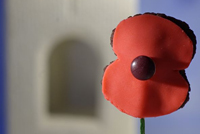 Remembrance ANZAC Day Poppies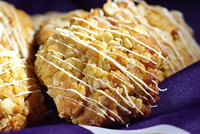 ANZAC Biscuits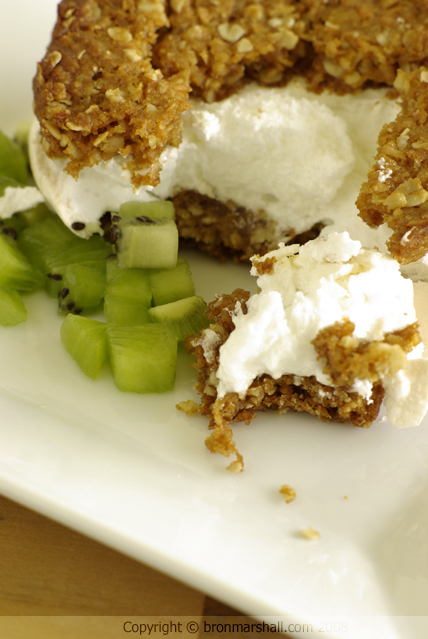 ANZAC Pavlova Sandwiches
For the biscuit top and base
100 grams / 4 oz of butter
1 dessertspoon of golden syrup or honey
½ cup of white sugar
1 cup of flour
¾ cup of rolled oats
¾ cup of desiccated coconut
½ teaspoon of baking soda
1 tablespoon of water
For the Pavlova centre
3 egg whites
1 pinch of salt
¾ cup of castor sugar
1 ½ teaspoon of cornflour (aka: corn starch / wheaten starch)
½ teaspoon of white vinegar
Softly whipped cream and finely diced Kiwifruit to serve
Preheat the oven to 180°C (360°F).
In a large saucepan melt the butter and golden syrup, then remove from the heat and cool.
Add the white sugar, flour, rolled oats and coconut and mix thoroughly.
Dissolve the baking soda in 1 tablespoon of water and add to the mixture.
Line a baking tray with cooking paper.
Using a 5cm(2 inch) diameter ring, place one heaped tablespoon of the mixture.
Press the mixture into the ring firmly with your fingers to form a neat flat topped disc about ¾ of a centimetre (½ inch) in height.
Remembering to allow room for the biscuits to spread, repeat with the remaining mixture.
Until you have 18 to 20 bases
Bake for 8 to 10 minutes or until evenly golden but still soft, leave on the hot trays to firm.
Once firm and cool remove to a cookie rack and start on the Pavlova centres.
Beat the egg whites to a foam, add the salt and beat until soft peaks form which fold over when the beater is removed.
Slowly beat in the castor sugar a little at a time.
Keep beating until the mixture is stiff and the peaks stand strong when the beater is removed.
Lastly add the cornflour and vinegar and just mix until just combined.
Place the half of the cooked ANZAC biscuit bases onto a freshly lined oven tray.
Spread or pipe high, approximately 3 tablespoons of the meringue into each base leaving an edge approximately ¾ of a centimetre (½ inch).
Gently smooth the top of the meringue and place a second ANZAC biscuit on top.
Bake for 6 minutes at 180°C (360°F)
Turn off the heat and leave in the oven with the door ajar to cool completely.
Just before serving, plate up your ANZAC Pavlova Sandwiches with a little softly whipped cream and spoonful or two of diced Kiwifruit or other fruit as desired.
Makes 8 to 10.

Enjoy!


Autumn Recipes · Autumn 08 Recipes · Blog Recipes · Cookies Recipes · Culture & Tradition Recipes · Desserts Recipes · Eggs Recipes · New Zealand Recipes
Home · About Bron · Portfolio · Recipe Index · Unit Converter
RSS Feed · Atom Feed · Twitter · Facebook · Flickr · Bron's Amazon Store