Wednesday 23rd April 2008
Banana Splits, Clafoutis or Butterflies?!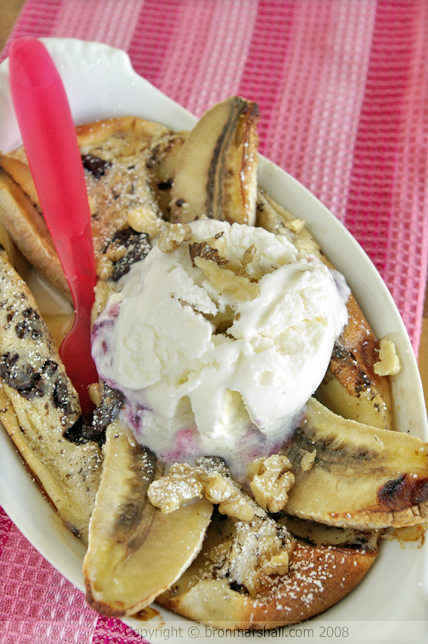 Banana Split, Clafoutis or Butterfly?!

Some might say I'm Clafoutis mad... and they may well be right! However it would seem I have a partner in crime and Tartelette sure is to blame for this one, when she mentioned having banana on occasion in her Daily Breakfast Clafoutis... I thought "banana".. of course, I so have to try that!

Tartelette sent an email through to me this afternoon, referring again to my latest gmail status and sharing a giggle or two, I immediately thought (Now knowing that Helen and her grandfather begin every day with Clafoutis) that I had to reply and ask her "what flavour Clafoutis was for breakfast this morning?"
She responded with "Raspberries... mmmm"

Mmmm! indeed, after all the Clafoutis I've seen this week, one might think I'm getting a little tired of them. But no... I'm still in love with this breakfast / dessert?! If not more so!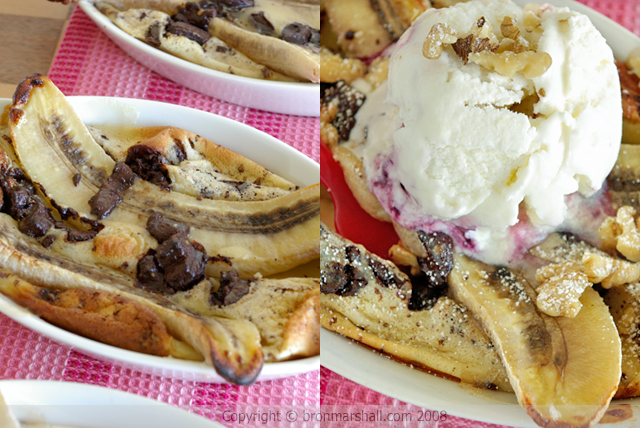 OK, you ask... but what does this have to do with a Banana Split? well not a lot I guess. Yet, since I'm resisting the urge to use up all our frozen raspberries before winter really sets in, I wouldn't be making Clafoutis with raspberries again just yet, as Tartelette had enjoyed.

However as the girls and I had finished our tuna and salad for lunch and still craved a little something extra, something sweet. Yes OK, I'll admit it... we wanted something naughty! I succumbed to the temptation... it wasn't very hard having Clafoutis already on the mind, craving Clafoutis and spying the bananas in the fruit bowl. I thought.. "Oh why not? Clafoutis will make for a wonderful afternoon tea as well."

I knew I would have to photograph it, as it simply wouldn't be right not to, especially as the host of the World Wide Web's only Clafoutis event this week with HHDD#19. While hunting around my cupboards trying to find a different dish to present and style my Banana Clafoutis with added chocolate chips, I came across these oblong gratin boats that I had acquired from my late mother-in-laws kitchen. The boat shape suggested and inspired a new take with the bananas, instead of slicing them they way I had initially planned... I would now turn my Clafoutis into a baked Banana Split. The girls were quite intrigued with the idea, in their words they thought it would be "very cool!" As we assembled them together they observed on how the two banana halves looked like "the cute wings of a butterfly" and so these creations therefore will forever be known as the Banana Butterfly Clafoutis.

We topped our Banana Butterfly Clafoutis with a scoop of boysenberry ripple ice-cream and a sprinkling of chopped walnuts. However obviously you could let your imaginations run wild with the toppings. As with any Banana Split the options are endless. I only regretted not having a cherry to place on the top for photographing purposes.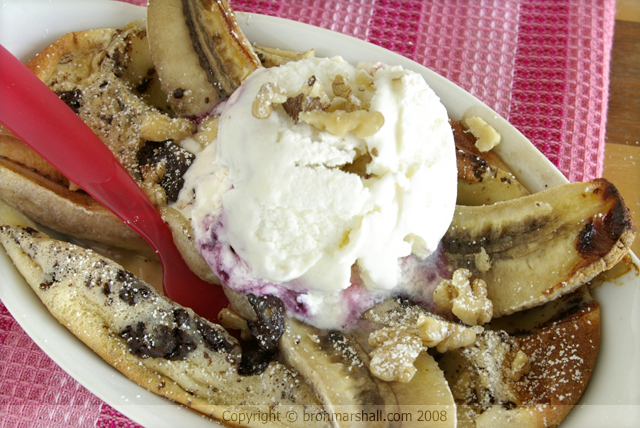 Banana "Butterfly" Clafoutis / Banana Split Clafoutis
4 Bananas, split lengthways
4 tablespoons of chopped chocolate
300ml of full cream standard milk (that's blue top here in NZ!)
½ cup of caster/superfine sugar
1 teaspoon vanilla extract
3 free range eggs
pinch of salt
1 cup of plain white flour
ice-cream and toppings to serve
Preheat the oven to 190°C (370°F)
Place 4 x 250ml capacity oblong shaped gratin dishes (please be sure the dishes that won't crack when cold liquids is poured in!) in the oven to preheat.
Meanwhile in a large pouring jug or blender whisk together the milk, the remaining caster sugar, vanilla, eggs, salt and flour.
Peel four bananas and slice them through lengthways.
Remove the heated dishes from the oven and place one banana, 2 halves split in each.
Sprinkle with each with 1 tablespoon of the chopped chocolate and evenly ladle over the egg mixture.
Quickly return to the oven and bake 15 to 20 minutes until puffed up, golden and cooked through.
To serve, top with a "Perfect Scoop," a dusting of icing/confectioners sugar or some extra chopped chocolate, walnuts - other nuts, a drizzle of chocolate or strawberry sauce, an ice cream wafer and a cherry! Or however you personally desire!
Serves 4

Don't forget HHDD#19 - The Clafoutis Edition - Deadline now extended to next Monday the 28th of April!

Enjoy!


Autumn Recipes · Autumn 08 Recipes · Blog Recipes · Breakfast Recipes · Chocolate Recipes · Clafoutis Recipes · Desserts Recipes · Eggs Recipes · Food Blog Events Recipes · Fruit Recipes · Fruit & Veges Recipes · Sunday Afternoon Teas Recipes
Home · About Bron · Portfolio · Recipe Index · Unit Converter
RSS Feed · Atom Feed · Twitter · Facebook · Flickr · Bron's Amazon Store