Friday 24th March 2006
30 minute Salmon and ANZAC Tuile Feast
Ok… start the clock!

This month's "Is my blog burning?" IMBB #24 is a kind of time trial, our challenge set by "Too Many Chefs" was to make a full meal from scratch or as much as possible from raw ingredients to the completed meal in 30 minutes or less!

To be honest, time itself has never been too much of a stumbling block for me to produce a meal, it's finding the inspiration to start after a long hard day, or a lack of ingredients to start with that mostly stumps me.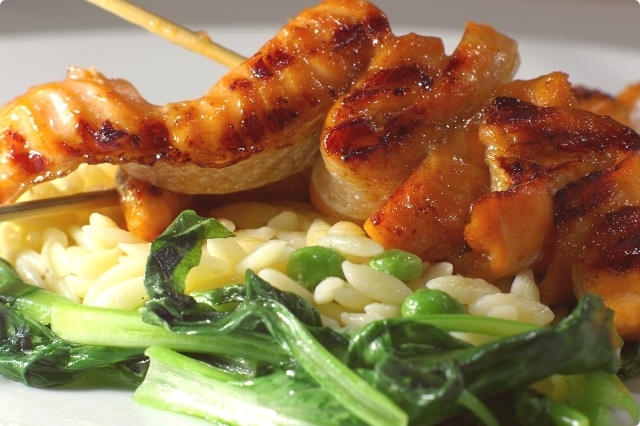 For my 30 minute feast to feed four, I simply chose one of our family favourites, fresh Akaroa Salmon. I feel very privileged to have access to such wonderful fresh produce here in Canterbury, New Zealand. Honestly, Akaroa Salmon - "The Ocean's Best!" deserves to be covered in more depth, so I will dedicate a future post specifically to it in the near future.

We often throw Akaroa Salmon together with a simple Teriyaki style marinade, it's tastes divine and best of all, salmon is so good for us being full of Omega 3s. This time I paired Teriyaki Salmon Kebabs on a bed of Orze (Risoni) Pasta, mixed with baby spring peas in a Crème fraîche and Pure Wasabi sauce and some Wilted Baby Bok Choy leaves.

Naturally you could use any type of dried pasta you wish and, time permitting, rice could work equally well.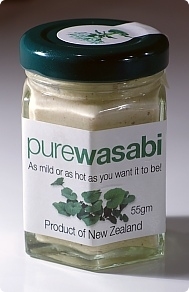 I recently acquired a little jar of "Pure Wasabi" after Caroline from Bibliocook tipped me off, I had seen the product advertised a few times, although hadn't had a chance to try it. Imagine my surprise when I found out it was yet another excellent local Canterbury product! Once you've tried this stuff you'll never go back to that horrid green stuff in a tube!!


Teriyaki Salmon Kebabs
400 to 600 grams of Akaroa Salmon fillet cut into strips (hint - ask for the off cuts! It's cheaper and you're cutting it up anyway!)
2 tablespoons of shoyu soy sauce
2 tablespoons of sweet sherry / marsala
1 tablespoon of brown sugar
2 cloves of garlic
2 teaspoons of freshly grated ginger
oil
bamboo skewers
Peel the garlic cloves and crush into a shallow dish.
Add the fresh minced ginger, brown sugar, sweet sherry and soy sauce.
Stir to combine.
Thread the salmon evenly onto 8 bamboo skewers and place into the marinade, coating both sides.
Place the kebabs on a hot oiled grill or barbeque for 2 minutes each side, or until they are almost cooked through - the golden rule here is NOT to over cook.
Orze with baby spring peas in a Crème fraîche and Pure Wasabi sauce
250 gram of dry Orze Pasta (rice grain shaped pasta also known as Risoni)
salt
½ to ¾ cups of baby spring peas
olive oil
¼ cup of white wine
½ cup of Crème fraîche
1 to 2 teaspoons of Pure Wasabi paste or to taste (optional)
freshly ground black pepper
Maldon sea salt
Bring a large saucepan of water to the boil
Salt the water and add the Orze pasta
Cook for 4 minutes and add the peas. Continue cooking until the pasta is al denté - approximately 2 more minutes.
Drain and stir through a little olive oil
Return to the heat and add the white wine
Stir through Crème fraîche and Pure Wasabi paste.
Check seasonings and serve.
Wilted Baby Bok Choy
Baby Bok Choy leaves
Olive oil
Maldon sea salt
Heat a pan or wok.
Throw in a few handfuls of bok choy leaves
Drizzle with oil and stir through until wilted and glistening
Season and serve.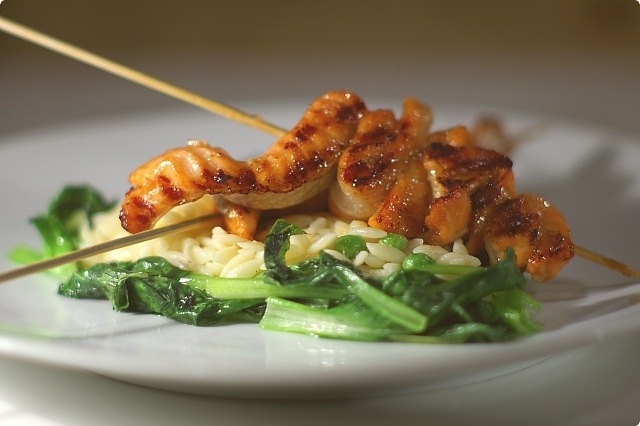 And what meal is complete without dessert? Well, no meal is! If you're me!!

This dessert is a very quick little twist on the classic Kiwi / Australian cookie… ANZAC biscuits!. ANZAC Tuiles with Crème Chantilly and Raspberries, drizzled with another Kiwi classic Chelsea Golden syrup.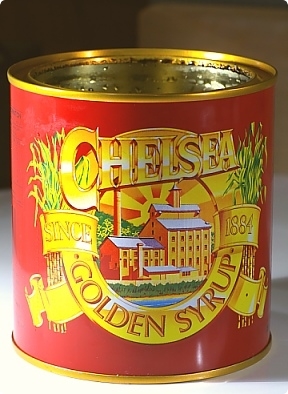 ANZAC tuiles
4 tablespoons of rolled oats
4 tablespoons of desiccated coconut
75 grams of plain white flour
1 teaspoon of ground cinnamon
80 grams of caster sugar
1 egg
50 mls of milk
Fine cocoa for dusting
Preheat the oven to 180°C (360°F).
On a piece of silcon/ parchment / baking paper, draw a pattern for 12 circles 10 cm in diameter.
Briefly process the rolled oats and coconut in a food processor to cut them a little finer.
Mix the rolled oats and coconut with the remaining ingredients to form a paste.
Smear 1 heaped teaspoon of paste in each circle using a palate knife.
Bake for 5 to 6 minutes
Remove from the oven and while still supple mould the tuiles over a rolling pin to form curved tuiles.
Dust lightly with cocoa powder.
Makes 24 Tuile
Crème Chantilly and Raspberries
200 mls of whipping cream
1 teaspoon of caster sugar
Vanilla bean or extract to taste
1 cup of raspberries, preferably fresh, although I made do with thawed frozen ones
Golden syrup for drizzling
Lightly whip the cream, sugar and vanilla
Assemble 3 ANZAC tuiles per person with a few raspberries and spoons of Crème Chantilly
Finally drizzle with golden syrup and serve.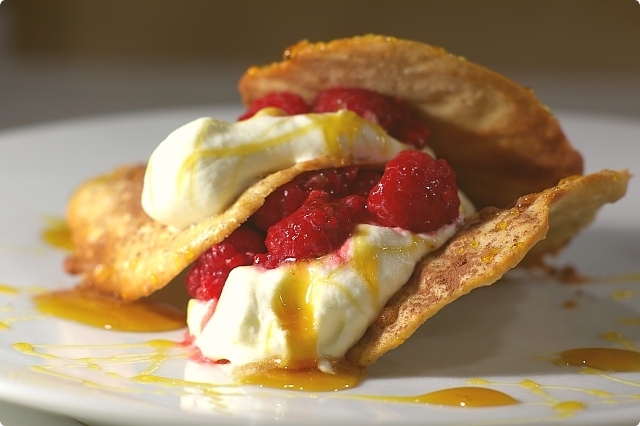 My order of work to achieve all this in less than 30 minutes!
Clean hands
Preheat oven to 180°C (360°F)
Put pasta pot onto boil
Put kettle on for a cuppa for hubby
Assemble all ingredients on bench
Draw circles on parchment paper
Process rolled oats and coconut
Mix tuile paste, set aside
Crush garlic and ginger… whilst sharing jokes and the days goss with hubby!
Add pasta to pot
Slice salmon
Clean hands / clear bench of extra equipment and ingredients
Throw peas into pot with pasta
Make cuppa for hubby!
Drain pasta and peas, add oil
Spread and smear tuiles / into oven, set timer 5 mins
Thread salmon on skewers
Clean hands
Remove tuiles from oven and bend over rolling pin
Heat pan for salmon
Lightly whip Crème Chantilly
Dust tuiles with cocoa
Start to cook salmon
Return pasta to heat, add wine…
Flip salmon kebabs over
Finish pasta with Crème fraîche and Pure Wasabi paste
Heat pan for bok choy, wilt
Remove everything from heat and assemble and serve
Stop the Clock!
Photograph…. and eat!
Assemble desserts
Photograph… eat!
Enjoy


Blog Recipes · Canterbury Recipes · Desserts Recipes · Fish Recipes · Food Blog Events Recipes · New Zealand Recipes · Pasta Recipes
Home · About Bron · Portfolio · Recipe Index · Unit Converter
RSS Feed · Atom Feed · Twitter · Facebook · Flickr · Bron's Amazon Store