Wednesday 25th April 2007
Red Remembrance Poppies for ANZAC Day
Red poppies are a symbol of war remembrance the world over. One often wears a poppy in remembrance of those who have died in past wars or those who still serve. In most Western countries the poppy is worn on or around Armistice Day (11 November), but here in New Zealand they are most commonly seen in the week around Anzac Day, the 25th of April. (They are also seen at major military commemorative events, at military funerals, at war graves and cemeteries throughout the year.)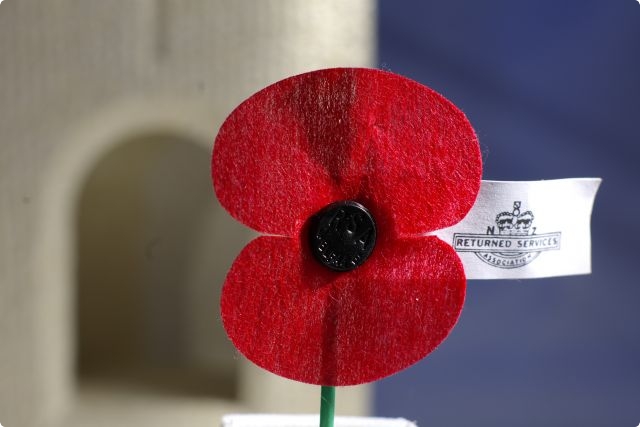 The red poppy, also known as the 'Flanders poppy', has signified remembrance since the time of the Great War / World War 1 (1914-18), it being the first plant to grow and bloom in the mud and soil after the battles of Flanders. This connection was made most famous by a Canadian Lieutenant-Colonel John McCrae, in his poem 'In Flanders Fields'.

In Flanders fields the poppies blow
Between the crosses row on row,
That mark our place; and in the sky
The larks, still bravely singing, fly
Scarce heard amid the guns below.

We are the Dead. Short days ago
We lived, felt dawn, saw sunset glow,
Loved and were loved, and now we lie
In Flanders fields.

Take up our quarrel with the foe:
To you from failing hands we throw
The torch; be yours to hold it high.
If ye break faith with us who die
We shall not sleep, though poppies grow
In Flanders fields.




Today my blog is wearing Remembrance poppies. These are not just any poppies, however - this is a food blog so my poppies are naturally of the edible kind.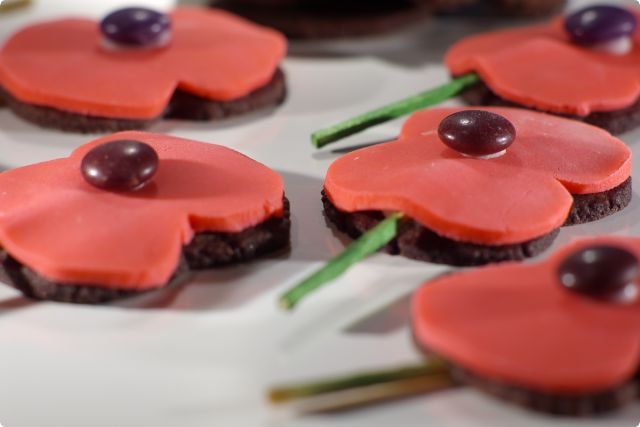 These Chocolate Sable Red Remembrance Poppies are for all the New Zealanders who have died in war, most notably the Kiwi troops who landed on the shores of the Gallipoli peninsula on this day in 1915.

At the going down of the sun and in the morning.
We will remember them.
We will remember them.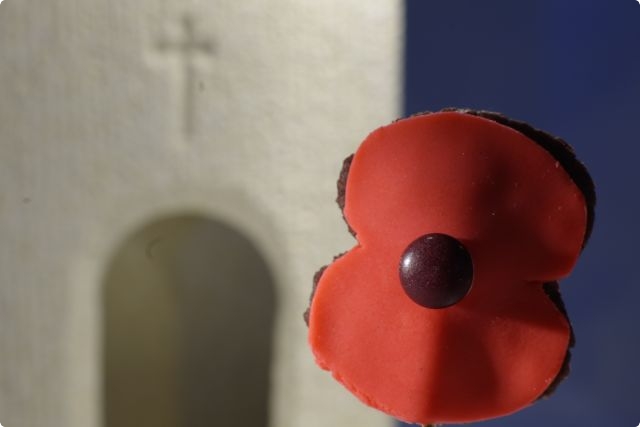 Chocolate Sable Red Remembrance Poppies
255 grams of plain white flour
30 grams of quality dark cocoa powder
200 grams of cold butter, cubed
100 grams of icing sugar
2 free range egg yolks
1/2 teaspoon of vanilla essence
200 grams of rolling fondant icing
red food colouring
cornflour/ cornstarch to work the fondant
30 dark sweets, such as M&M's/Pebbles/Smarties
30 toothpicks, or match sticks with the head broken off, etc. painted with green food colouring
a small amount of icing / frosting to fix the fondant, toothpicks and sweets
Preheat your oven to 180°C (360°F)
In a food processor place the flour, cocoa and cubed butter. Pulse until the mixture resembles fine breadcrumbs.
Add the icing sugar, egg yolks and vanilla and process to a form smooth ball of dough.
Wrap the dough in plastic wrap and refrigerate for 30 minutes.
On a lightly floured board roll the dough out, marking and cutting 30 poppy shapes.
Transfer the poppies to a lined baking tray / sheet and bake for approximately 8 minutes.
Leave to cool on a cake rack.
Knead the fondant with enough red food colouring to create a good red poppy colour, adding some cornflour if the fondant becomes too sticky.
Roll out the fondant and cut 30 poppy shapes to fix to your sables
Fix the fondant, green toothpick and a sweet to each sable cookie with a little icing to form the poppies
Makes 30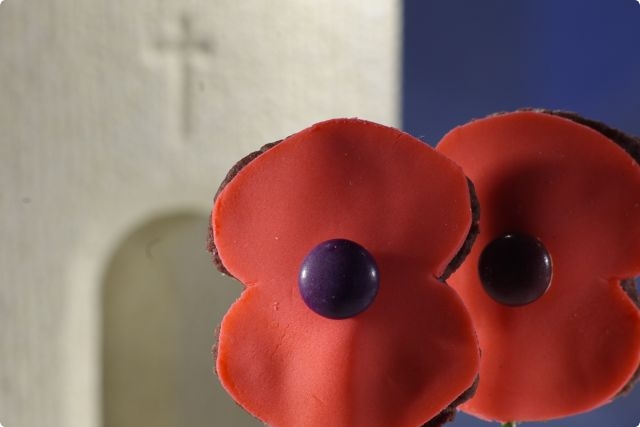 Lest We Forget

Blog Recipes · Chocolate Recipes · Cookies Recipes · Culture & Tradition Recipes · New Zealand Recipes · Sunday Afternoon Teas Recipes · The Baking Tins Recipes
Home · About Bron · Portfolio · Recipe Index · Unit Converter
RSS Feed · Atom Feed · Twitter · Facebook · Flickr · Bron's Amazon Store