Wednesday 10th May 2006
Pumpkin and Toasted Cumin Seed Croquettes
It's not surprising that "Pumpkin" is sometimes used as an affectionate term when referring to one's significant other. I mean who could not love a pumpkin? By the way that is a rhetorical question, if you don't like Pumpkin you're a fool ... I shall say no more!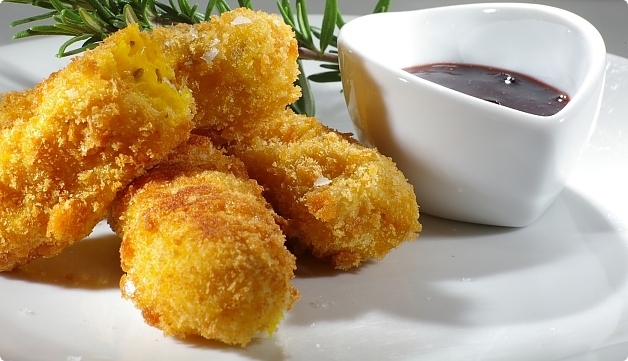 After all Pumpkins are a divine food. Much like Kumara they're what I would call a hero food, being full of fibre, Vitamin A (Beta Carotene) and Vitamin C. Besides all this, pumpkins are cheap as chips and there is so much you can do with them.

For starters they cover all menu courses, from simple snacking and amuse-bouche or hors d'oeuvres, to soups, delightful entree's and mains and last but by no means least, pumpkins make a great dessert!

This Pumpkin and Toasted Cumin Seed Croquettes recipe is the first of several favoured pumpkin recipes I plan to post in the next few weeks. Perhaps pumpkin is to be my "flavour of the month" as our lovely Ivonne would put it. I also promised Rob my Thai take on Pumpkin Soup.


Pumpkin and Toasted Cumin Seed Croquettes
Around 2 cups of mashed baked pumpkin
1 teaspoon of cumin seeds, freshly toasted
2 tablespoons of sour cream
½ a teaspoon of salt
¾ of a cup of plain flour, seasoned with a little salt and pepper
2 eggs, lightly beaten
2 cups of dry breadcrumbs
oil for frying
sea salt
In a bowl mix together the mashed pumpkin, cumin seed, sour cream and salt.
Chill the mixture until ready for use to make the mixture a little firmer.
If your mixture is a little too wet or soft add a tablespoon of flour or some extra breadcrumbs.
Shape spoonfuls of the mixture into small oval logs and gently pass each through the seasoned flour to coat.
Pass the floured croquettes through the beaten egg and finally coat them evenly in the breadcrumbs.
Repeat each step with the remaining mixture.
Heat the oil in a large saucepan or a wok suitable for deep frying.
Test the temperature of the oil by dropping a small cube of bread in, it should float to the top immediately and sizzle until crisp and golden in 30 seconds.
Carefully add some croquettes to the hot oil, being sure to only cook a few croquettes at a time so as not to overcrowd and reduce the heat of the oil or, worse still, causing the oil to overflow!
Cook the croquettes over a medium heat for 4 to 5 minutes, or until they are golden and crisp.
Sprinkle with a little sea salt and serve immediately with the following "Super Simple Balsamic and Plum Dipping sauce"
Makes 16
This is hardly a recipe, although it is a very tasty dipping sauce, mixed together in two blinks of an eye. When I don't have my own homemade jam, I use New Zealand's Anathoth's Jam - although sold in horrid fingernail breaking containers, it's bloomin' awesome jam!


Super Simple Balsamic and Plum Dipping Sauce
½ a cup of Plum Jam
¼ of a cup of balsamic vinegar, or to taste
a little salt
Combine the jam and vinegar together, taste, and add some salt if desired.
Pour into a couple of wee dipping bowls!
Oooh and here's a little pumpkin trivia for you ... did you know that the largest pumpkin ever grown, weighed in at a whopping 666 kg, that's 1,469 lbs. It was grown and raised, nursed and talked to by Larry Checkon from Northern Cambria, Pennsylvania in the good ol' US of A in 2005.

Now that would make A LOT of pumpkin croquettes!

Enjoy!


Appetizer Recipes · Autumn Recipes · Blog Recipes · Fruit & Veges Recipes · Ingredient Inspirations Recipes · Vegetables Recipes
Home · About Bron · Portfolio · Recipe Index · Unit Converter
RSS Feed · Atom Feed · Twitter · Facebook · Flickr · Bron's Amazon Store