Wednesday 26th April 2006
Kumara, Coriander and Brazil Nut Patties
I love kumara or sweet potatoes and yams, in fact I love most edible tubers and root vegetables. Autumn seems such a great time to indulge in their sweet starchy goodness too. As the weather turns cooler and the days turn shorter, you need something warm and filling inside to keep the nasty bugs at bay.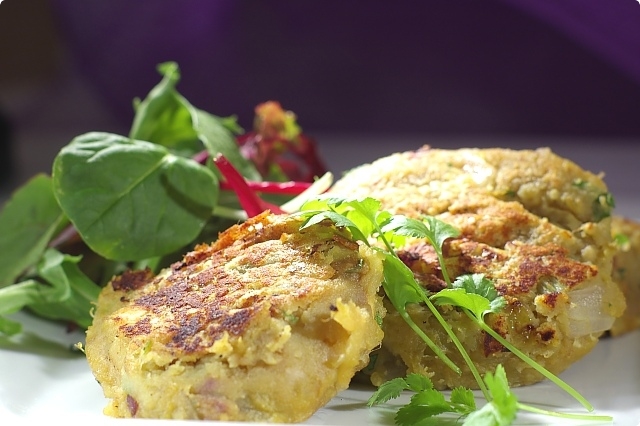 Kumara / Sweet Potato, Coriander and Brazil Nut Patties
400 grams of kumara or sweet potatoes
1 tablespoon of olive oil
1 onion, finely chopped
2 cloves of garlic, crushed
2 spring onions, sliced
1 stalk of celery, finely chopped
small bunch of fresh coriander, chopped
1 egg
125 grams of chopped brazil nuts
½ cup of breadcrumbs
olive oil
Scrub and rinse the kumara well, place in a saucepan of cold water with the skins on.
Bring to the boil and simmer for 25 minutes or until tender.
Leave to cool slightly before removing their skins and mashing them roughly, or pressing them through a ricer.
Heat a fry pan and add the tablespoon of olive oil, finely chopped onion and celery, sauté until soft and translucent
Add the garlic and sliced spring onions
Fold the onion and celery mixture through the mashed kumara and add the chopped coriander, beaten egg, brazil nuts and breadcrumbs.
Mix well to combine and shape into 12 patties.
Gently fry the patties in a little more olive oil until golden and cooked through.
Serve with your favourite salad greens and fruity chutney, or together with a little grilled chicken and / or pancetta for something a little more substantial.
Enjoy!


Appetizer Recipes · Autumn Recipes · Blog Recipes · Fruit & Veges Recipes · Vegetables Recipes
Home · About Bron · Portfolio · Recipe Index · Unit Converter
RSS Feed · Atom Feed · Twitter · Facebook · Flickr · Bron's Amazon Store