Thursday 18th May 2006
Thai Inspired Pumpkin Soup with Lime and Coriander Pesto
When does a recipe become your own? How many ingredients need to be adapted, replaced, substituted or changed first, in order for it to become your own new unique creation?

I often ponder this since, as I've said before, I rarely 'follow' a recipe, but take inspiration from many. And this, (my?) Thai inspired pumpkin soup is yet another example of a recipe that I've changed considerably since first being inspired by a recipe in the Australian Delicious magazine.

The Thai flavours of lime, coriander and fiery red curry paste make it a very memorable dish, in addition to being a delicious soup.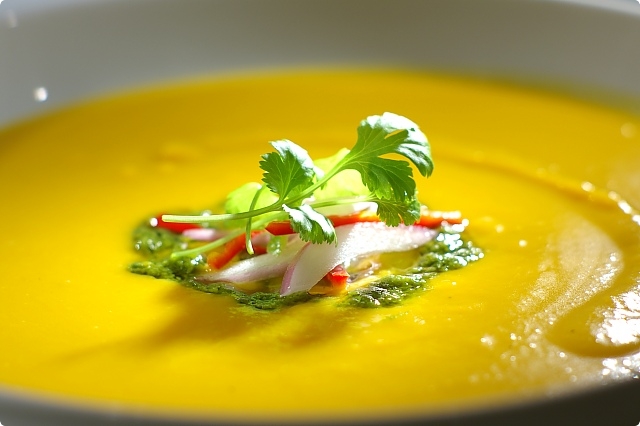 Thai Inspired Pumpkin Soup with Lime and Coriander Pesto
1 tablespoon of olive oil
1 onion, finely chopped
2 tablespoons of Thai Red Curry Paste
1 inch of fresh ginger root, grated
1.2 kilos of pumpkin, peeled and chopped, approximately
800 mls of chicken or vegetable stock
2 tablespoons of tomato paste
200 mls of coconut cream
salt and pepper to taste
½ a red onion, very thinly sliced
2 red chillies, thinly sliced
10 sprigs of fresh coriander
In a large saucepan sweat the onion with the oil until translucent and soft.
Add the curry paste and ginger and continue to sauté for a couple of minutes until lovely and fragrant.
Add the pumpkin and sweat for another minute or two.
Add the stock and the tomato paste.
Cover and simmer for 20 minutes or until the pumpkin is tender.
Finally, add the coconut cream.
Rinse your blender in boiling water to warm it (as you would a thermos flask) and blend the soup mixture until very smooth. Pass the soup through a chinose if you desire.
Serve the soup whilst still very warm, gently reheating if necessary, with a spoonful of Lime and Coriander Pesto and sprinkled with the thinly sliced red onion, chillies and sprigs of coriander.
Serves 8 to 10
You can use either a food processor or a Mortar and Pestle to make the pesto. I prefer to use my mortar and pestle and 'feel' the process. Also, the mortar and pestle is easier to clean up!


Lime and Coriander Pesto
2 to 3 large handfuls of coriander leaves and stems with roots removed
2 small limes, zest and juice
2 cloves of garlic
½ a cup of olive oil
salt and pepper to taste
Roughy chop the coriander and combine with the lime zest and garlic in a mortar.
Pound and grind the mixture with the pestle until almost smooth.
Add the lime juice and a little of the olive oil.
Continue to grind and add oil until the pesto has reached the desired consistency.
Taste and add salt and pepper, more lime juice etc. until it suits your palate.
Enjoy


Autumn Recipes · Blog Recipes · Fruit & Veges Recipes · Soups Recipes
Home · About Bron · Portfolio · Recipe Index · Unit Converter
RSS Feed · Atom Feed · Twitter · Facebook · Flickr · Bron's Amazon Store