Wednesday 27th January 2010
Gluten-free Gingerbread Red Currant Cakes
I think I've caught the Gluten-free baking bug!

Thankfully this is one bug I'm quite O.K with having. I've been getting some sweet satisfaction with my gluten-free experiments to date and these Gingerbread Red Currant Cakes were no exception.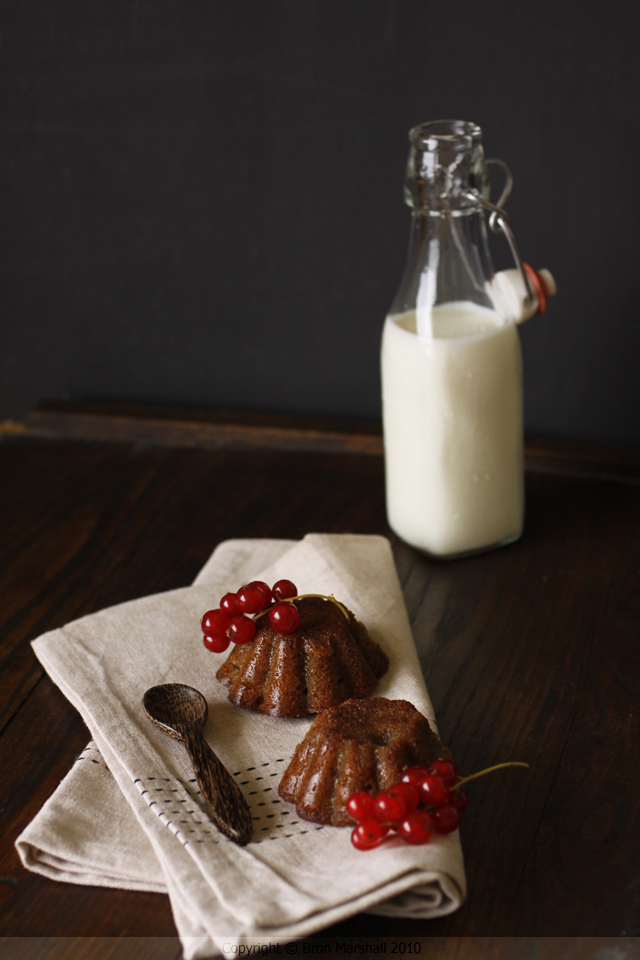 Gluten-free Gingerbread Red Currant Tea Cakes

It wasn't until last year that I really started getting intrigued by gluten-free cooking after reading and salivating over treats some of my favourite food bloggers were making. I am now captivated with this whole new world of baking.

Fortunately I am one of the lucky ones and rarely notice any ill effects after eating gluten - *touch wood*.
Yet I have really been relishing the incredible flavours of these new (to me!) grains, as well as the added nutritional benefit. Surely it's not too difficult to understand? Like most of you who are as passionate about food, I constantly aspire to greater knowledge and a better educated palate. I'm easily coaxed into trying new tastes, textures and cooking techniques. As increasing numbers of friends and family are avoiding gluten in their diet it's great to expand my repertoire to suit their needs and tastes too.

I made these cakes with the last of our fresh Red Currants, however I imagine they will be just as delightful made with frozen red or black currants from the freezer later in the year. I'm also keen to try them with rhubarb or cranberries. I think the warmly spiced and sweet Gingerbread pairs perfectly with the more tangy tartness of fruits like currants.

Quinoa flour also works wonderfully here with it's naturally deep flavour. I purchase mine at Piko Wholefoods in Christchurch - hopefully your local organic or health food stores will stock it also. If you can't find it - please suggest it to them! - as in this small way we can potentially enrich and educate more palates to these more interesting and flavoured flours. If you are trying quinoa for the first time, I would love to hear your first impressions of it!

Alternatively you can substitute the quinoa for another more easily available or preferred gluten-free flour such as brown rice, and if you're not at all concerned about the gluten then all purpose wheat flour is perfectly fine too.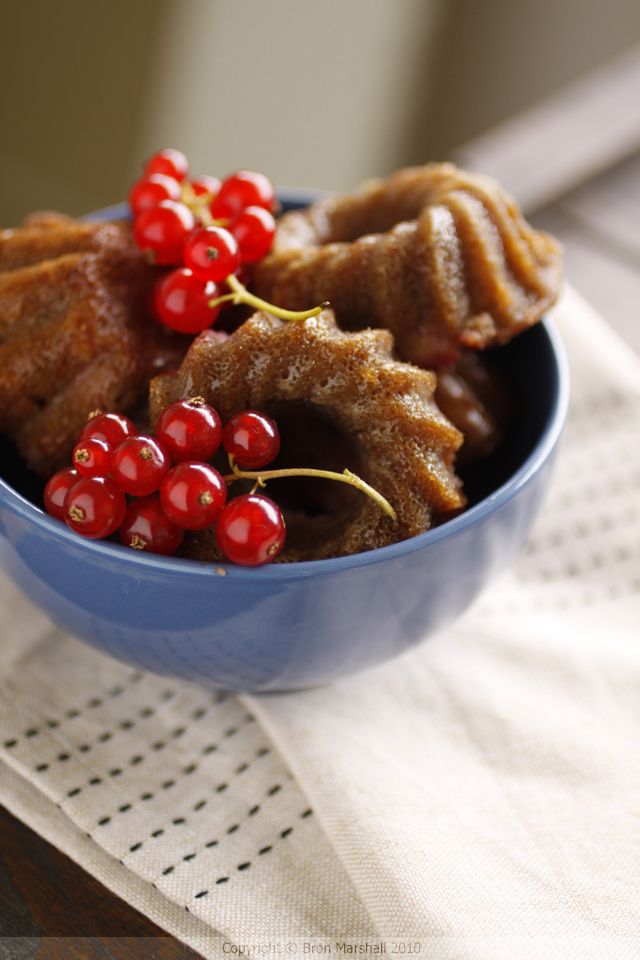 One other little thing before I let you jump below to the recipe - this past week marked the 4th anniversary of bronmarshall.com Yes, I can hardly believe it myself! As some of you (Barbara) will remember I began blogging with a very boring diary rather different approach on Google's blogger. However as it naturally morphed into a blog solely on the subject of food and my increasing desire to share larger images, I moved over here to wordpress and my own domain.

Of course there is no doubt I would have given it all up long ago if it weren't for you! Thank you all so much for the support, the constant and encouraging comments and emails you leave me every day. And to those of you lurking in the shadows, only obvious in the traffic statistics - thank you for your continued readership too!
Love to you all!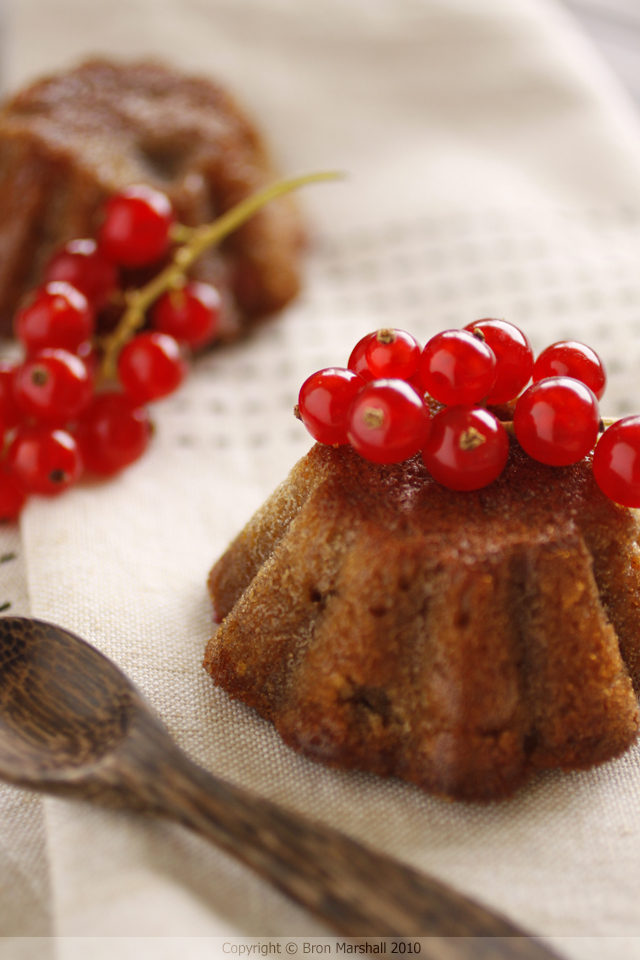 Gluten-free Gingerbread Red Currant Tea Cakes
¼ cup of icing, confectioners sugar
½ cup of soft brown sugar
½ cup of ground almonds
¼ cup of quinoa flour
3 teaspoons of ground ginger
1 teaspoon of mixed spice
1 teaspoon of cinnamon
Pinch of salt
4 egg whites, from large free range eggs
100 grams / 3 ¾ oz of butter, melted and cooled
½ teaspoon of vanilla extract
1½ cups of Red Currants, fresh or frozen
Preheat your oven to 170°C (340°F).
Lightly grease or spray 12 mini cake or muffin tins with vegetable oil and place them on a baking tray.
In a large bowl or with your stand mixer and the paddle attachment combine the icing sugar, brown sugar, ground almonds, quinoa flour, ground ginger, mixed spice, cinnamon and salt.
Add the egg whites and mix until the ingredients form a smooth batter.
Gently mix in the cool melted butter and vanilla until they are thoroughly combined, finally fold through the red currants.
Divide the batter evenly between your tins and bake for 15 to 20 minutes or until when they're gently pressed they spring back. Makes 12.
 
Enjoy!


Berries Recipes · Blog Recipes · Cakes Recipes · Desserts Recipes · Fruit Recipes · Fruit & Veges Recipes · Gluten Free Recipes · Grains Recipes · Summer Recipes · The Baking Tins Recipes
Home · About Bron · Portfolio · Recipe Index · Unit Converter
RSS Feed · Atom Feed · Twitter · Facebook · Flickr · Bron's Amazon Store