Thursday 21st January 2010
Blueberry Breakfast Omelette
Who says omelettes have to be savoury?!

It's true recipes for omelettes usually call for savoury flavourings, most notably herbs, cheese, bacon, tomatoes and capsicum, mushrooms. However you won't find any mushrooms in my omelette, that I can assure you!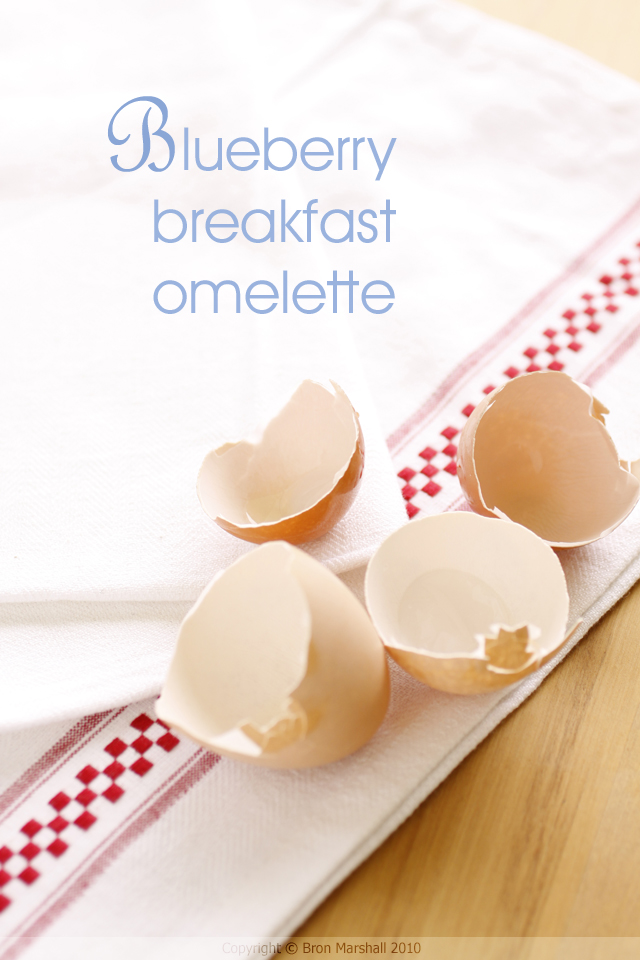 I like a savoury omelette to be sure, without the mushrooms! However for breakfast it must be said I normally ere on the sweeter side of things, toast and jam, toasted muesli (most of you, my readers will know it as granola), yoghurt and berries, porridge with dried fruits...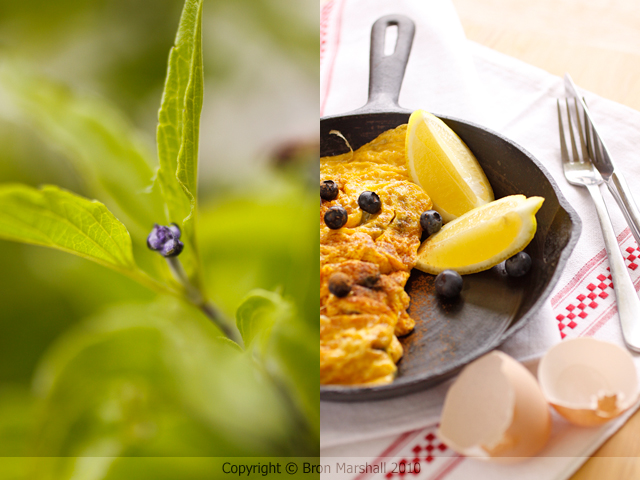 In an attempt to reduce the amount of sugar and carbohydrates I intake this month, while still enjoying the gorgeous seasonal berries we are growing. I've come up with this slightly sweeter take on an omelette.

Based on the idea of a blueberry pancake, with all the flavour! None of the traditional carbs!

What are your favourite ways to enjoy an omelette?
Do you have another 'sweet' idea?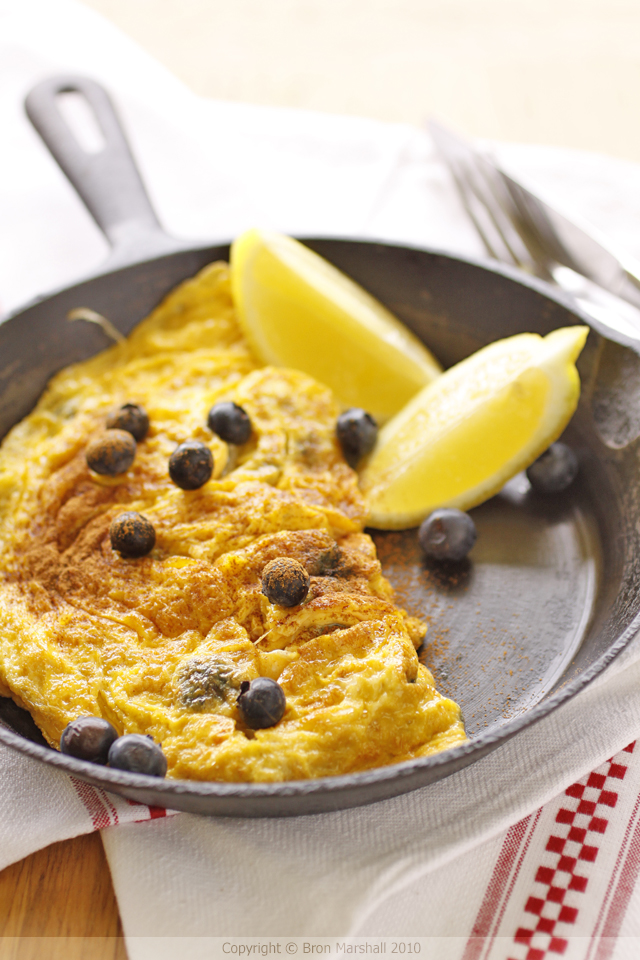 Blueberry Breakfast Omelette
2 teaspoons of butter
2 to 3 free range organic eggs, fresh as possible!
pinch of sea salt
a handful of fresh blueberries or more
a lemon, wedges to squeeze juice
ground cinnamon to dust
Preheat a small 20cm well seasoned or non-stick frypan over a medium to high flame.
In a small bowl crack the fresh eggs and add a little salt, not too much as it can result in the omelette having a more rubbery texture.
Lightly beat the eggs with a fork, just to break them up, do not whisk them thoroughly.
Drop the butter into the hot pan and as soon as it starts to foam, pour in the eggs.
Wait for a few seconds and sprinkle over the blueberries.
Working quickly, yet gently move the pan back and forth over the heat to loosen the cooked egg and move the raw egg in to contact with the hot pan, until the egg is just setting together and still quite moist and soft on top.
Shake the pan so that the omelette rolls down over itself, while sliding towards the lower end of the pan.
Remove from the heat and flip out onto your serving plate.
Sprinkle with more blueberries as desired, dust with cinnamon and serve immediately with a couple of lemon wedges to squeeze on the side.
Makes 1
 
Enjoy!


Berries Recipes · Blog Recipes · Breakfast Recipes · Eggs Recipes · Fruit Recipes · Fruit & Veges Recipes · Summer Recipes
Home · About Bron · Portfolio · Recipe Index · Unit Converter
RSS Feed · Atom Feed · Twitter · Facebook · Flickr · Bron's Amazon Store