Sunday 6th December 2009
Macaron Mania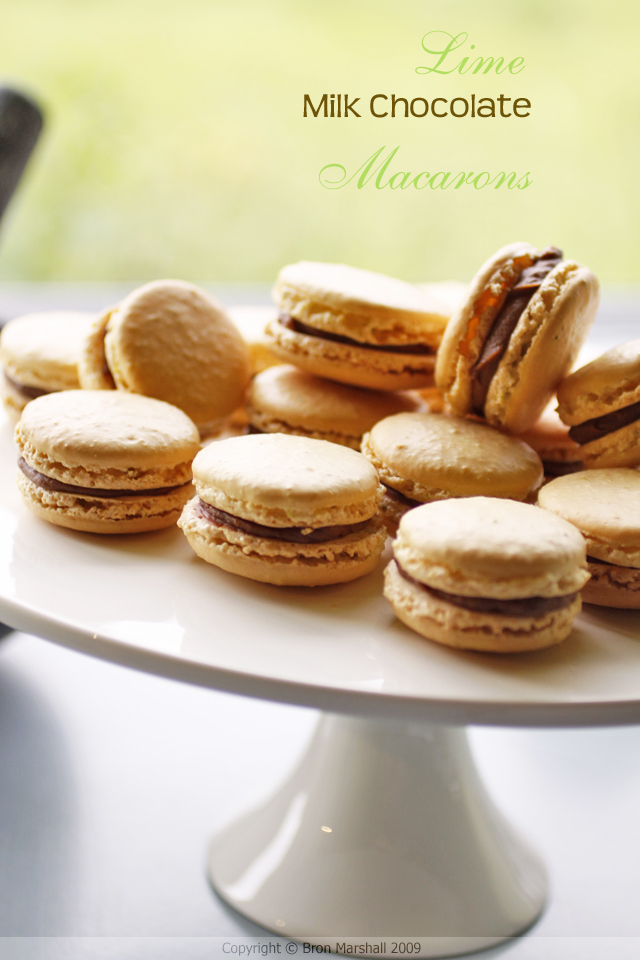 Firstly a little background information for those who have no idea what they're looking at right now!
Macarons are a traditional French Pastry dating from the 1830s. The re-invented double-decker macaron filled with ganache or buttercream gaining popularity today was developed by the popular French p'tisserie Ladurée a little more recently. Making macarons at home has become somewhat of an obsession with foodies, especially food bloggers world wide as there is a bit of a knack to getting the perfect flat top together with their signature puffed feet.
Despite what their name may suggest, they are not the "MacarOOns" which many of us are more accustomed to. Macarons have a completely different method of preparation and a much lighter appearance and result compared to the dense "MacarOOn" cookie made either with coconut or coarse almonds.
These beauties here are my 5th attempt at macarons in say a 3 year time frame. It's my first time for my own homemade ones to appear on this blog, although most of my previous attempts have been published elsewhere on the web.
My first ones made back in 2006 naturally didn't go quite so well, as I hadn't the rhythm and acquired knowledge for success, yet I did manage a few with feet and I picked out the best ones to send to Arfi of the blog Homemades for a local food swap.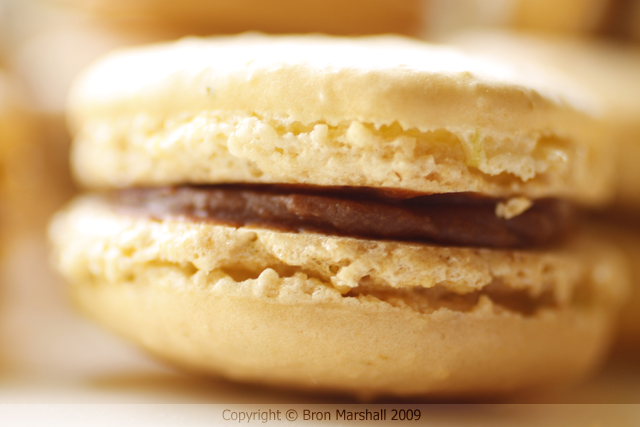 Some Serious #Mac Attack Porn here!

My 2nd attempt some time later were Jaffa flavoured. I rejoiced with gaining more signature feet by posting them up on my flickr account. Although looking back today they seem a little large and flat, at the time I thought they were just da bomb!

A 3rd attempt (which sadly I have no photos of) were Pink Rose flavoured macarons and totally wasted on some friends who simply didn't "get" them at all. It wasn't until later that I learnt that one of the daughters doesn't like meringue... eh? What's not to like? I'd never met a child that didn't love a meringue, let alone a sweet pink meringue cookie before! And I guess to be fair, unless you're a foodie or frequent farmers market junkie, macarons aren't exactly common, or a well known identity in New Zealand.

My 4th attempt was this past July, where I made Clementine and Cinnamon flavoured ones for our Mid-Winter Christmas (do you notice a little Citrus theme going on here?) As I've found macarons to be rather more sweet to the baking I normally prepare, paring them with a zesty refreshing citrus flavour seems to be an appropriate match.

Since following my first attempt, I've used my amiable friend, Helen of Tartelette's ratios and method with great success! Here is her recipe adapted to make the Lime and Milk Chocolate variant you see here which my fairies and I made earlier last week.

I managed only a few quick snaps in the kitchen before the fairies shared these out amongst some more meringue loving fairyland friends, however I think I might almost have the "knack" to attempt a 6th batch, what do you say?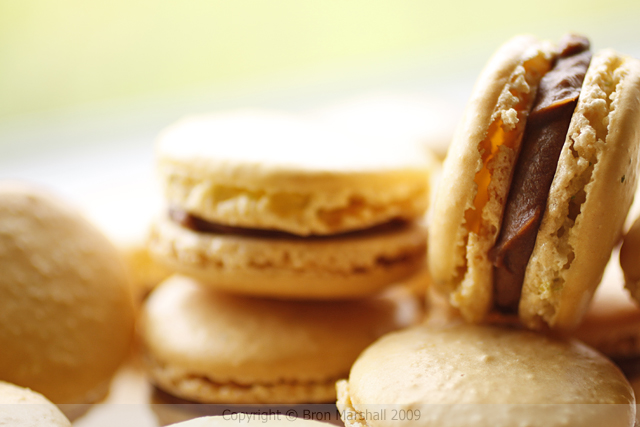 Lime and Milk Chocolate Macarons
For the Macaron shells:
90 grams of egg white (about 3 - but do weigh them!)30 grams of plain white granulated sugar
200 grams of icing or powdered sugar
110 grams of finely ground blanched almonds
the finely grated zest of 1 lime
If desired you could also add green powdered food colouring here
For the Milk Chocolate ganache:
150 grams of quality milk chocolate (I use NZ Whittaker's 33% cacao), chopped
65 mls of cream
the juice and zest of 1 lime
For the egg whites:
Start the day before, or 24 hours before you wish to bake your macarons, this is to age your egg whites, by separating and storing the whites at room temperature in a covered container, the remaining yolks can be used to make another dessert, custard, mayonnaise or whichever you prefer.
And if you want to use older egg whites, 48 hour or older, you can simply store them in the fridge.
To Prepare the Macarons:
In a large bowl with electric beaters or a stand mixer fitted with the whisk attachment, whip the egg whites to a foam, gradually add the 30 grams of white sugar until you obtain a stiff glossy meringue.
Do not over beat your meringue or it will be too dry.
Combine the already ground almonds and icing sugar in a food processor and give them another good pulse until the nuts are very finely ground.
Add them to the beaten meringue, give it a quick fold to break some of the air and then fold the mass carefully until you obtain a batter that flows like magma or a thick ribbon.
Give quick strokes at first to break the mass and slow down. The whole process should not take more than 50 strokes.
Take a small amount of the meringue with a teaspoon and drop it onto a plate: if the tops flatten on their own you are good to go.
If there is a small beak, give the batter a couple of turns.
Line a couple of baking trays with cooking paper.
Fill a pastry bag fitted with a plain tip (Ateco #807 or #809) with the meringue mixture and pipe small rounds, 4cm or 1½ inch in diameter onto the lined baking sheets.
Let the macarons sit out for 45 minutes to an hour to harden their shells.
Preheat your oven to 140°C (280°F).
Bake for 20-22 minutes, depending on their size. Let cool slightly on the tray before lifting them.
If you have trouble removing the shells, pour a couple of drops of water under the parchment paper while the sheet is still a bit warm and the macarons will lift up more easily do to the moisture. But don't let them sit there in it too long or they will become soggy!
Once baked and if you are not using them right away, store them in an airtight container out of the fridge for a couple of days or in the freezer.
To make the Milk Chocolate and Lime Ganache:
Warm the cream in a saucepan or microwave but be careful not to scald.
Add the lime zest and juice to the hot cream, remove from the heat and leave to infuse for 5 minutes
Add the still warm cream to the chopped chocolate and mix together until evenly combined.
Beat the mixture until the ganache is smooth and glossy, leave to cool and thicken to room temperature.
To fill the Macarons:
Pipe or spoon about 1 heaped teaspoon in the center of one shell and carefully squeeze the ganache to the edges while topping with another macaron shell.
Enjoy!


Blog Recipes · Chocolate Recipes · Cookies Recipes · Fruit Recipes · Fruit & Veges Recipes · Summer Recipes · Summer 09 Recipes · Sunday Afternoon Teas Recipes · The Baking Tins Recipes
Home · About Bron · Portfolio · Recipe Index · Unit Converter
RSS Feed · Atom Feed · Twitter · Facebook · Flickr · Bron's Amazon Store