Monday 15th June 2009
My Fairies in their Cupcake Parlour Kitchen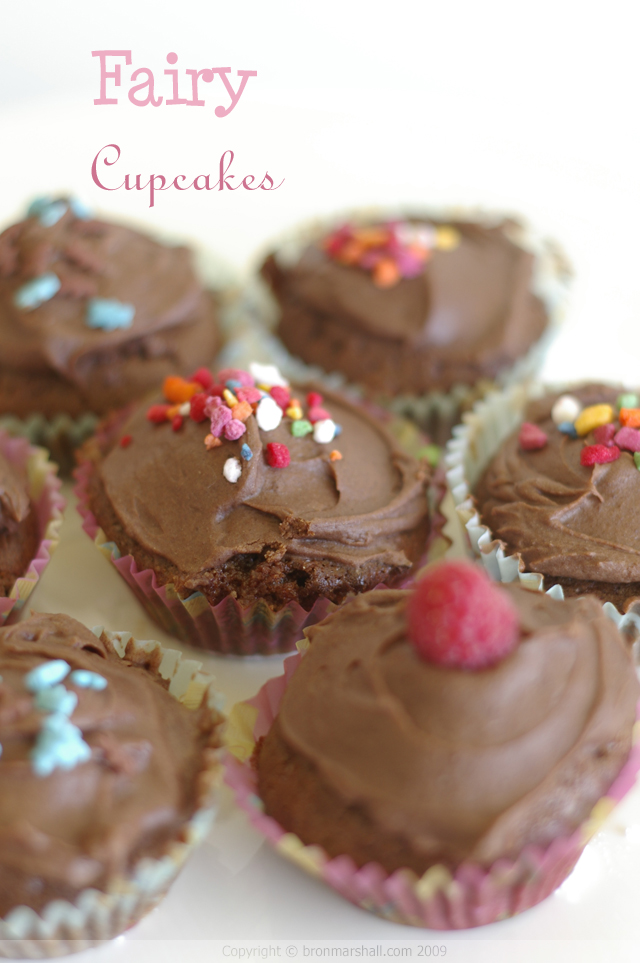 Chocolate Raspberry Cupcakes with Chocolate Mascarpone Frosting

As I mentioned a few weeks back; having reviewed a visit to The Cupcake Parlour my fairies are crazy over cupcakes. But of course they are... please tell me if you know a fairy between the ages of 5 and 10 who isn't head over heals for cupcakes?!

Not surprisingly therefore we make them fairy fairly often, or should I say the mini Marshall fairies do.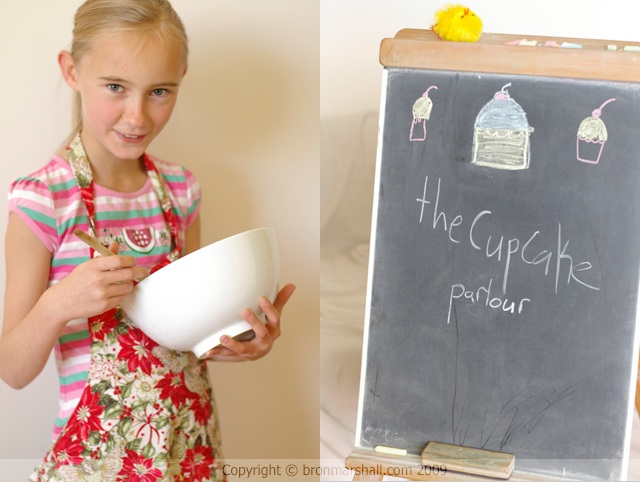 Don't be deceived by these two here... they look all so innocent and gentle, don't they? Yet they push me out... take over my kitchen and make it their own. Cast me out to the sidelines with their fairy wands and begin pulling out all the stocks from my pantry to whip up their specialities, often chocolate, yet they have several favourite recipes for their little bake shop and cake stalls.

Now even having gathered their ingredients from my store-cupboard and added to my electricity bill. The cheeky little wisps have the nerve to charge me before I can try any of their delicious sweet morsels!

But I can't resist and who could?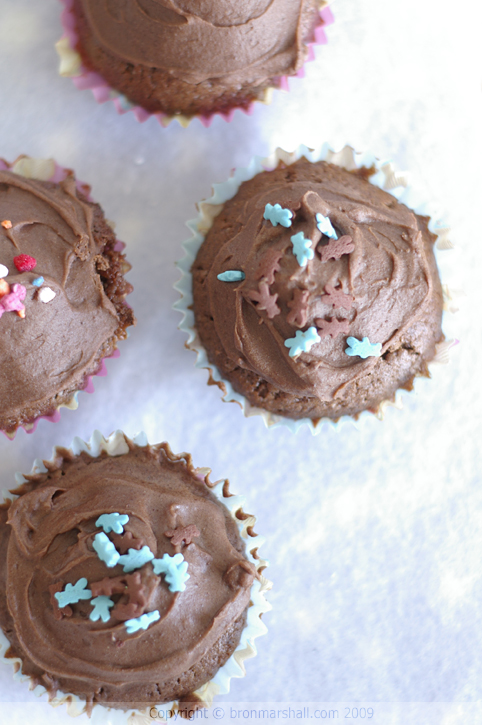 I simply can't resist their dainty fluttering charms, adorable fairy faces and cute little store. I get sucked in every time!

With the chocolate cupcakes you see before you here, my sneaky fairies secretly hid a little raspberry jam filling inside, the only clue being a sparingly few raspberries used to finish topping a couple of the cupcakes. The rest were adorned with colourful sprinkles, pink and silver cachous (dragées), these tiny blue and brown teddy shaped sprinkles for true fairy style.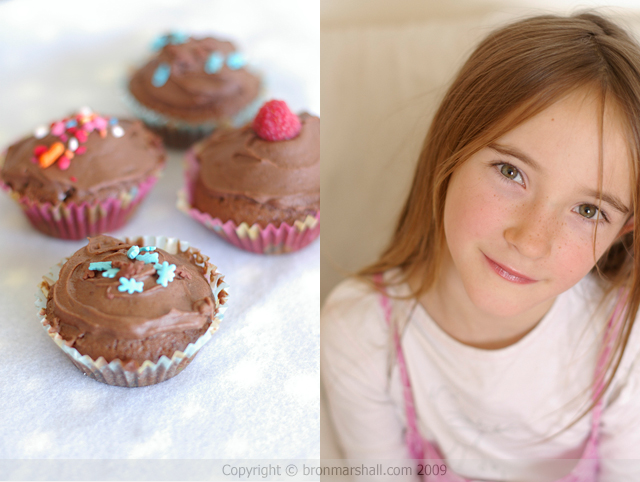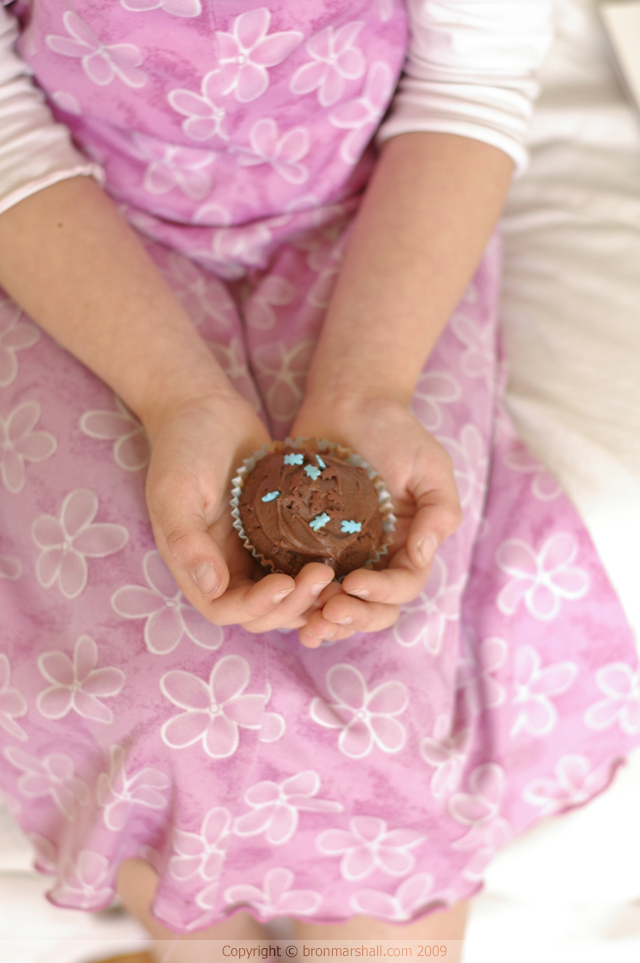 Chocolate Raspberry Cupcakes with Chocolate Mascarpone Frosting
125 grams (4½ oz) of soft butter
150 grams (5 oz / ¾ cup) of caster, superfine sugar
1 teaspoon of vanilla extract, essence
2 free range eggs
150 grams (5 oz / 1 cup) of plain white flour
75 grams (2½ oz / ½ cup) of quality dark cocoa
1½ teaspoons of baking powder, preferably aluminium free!
125ml (4½ fl oz/ ½ cup) of milk
For the frosting:
15 grams (½ oz / 1 tablespoon) of soft butter
60 grams (2¼ oz/ ¼ cup) of mascarpone, approximately
½ teaspoon of vanilla extract, essence
160 grams (5 oz / 1 cup) of icing / confectioners sugar
75 grams (2½ oz / ½ cup) of quality dark cocoa
Raspberry jam, sprinkles as desired
Preheat your oven to 180°C (360°F) and line either a 12 hole muffin pan with large paper patty cup liners, or arrange 24 smaller fairy cake papers on a baking sheet tray.
In a large bowl or stand mixer cream together the soft butter, sugar and vanilla until very light and fluffy.
Beat in each egg thoroughly one at a time.
Sift the flour, cocoa and baking powder together twice until well combined.
Gently fold the flour mixture and milk through the creamed mixture alternatively.
Drop the mixture evenly into the paper cases.Bake for 8 to 10 minutes for fairy cakes and 12 to 15 minutes for large cupcakes or until the cakes spring back when lightly touched and an inserted skewer comes out clean.
Transfer to a cooling rack and assemble the frosting.
In a medium sized bowl beat the butter, mascarpone and vanilla together.
Sift the icing sugar and cocoa together and mix into the mascarpone to form a smooth soft frosting mixture.
NB: You may require a little more mascarpone depending on the humidity of the day etc.
Once the cupcakes are cooled make little cavities with lids by cutting out the top, fill with a little raspberry jam and replace the tops.
Finally swirl and spread them with the Chocolate Mascarpone frosting and decorate as desired.
Enjoy!



Blog Recipes · Cakes Recipes · Chocolate Recipes · Winter Recipes
Home · About Bron · Portfolio · Recipe Index · Unit Converter
RSS Feed · Atom Feed · Twitter · Facebook · Flickr · Bron's Amazon Store