Tuesday 8th December 2009
Little Festive Stuffing Cakes for Paperchef #46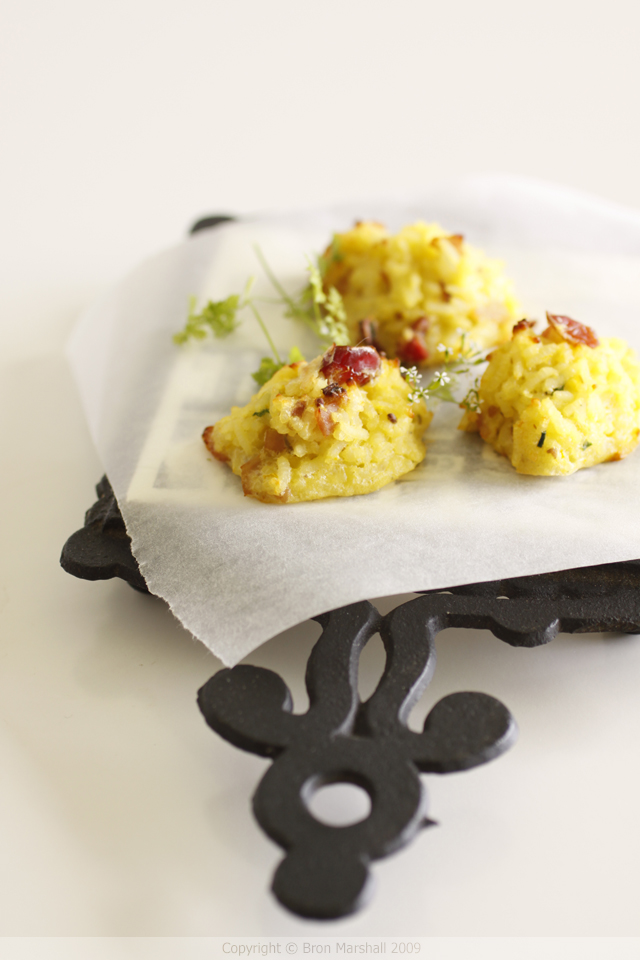 Catching up on my favourite blogs yesterday afternoon I was delighted to find another round on Paperchef was on the go. More delightful was that I happened to have all the ingredients that Jenny from I could even eat a baby deer! had pulled from her Santa hat.


thyme
saffron
mustard
and 1 slice of ham, leftover from the weekend.
The ham and mustard spoke of sweet Christmas glazes to me; the saffron and thyme of a wildly fragrant rice.
I set to with my helpful eldest fairy in the kitchen, to see what we could come up with.

First we began cooking some basmati rice with a few pinches of thyme and saffron, thinking we would throw together some type of saffron yellow rice salad, speckled with a colourful confetti of the remaining ham. Balanced with some chopped nuts for texture and dried fruit for sweetness.

As the rice was cooking merrily away on it's own, thoughts of recipes for rice stuffing clouded my vision, yet we had no meat, or the desire to dress and stuff. To which I recalled a photograph of individual stuffing cakes from an old Christmas magazine. They had been made with a more traditional bread stuffing, "little rice cakes would work too!" I reassured myself.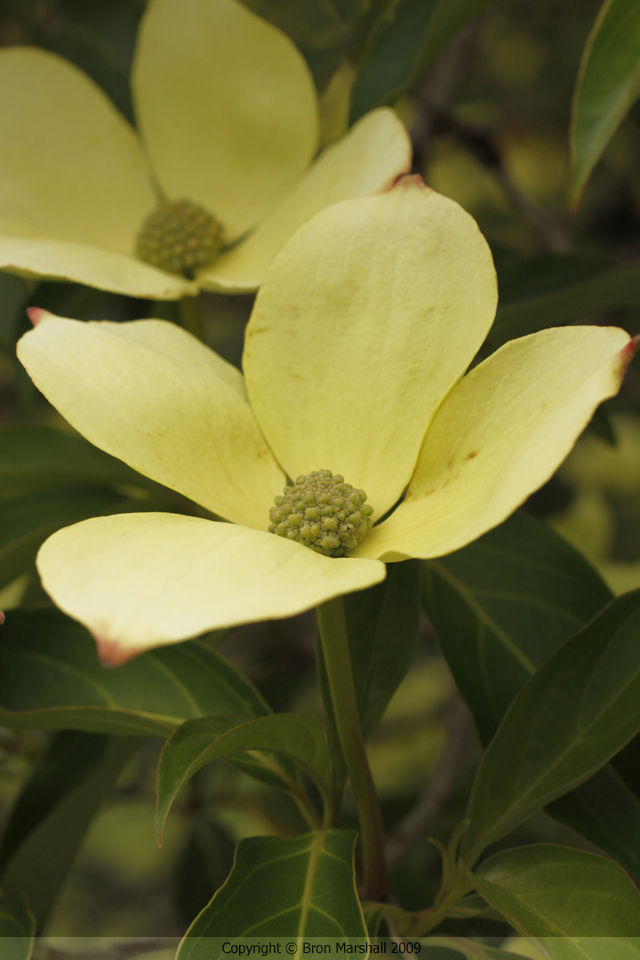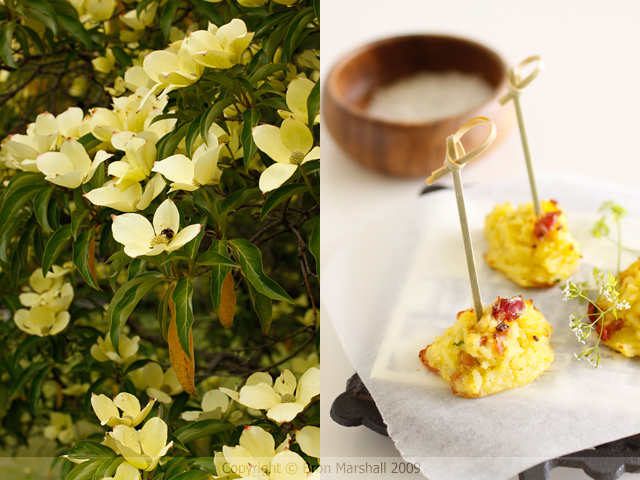 When the rice was ready and had cooled a little, we mixed through our chopped slice of ham, some chopped dried cranberries, a small spring onion, whole grain mustard, honey and an egg to bind it altogether. We dropped a few spoonfuls of the mixture onto a baking tray and watched them bake for 8 or so minutes. They came out O.K. but not quite as firm or golden as I had hoped. Returning to the remaining mixture, I added a little cornflour for more structure - you could use regular flour however we wanted to keep them gluten free.

The second little cakes we cooked a tad longer, they were indeed firmer, golden and crunchy... successful!
We gobbled them up fast and while preparing the very last of the mixture to bake.

This recipe is more of a guide and could be easily scaled up to suit your needs. I also believe there are endless possibilities for variations, let me know if you have a play!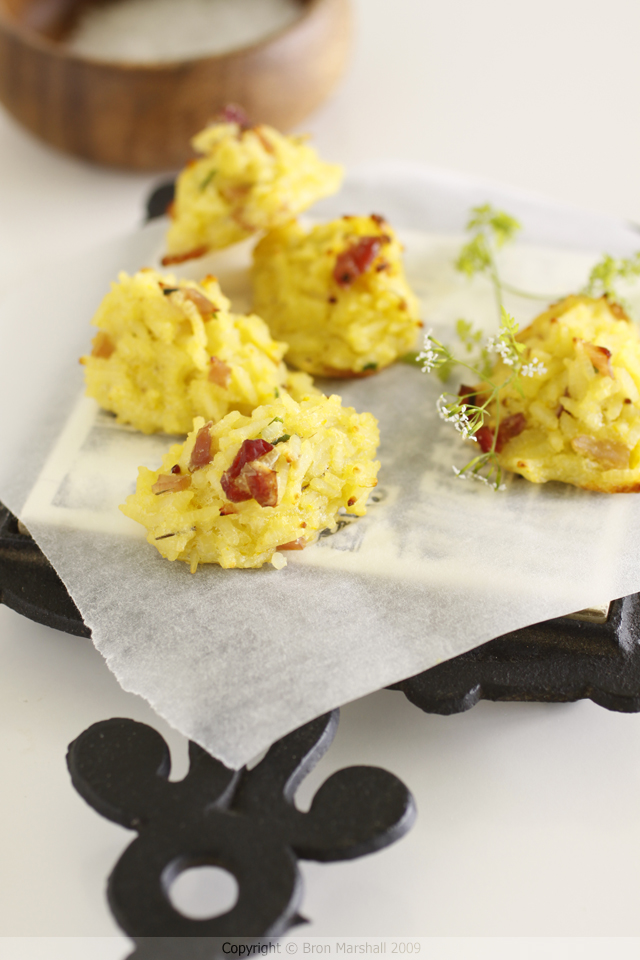 Little Ham, Cranberry and Saffron Rice Stuffing Cakes
½ cup of white rice (uncooked), I used my favourite basmati
pinch of saffron threads
pinch of dried thyme
a small spring onion or shallot, finely chopped
1 slice of leg ham, finely shredded or chopped
2 tablespoons of dried cranberries/craisins, finely chopped
2 teaspoons whole grain mustard
2 teaspoons of honey
1 free range egg
2 tablespoons cornflour / corn starch
salt and pepper
Cook the rice in your normal method with the addition of the saffron threads and dried thyme to add colour and flavour.
Preheat your oven to 180°C (360°F)
Once the rice is cooked, leave to cool slightly before mixing through the remaining ingredients until well combined.
Line a baking sheet with cooking paper and drop small even spoonfuls of the mixture.
Bake for 10 minutes or until golden, slightly crispy and firm.
Serve hot as a side with your festive dinner, or as a nibble with drinks sprinkled with extra sea salt.
Makes 16 to 24 depending on the size.
Enjoy!


Appetizer Recipes · Blog Recipes · Christmas Recipes · Eggs Recipes · Food Blog Events Recipes · Grains Recipes · Meat Recipes · Snacks Recipes
Home · About Bron · Portfolio · Recipe Index · Unit Converter
RSS Feed · Atom Feed · Twitter · Facebook · Flickr · Bron's Amazon Store