Monday 14th April 2008
A Taste of Yellow Grilled Corn with Chilli Butter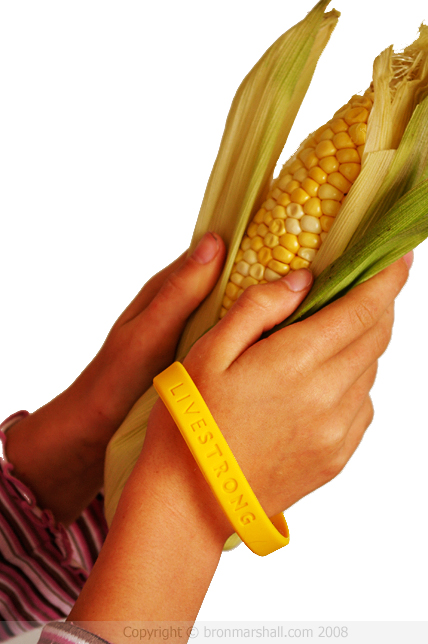 I couldn't resist making another something for Barbara's "A Taste of Yellow" - an event, which in conjunction with the Lance Armstrong Foundation and LiveSTRONGday helps remember and support all those who live or have lived with the effects of cancer.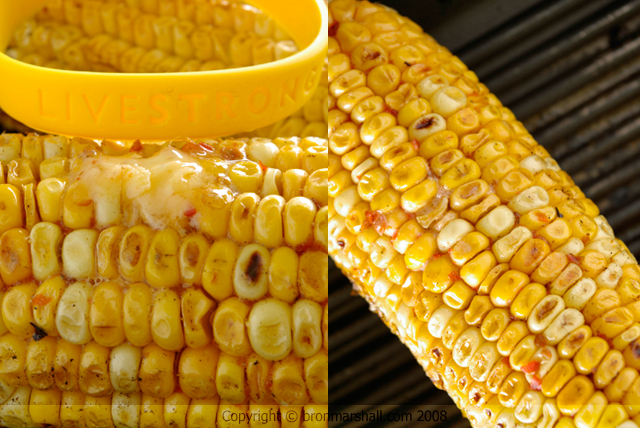 Last month on the 14th I posted Yellow Patty Pan Squash stuffed with Lemon and Currant Quinoa. I'm back with another favourite Yellow Summer vegetable today, this time I've barbecued some hot and buttery corn, perfectly delicious any time of the day and perfectly yellow for this event!

You have until this Saturday, the 19th of April, if like me you would also like to support this worthy event. Please head over to Barbara's blog for all the event's details. NB: You do not need a wristband to enter the event!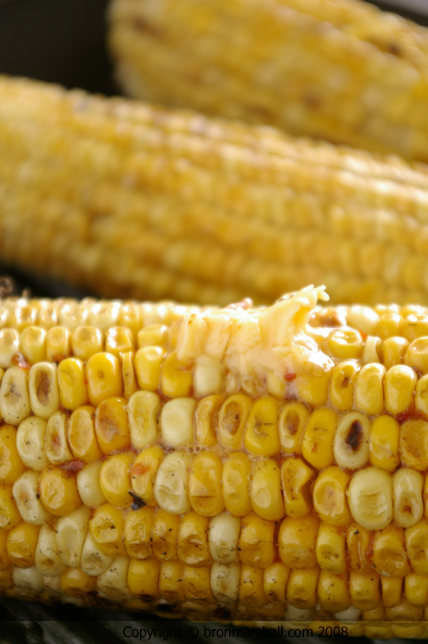 Yellow Grilled Corn with Chilli Butter
4 to 6 fresh corn cobs
1 or 2 fresh red chillies, minced or finely chopped, with or without seeds depending on how spicy you like it!
80 grams of butter, softened
sea salt and black pepper
Preheat your barbecue or grill for a medium heat.
Peel back and remove the husks and silk from your corn cobs.
Combine the chilli and soft butter with a little salt and pepper.
Generously smear some of the butter over each corn cob and grill for 8 to 10 minutes, turning frequently and brushing with more of the butter.
Once cooked through and charred to your liking, serve the cobs with the remaining butter and plenty of paper towels to mop up the resulting dribbly chins.
Serves 4
Enjoy!


Appetizer Recipes · Blog Recipes · Food Blog Events Recipes · Fruit & Veges Recipes · Summer Recipes · Vegetables Recipes
Home · About Bron · Portfolio · Recipe Index · Unit Converter
RSS Feed · Atom Feed · Twitter · Facebook · Flickr · Bron's Amazon Store