Sunday 20th April 2008
Cherry Berry - Berry Cherry Clafoutis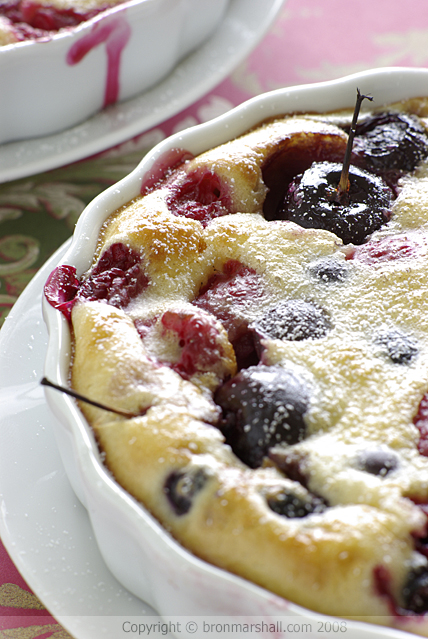 What could be More Cheerful than a Cherry Berry Dessert?!

This is my favourite, this is the one I adore and this is the one we lived on all through Summer!

Fortunately I had the foresight to freeze plenty of fruit, including cherries and berries so that we can still enjoy Cherry Berry Clafoutis now and over the future cooler months here downunder. The Marshall addiction to this dessert being so strong we could not bear to go through a long cold winter without it.

Best of all - I can share it with all of you for this round of Hay Hay it's Donna Day hosted by... well me, yours truly!

I've received a fair few amazing and delicious looking Clafoutis over the past weeks and several of you have promised me more which is super and I can't wait to see them!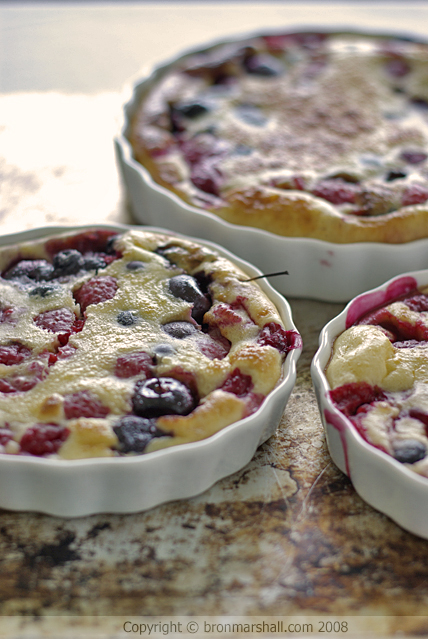 For those of you who haven't made one yet, there is still plenty of time - unfortunately for me (as next weekend I'm engaged with several important family commitments!) yet fortunately for YOU?! There has been a muddle with the deadline to The Clafoutis Edition on a couple of the food blogging event announcement sites, namely IMBB. Curious, as when I checked in when it first went up it was correct?! However, I guess to be fair that site has been under recent maintenance and has a new look.

Anyway to cut a long story short, my loss is your gain, and you now have a whole extra week 'til Monday the 28th of April to make your Clafoutis and send it to me. That being said if your post is all ready to go, I would really really appreciate if you could post it a.s.a.p - so that I can organise most of the roundup earlier in the week. Otherwise I may have to run with a two part-er roundup, or withhold the roundup until a later date than I had hoped for. I'm sure you can understand my predicament!

The details again for those who missed them are...


- Hay Hay It's Donna Day is open to all food and wine bloggers.
- Entries submitted for HHDD must be made specifically for this event - although photos may be submitted to Does My Blog Look Good In This.
- The host will select, make and post the original Donna Hay recipe without any changes. (You'll find it here!)
- Participants may make the same recipe as is, or put their own spin on the recipe by altering the ingredients whilst remaining true to the original theme.
- Entrants should include a link to the host (bronmarshall.com) in their post.
- Deadline for all posts to be up and submitted has been extended one week and is now Monday April 28th, 2008. I will be posting the round up shortly after that and voting will then begin!
- Email all your entries to BEFORE April 28th, 2008.
- In your email, please include the following information: your blog name, your name, your location, your recipe name, and the permalink/url to your entry.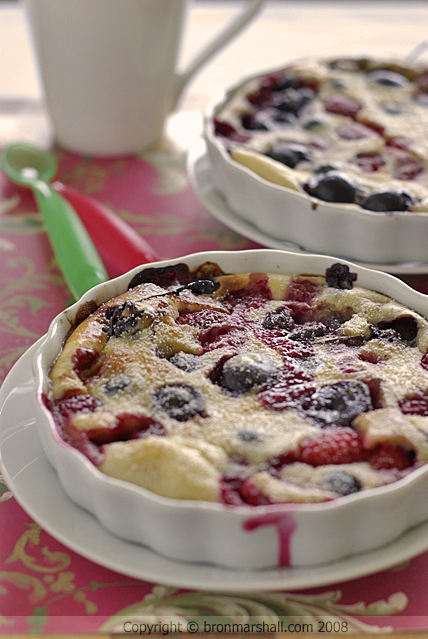 So now I've taken care of the business side of things, lets get back to some more Cherry Berriness and the recipe for my favourite Clafoutis.

As I said above, I used frozen fruit for these ones, except for the blueberries - they were fresh! I also defrosted the berries a tad, but not so much that they were soft. This was purely so they didn't take the heat out of the baking dishes too much.

A few other tips I'd like to suggest are to make sure your cup of flour is a loose airy cup, not a tightly packed cup. One way to ensure this is to take a dry whisk and fluff up your flour storage container before you measure. I like to think the secret to making the best Clafoutis is that it needs to be treated a bit like a Yorkshire pudding - as you want a hot oven and hot dishes to get that perfect puffy risen texture.

Good luck and I really do hope you'll join in the fun this week with 'The Clafoutis Edition' of Hay Hay it's Donna Day!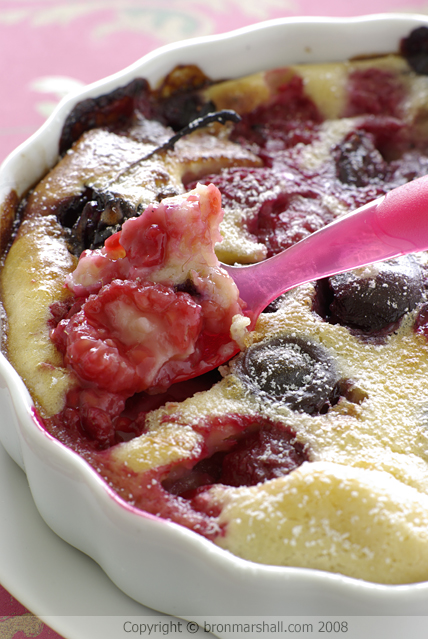 Mixed Berry and Cherry Clafoutis
1 cup of mixed Berries (I used blueberries and raspberries), fresh or frozen
1 cup of whole Cherries, fresh or frozen
300ml of full cream standard milk (that's blue top here in NZ!)
½ cup of caster/superfine sugar
1 teaspoon vanilla extract
3 free range eggs
pinch of salt
1 cup of plain white flour
icing / confectioners sugar to dust
Preheat the oven to 190°C (370°F)
Place 4 x 250ml or 1 x 4 cup capacity strong heat proof dishes (i.e ones that won't crack on cold liquid hitting them!) in the oven to preheat.
Remove 4 tablespoons from the ½ cup of caster sugar and put aside.
Meanwhile in a large pouring jug or blender whisk together the milk, the remaining caster sugar, vanilla, eggs, salt and flour.
Remove the heated dishes from the oven and share the cherries and berries evenly between them.
Sprinkle with the sugar that was set aside and evenly ladle over the egg mixture.
Quickly return to the oven and bake the individual dishes for 15 to 20 minutes, or 1 large dish for 35 to 40 minutes until puffed up, golden and cooked through.
Dust with icing sugar, photograph ;-) ...and serve.
Serves 4
Enjoy!


Autumn Recipes · Autumn 08 Recipes · Blog Recipes · Breakfast Recipes · Clafoutis Recipes · Desserts Recipes · Eggs Recipes · Food Blog Events Recipes · Fruit Recipes · Fruit & Veges Recipes · Summer Recipes
Home · About Bron · Portfolio · Recipe Index · Unit Converter
RSS Feed · Atom Feed · Twitter · Facebook · Flickr · Bron's Amazon Store