Friday 14th March 2008
A Taste of Yellow Patty Pan Squash stuffed with Lemon and Currant Quinoa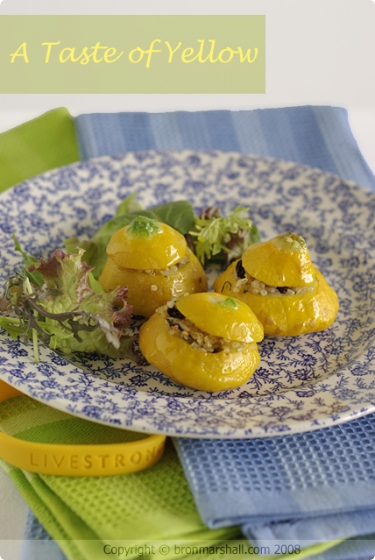 I love visiting fruit and vegetable shops and seeing all the amazing colours lined up in large quantities. To me it is a stunning patchwork of delicious reds, oranges, yellows and greens. From bold yellow meyer lemons stacked up next to other shades of yellows and oranges of neighbouring citrus fruits and crates of apples in all their different colourful red blush and green hues.

Once past the fruit and into the salad section I delight in seeing the traffic light colours of capsicums, the beautiful bundles of radishes in white with pink tops, crimson and purples. It's always a highlight of my week. I'm like a kid in a candy shop, often piling far too much in my trolley than we can possibly eat while it's still at it's freshest.

All my senses are overloaded on these Saturday morning shopping excursions by the colours, shapes and smells of our weekly shopping. If I'm lucky enough to spot something new, rare or unusual looking, I literally have to calm myself before I let out a screech with all the enthusiasm bellowing up inside - thereby avoiding possibly upsetting or scaring the other customers in the shop.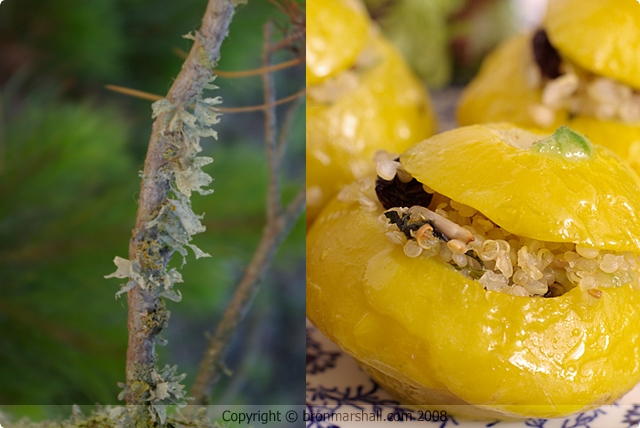 Now I'm guessing many of you may not think my Patty Pan Squash are not all that unusual. They maybe quite common elsewhere, however, they aren't found in most grocery shops or supermarkets in New Zealand even when in season. Although the range of produce in New Zealand is improving, it can still unfortunately be quite conservative, offering only the simplest of vegetables. This is possibly especially true living in the South Island as I do.

Simple vegetables, by which I mean your normal run-of-the-mill orange coloured carrots, broccoli, potatoes, savoy cabbage and iceberg lettuces. Even farmers markets, which offer plenty of wonderful organic vegetables, don't really go beyond the usual main fare vegetables.

Labelling is also a huge problem. Most supermarkets won't even share what variety their potatoes are, instead simply calling them "new potatoes", "red skinned potatoes" or "gourmet potatoes" (by which they normally mean the tasteless boring old Nadine potato!) You really have no idea which variety of broccoli or cauliflower you are purchasing. Pumpkin is pumpkin, or so they would have you believe.

Therefore, when I see something like these Patty Pan Squash, Purple carrots or Asian eggplants - you can understand my excitement surely?!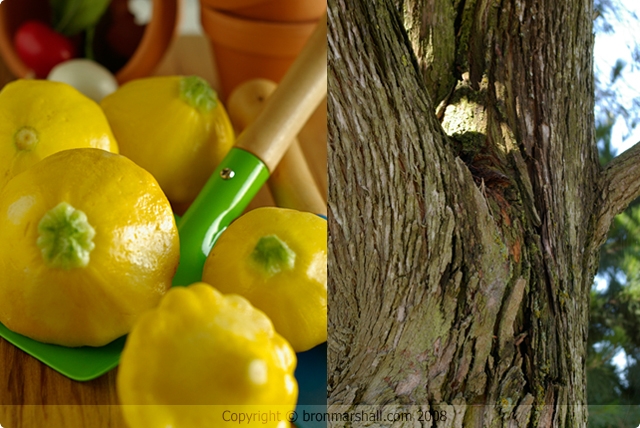 Ideally, it's true, I would be growing more of my own vegetables. Especially these more unusual ones, therefore obviating the need or desire to buy them. This is definitely on my list of goals. Unfortunately, sometimes I tend to flitter from one idea to another a bit too much and miss the opportunity. I have, however, grown patty pan squash before and with good success, so I definitely need to make this a higher priority and reap in the bountiful rewards.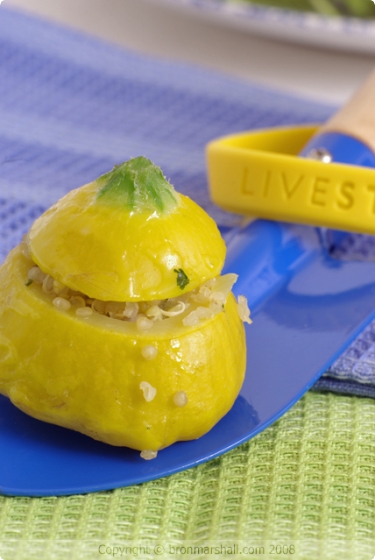 When I saw these brilliant yellow cuties, I couldn't resist them and I knew they would be perfect for a cause dear to my heart.
That is Barbara's "A Taste of Yellow" event in conjunction with Lance Armstrong's Foundation and LiveSTRONGday.
LiveSTRONGday is to be held on the 13th of May this year. It is a day to remember and support all those who live or have lived with the effects of cancer. Not only those who have or have had to deal physically themselves with the disease, but their families and friends too.

If you feel passionate about this cause too and would like to support this worthy event, please head over to Barbara's blog for the complete run down and competition details. Yes, this year's "A Taste of Yellow" also includes a photo competition with prize! Entries must be cooked specifically for the event and include a yellow ingredient / element of your choosing. Good Luck!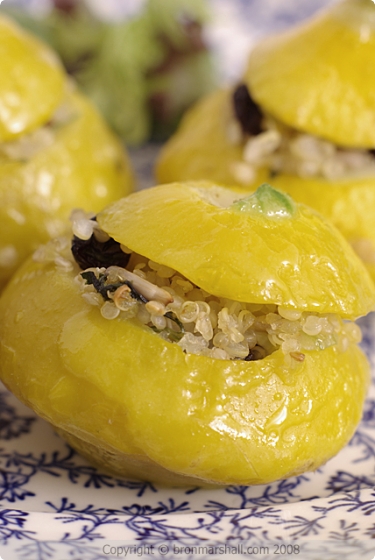 Patty Pan Squash stuffed with Lemon and Currant Quinoa
8 to 12 patty pan squash
1/2 cup of raw quinoa, cooked (you could use brown rice if you prefer)
1 small onion, finely chopped
1 tablespoon of olive oil
1/4 cup of dried currants
a handful of freshly chopped coriander
1/4 cup of freshly toasted sunflower seeds
a good pinch of sea salt and ground black pepper
the grated zest of 1 lemon
extra olive oil to drizzle
salad leaves, to serve
Cook your quinoa in boiling salted water until tender, drain and set aside.
Rinse and clean the squash, cut the tops off about 1/3 of the way down, leaving the stalk intact for presentation if you desire.
Trim the base so that the squash sits nicely without falling over.
Scoop out the flesh with a small spoon, (a melon baller is perfect for this!) leaving shells about 1/3 of an inch thick.
Chop the scooped out flesh finely and put aside.
Parboil the squash shells in boiling water for a couple of minutes, so they soften slightly.
Stop the cooking by plunging the shells into ice cold water, drain well and set aside.
In a frying pan over medium heat, sweat the onion with the oil until transparent.
Add the finely chopped squash and heat through.
Add the cooked quinoa, coriander, currants and stir through to combine.
Remove from the heat and fold through the remaining ingredients.
Taste and season as required and set aside to cool.
Preheat your oven to 180°C (360°F)
Take each squash shell and fill with the quinoa mixture.
Place each filled squash, covered with their tops, into a baking dish. Drizzle with a little extra oil and bake for 15 minutes or until cooked through when speared with a skewer.
Serve 2 or 3 squash with a few salad leaves on the side for a delicious starter to any meal.
NB: you most likely will have stuffing left over, but that's ok. It's delicious on it's own or try stuffing some into other vegetables. Tomatoes, zucchini, red onions, eggplant, capsicum would all work beautifully.
Enjoy!


Appetizer Recipes · Autumn Recipes · Autumn 08 Recipes · Blog Recipes · Food Blog Events Recipes · Fruit & Veges Recipes · Grains Recipes · Summer Recipes · Vegetables Recipes
Home · About Bron · Portfolio · Recipe Index · Unit Converter
RSS Feed · Atom Feed · Twitter · Facebook · Flickr · Bron's Amazon Store