Sunday 13th April 2008
I can't show you mine...yet!
Sorry for the lack of posts over the last week or so. I had a visit from 'Mr In Flu Enza', so therefore sadly I wasn't really up to eating, let alone cooking ... and I was so hoping to show you my clafoutis too!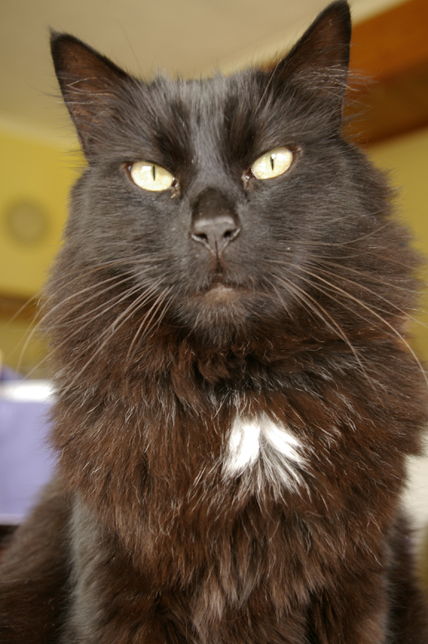 My Boy Boon

Anyway I'm slowly coming right and I hope to make my clafoutis really soon, but in the meantime I thought I'd show you some pics of my black furry pussy instead.

He's my bestest mate, we spend many happy hours together. He spent all last week caring for my chilly shoulders and keeping me company on the sofa when everyone else kept their distance. Although even when I'm not ill, he's never that far away, doesn't matter where I am or what I'm doing he's but a couple of feet from me. If I'm out in the garden, he'll shade under the wheelbarrow close by until it's time to come in. When I'm in the kitchen he's always there and strangely he's especially talkative during these times! And even now as I type away on my laptop, he's here in the dinning room with me curled up on the seat beside me at the table.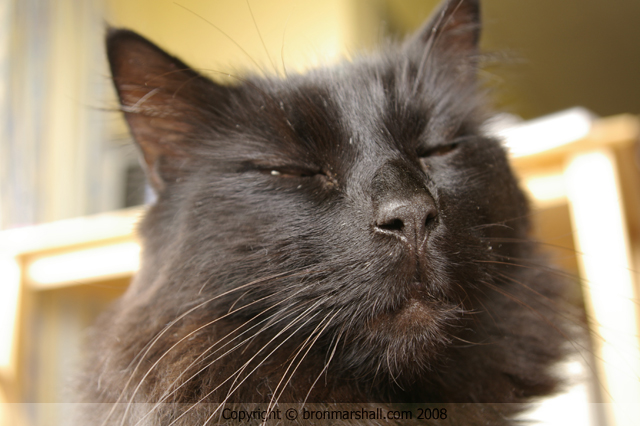 Isn't he adorable? Who couldn't love a face like this?

Now back to The Clafoutis Edition of Hay Hay it's Donna Day, I've had a few wonderful looking entries, but nowhere near as many as I NEED so get cracking those eggs, pitting those plums, cherries or what have you, and send your entries through to me this week. Remember you can enter as many times as you like, go on ... be a devil and make me several, but each needs to be a new blog post! All the details can be found here - entries close next Monday the 21st!

Looking forward to seeing yours!


Home · About Bron · Portfolio · Recipe Index · Unit Converter
RSS Feed · Atom Feed · Twitter · Facebook · Flickr · Bron's Amazon Store