Tuesday 4th March 2008
Spiced Fig Polenta Cake with Pistachio and Orange Blossom Syrup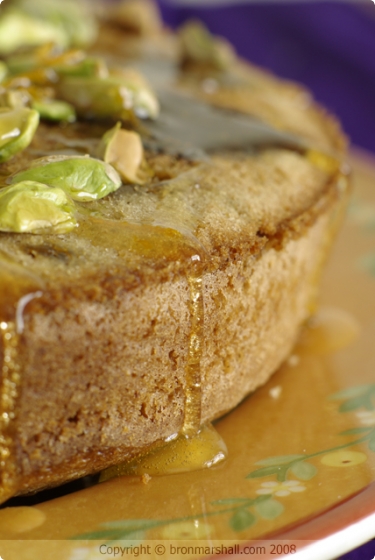 Spiced Fig Polenta Cake with Pistachio and Orange Blossom Syrup

It's Paperchef time again and this month's randomly selected ingredients are...


chilli
polenta
pistachio
together with our Paperchef host Ilva's chosen theme of flowers, being that it's now officially Spring in the northern hemisphere. I guess that, in turn, makes it officially Autumn here downunder, sigh!

After Ilva kindly alerted me to the new round and the list of ingredients, my mind immediately started churning over all the possibilities. At first I started thinking of a bean chilli topped with a polenta crust... "but how would I incorporate the flower theme?", I thought to myself.

"Hmm... I guess I could, I suppose, purchase some sort of flower shaped vessel to serve it in?!"

"Ok, what if I was to fill some zucchini blossoms with chilli and coat them in a polenta batter and fry them..., mmm I like that better... but finding the zucchini blossoms will be a bit of an ask now it's later in the season."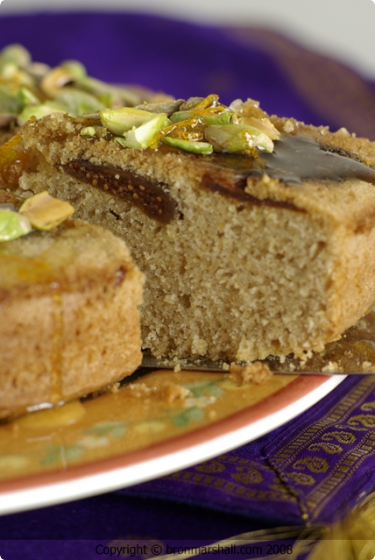 "Hold on! I wonder if can I turn it into a dessert?! - Everybody loves a dessert! and I get far more comments for desserts or baking!"
"...lets see, I could make a spiced polenta biscuit / cookie and serve it with some poached fruits with rose water and mascarpone?! No - that's too similar to the Vanilla Roasted Stonefruits and Brioche I did recently. Mmm thinking... thinking. How about some polenta pancakes, or "hot cakes" with the added chili, hehe, that's cool.. I mean that's hot! - but no... I've posted about crêpes recently too!"
"Oh yes I know... I've got it!... A Cake!... A Spiced Fig and Polenta Cake with Pistachio and Orange Blossom Syrup!"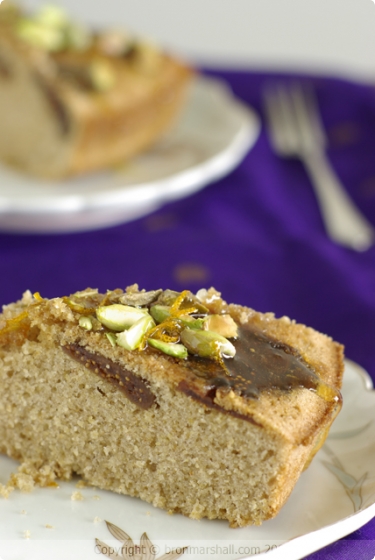 "Yes that will be perfect, I can spice the polenta cake batter with the chilli, some mixed spice and cinnamon. Figs would be gorgeous with that and they scream the warmth of exotic Persia along with Pistachios, and then soaked with a sweet golden syrup with just a touch of Orange Blossom water for my take on the flower theme."

"I absolutely love this idea and I'm in love with this cake!!"

Yes it's true, from it's first conception, I was so excited with my take on the ingredients, before I'd even made, let alone tasted the cake! And I'm so glad to report that on tasting my cake this evening, I wasn't let down. I'm even more in love and bursting to share it with all of you!

I do hope you love it too!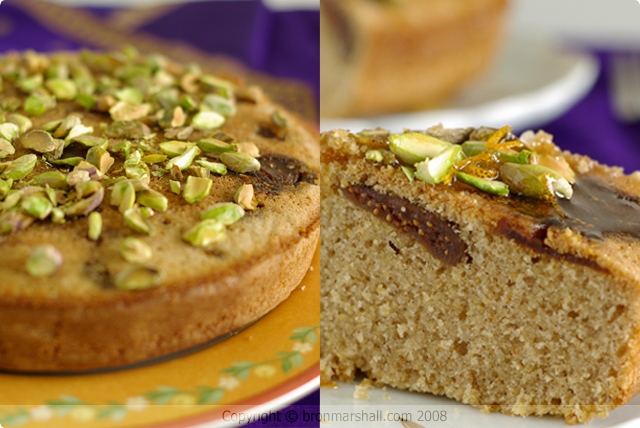 Spiced Fig Polenta Cake with Pistachio and Orange Blossom Syrup
2 tablespoons of demerara or raw sugar
15 or so dried figs sliced (you could use fresh ones too!)
2 large free range eggs
1 1/4 cups of caster sugar
2/3 cup of olive oil
2/3 cup of white wine
1 1/4 cups of plain white flour
1 1/2 teaspoons of baking powder
1/2 teaspoon of salt
1/2 teaspoon of chilli powder
1 teaspoon of mixed spice
1 teaspoon of cinnamon
1/2 cup of instant polenta
For the syrup:
1 cup of caster sugar
1/2 cup of water
the juice and grated zest of 1/2 an orange
1/2 teaspoon of orange blossom water, less is more with this potent ingredient!
1/4 cup of shelled pistachios, chopped
Preheat your oven to 160°C (320°F).
Line and grease a 22 cm round springform cake pan.
Sprinkle the demerara sugar evenly over the base of your cake pan and arrange enough figs to cover well with a few gaps between.
Whisk the eggs and caster sugar until very pale and thick.
Continue beating while gently pouring in the olive oil slowly, until well combined. Repeat with the wine.
Sift the flour, baking powder,salt and spices together to combine and add them with the instant polenta to the beaten egg mixture.
Gently fold through the egg mixture, ensuring there are no clumps of flour but that the runny mixture is still fairly light and airy.
Pour the cake batter over the figs in the prepared cake pan.
Bake for 50 minutes or until a test with a skewer comes out clean.
Meanwhile, make the syrup by heating and stirring the sugar and water until it dissolves.
Boil the mixture for 8 minutes, or until it begins to thicken and lightly caramelise.
Remove from the heat and add the orange juice and zest. Be very careful here as the sugar will tend to splatter some.
Allow to cool a little more and add the orange blossom water, stir to combine.
Allow the cake to cool in the pan for 5 minutes before inverting onto a serving platter, sprinkle with chopped pistachios and spoon over the warm syrup to serve.
Serves 8
Update: Ilva has posted up the roundup overnight so go check out the other entries and if you think my cake is worthy of an award please vote for me....thanks heaps!

Enjoy!


Blog Recipes · Cakes Recipes · Food Blog Events Recipes · Grains Recipes · Sunday Afternoon Teas Recipes
Home · About Bron · Portfolio · Recipe Index · Unit Converter
RSS Feed · Atom Feed · Twitter · Facebook · Flickr · Bron's Amazon Store