Monday 25th February 2008
The Colour of Summer - Vanilla Roasted Stone Fruits with Toasted Brioche and Honeyed Mascarpone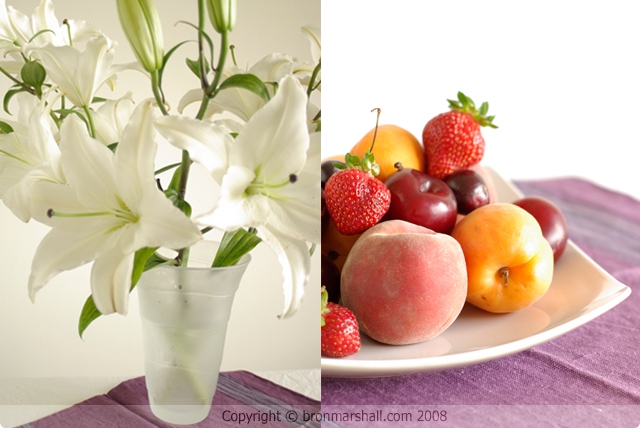 I'm not looking forward to the end of Summer. It was a lovely warm Canterbury weekend and another beautiful day today. However, to date, this February has been a little cooler than normal. Traditionally Canterbury is still quite summery in February, the hottest days being the first few days the kids go back to school. In fact the 7th of February 1973 was the hottest day ever recorded in Canterbury 42.4°C (110°F) in our nearby town of Rangiora. Thankfully it's not that hot today, just lovely and warm. After all, the perfect summer's day is one that's not too hot but still not too cold.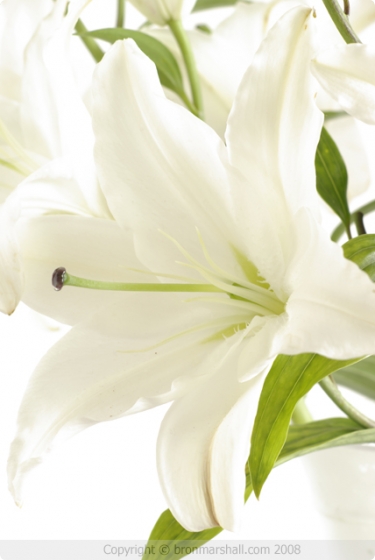 Lovely Perfumed Lillies

We were back off to Deans Bush again on Saturday and the Canterbury Farmers market. We try to go most weekends, but sometimes it is nicer to have a lie in - this particular market is 45 minutes drive from our place. There is a closer one on Sundays, however it doesn't have quite the same appeal to me.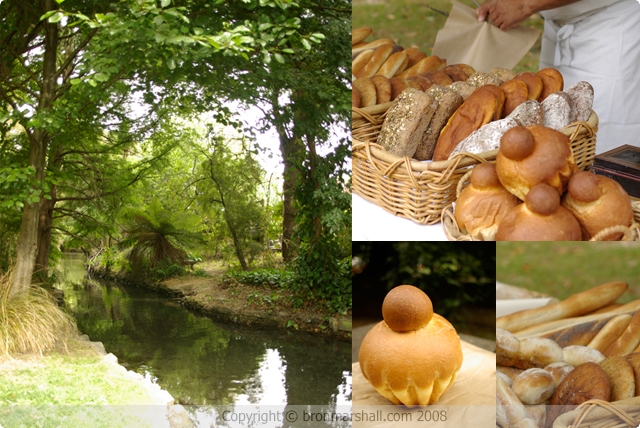 Buttery Brioche

After a quick scout around the market, I decided on and purchased a Brioche.

It's a lovely brioche, we've had them before. I wouldn't say it's as nice as the ones I make at home, however with the price of New Zealand butter increasing a whopping 130% in the last couple of years, it's a very good alternative. (At this stage I could rant on about how I totally loathe large corporations like Fonterra, but that wouldn't make for a very happy and positive post, in fact it would be right depressing and not the tone I want to set for my blog.)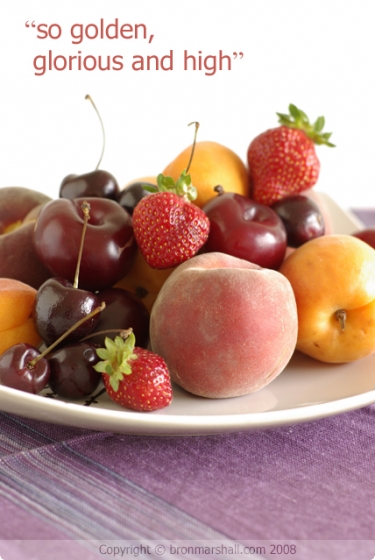 So instead I thought I'd go all mushy and write a happy sunny poem for you - an ode to the great sun in the sky and the delights of a Golden Queen peach. My poem was adapted from Cicely Mary Barker's poem "Marigold"

Golden Queen

Great Sun above in the sky
So golden, glorious and high
My fruits, see, are golden too
They are regal, but not as royal as you

My lovers favourite, it is true
So juicy, glorious and brand new
These fruits, see, are juicy too
They are delicious, but not as luscious as you

It is because we love you so,
We watch you as you go;
To greet our friends the other side
Great Sun, without your light
We'd have no peach, so shine on bright.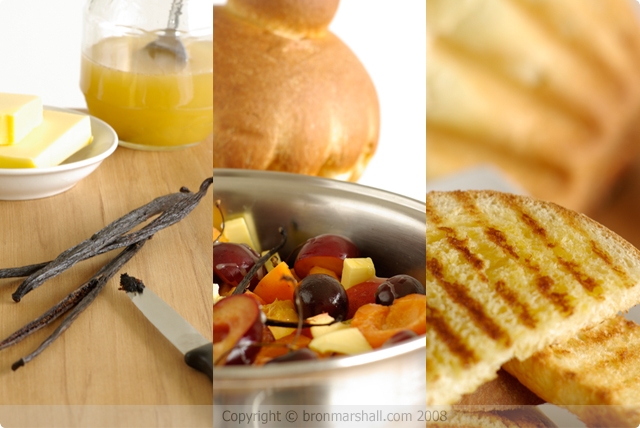 To celebrate summer and summer fruits especially, last night I gathered together some of the delicious stone fruits that are abundant in our fruit bowl at the moment. Quickly tossing them into a roasting dish with some vanilla and local runny clover honey. I served our roasted fruits with toasted slices of the brioche we bought and some mascarpone with a little more honey to sweeten it.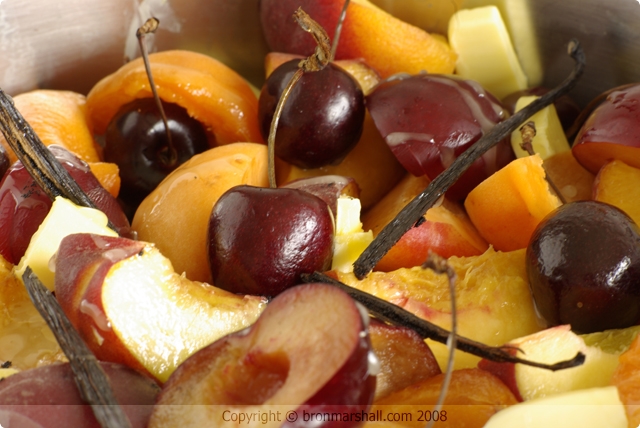 The delicious, warm and syrupy fruit which while it's roasting will fill your kitchen with a most delightful and gorgeous aromas of vanilla and nectar would be equally delicious served with some yoghurt, whipped cream or even ice cream.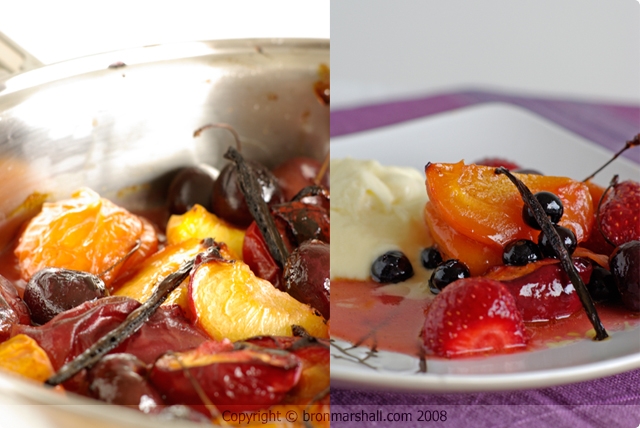 Vanilla Roasted Stone Fruits with Toasted Brioche and Honeyed Mascarpone
4 peaches or nectarines
4 apricots
4 plums
a handful of cherries
a handful of strawberries
a handful of blueberries
50 grams of butter
1/3 cup of honey
1 vanilla pod, split and scraped
150 grams of mascarpone
A little extra honey, to taste
8 slices of fresh brioche
Preheat your oven the 200°C (390°F).
Quarter the large pieces pieces of peach or nectarine and apricot and half the plums if they are small.
I left my cherries whole, however you may remove their stones if you wish.
Place the stone fruits (NB: not the berries!) in a roasting dish and dot over the butter.
Drizzle over the honey and stir through to coat with the split vanilla pod and seeds.
Place in the oven and roast for 25 to 30 minutes until the fruits are golden, syrupy and tender.
Meanwhile toast slices of brioche and whip the mascarpone with a little extra honey for serving.
Remove the roasted fruits from the oven, cover and allow to cool for 5 minutes.
Fold through the berries and serve with a dollop of the mascarpone and a slice or two of the toasted brioche.
Serves 4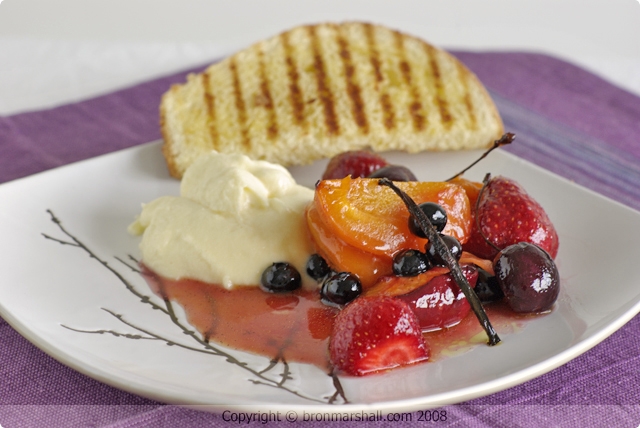 Enjoy!


Blog Recipes · Breakfast Recipes · Canterbury Recipes · Desserts Recipes · Fruit Recipes · Fruit & Veges Recipes · Salads Recipes · Summer Recipes
Home · About Bron · Portfolio · Recipe Index · Unit Converter
RSS Feed · Atom Feed · Twitter · Facebook · Flickr · Bron's Amazon Store