Monday 17th March 2008
Embracing Autumn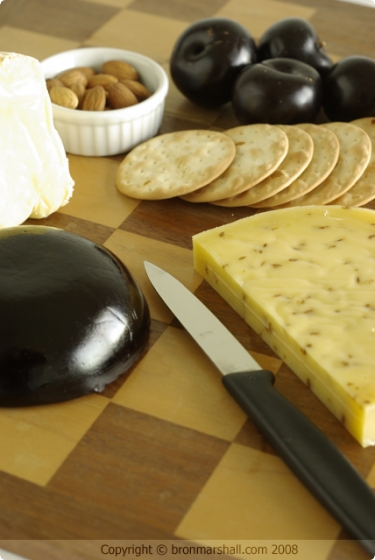 Please help yourself to some cheese and crackers - and help me celebrate the new season!

I've decided I'm done with complaining about losing Summer to the Northern hemisphere with this change in season. No more, I say! Instead it's time for me to embrace it! The summer has gone and there's nothing I or anyone else can do about it, so I may as well enjoy the Autumnal season which is now upon us downunder.

And so I have embraced it! With a complete new title banner for my blog to celebrate!

However in truth, this is just the start of some major changes I hope to make to my blog. I've been wanting a new feel for my blog for sometime, yet was unsure how exactly to go about it. In the last few weeks it has become clearer however and I now have a plan in place - a plan I'm very very excited about!

You may have noticed too, that my header has a few teasers for what I plan to share with you over the next couple of months. This is not all inclusive. I will no doubt also share other the seasonal delights I come across or ideas that inspire me throughout these next few months of Autumn. Let's not forget we also have Easter this weekend, so naturally I also have few Easter themed treats to share with you this week.

So here's to the new season and the start of a new "me"! I raise my glass and wish you all the best of health for the months ahead and look forward to sharing some exciting new changes on bronmarshall.com

Cheers everyone!


Home · About Bron · Portfolio · Recipe Index · Unit Converter
RSS Feed · Atom Feed · Twitter · Facebook · Flickr · Bron's Amazon Store