Tuesday 29th April 2008
The Clafoutis Edition Round Up - HHDD#19
I think I've died and gone to Clafoutis Heaven!!

I'm totally stoked - read DELIGHTED! with the turn out for this 19th round of Hay Hay it's Donna Day "THE CLAFOUTIS EDITION".

This round welcomed so many new faces to HHDD, some well established Food bloggers (finally!) make their HHDD debut, while for others it's their first ever food blogging event, then of course we have several familiar faces. All of whom make for a colourful display of delicious and inspired Clafoutis and so without further ado - let the roundup begin!!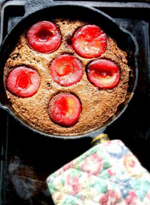 Arfi @ Homemades fellow New Zealand blogger was straight out of the stocks reproducing Donna's Original Chocolate and Plum recipe, with super syrupy looking red plums and most wonderfully they were picked fresh from her own orchard too.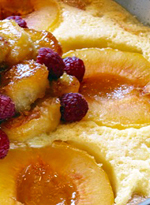 Dana @ Dulcedo made an adaptation of two clafoutis recipes to form a very scrumptious looking Apricot and Caramelized Banana Clafoutis, topped with more delicious Caramelized Banana slices and some fresh Raspberries.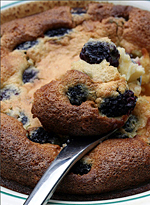 Andrew from Spittoon shares a delightful Blackberry and Loquat Clafoutis. Unfortunately I'm not familiar with loquats, however his creative recipe for the batter with the addition of ground almonds has me very inspired to try a version of his "Dessert of the Week"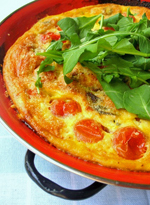 Tami from Running with Tweezers is our 'Queen of Savoury' and 3 times winner of the HHDD event. Will her sensational Cherry Tomato and Basil Clafoutis, topped with Arugula secure her 4th win?! I say with a beauty like this, it's very likely to be on the cards!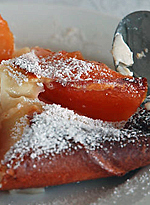 Barbara and her blog Winoandfoodies needs no introduction, she is the mastermind behind the "Hay Hay it's Donna Day" event and for this "Clafoutis Edition" she shares a delectable Clafoutis with Yellow Plums, based on a favourite Julia Child recipe.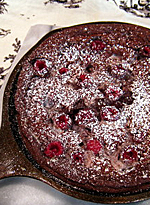 Holly from PheMOMenon puts a couple of twists to Donna Hay's recipe making a Raspberry and Chopped White Chocolate Clafoutis, making it doubly delicious and festive!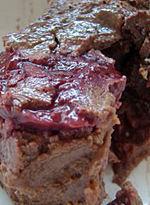 Tammy @ Wee Treats by Tammy sticks to the event's original Donna Hay Chocolate and Plum Clafoutis flavours too, however she makes it a little healthier on our hips and hearts by using half lite cream, half milk. Thanks for looking after us Tammy! ;-)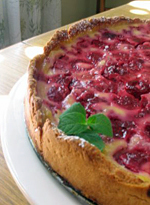 Isa from Isa's Cooking shares her deliciously unique take on Clafoutis by baking her Raspberry Clafoutis, in an edible pastry pie crust. Mmm mmm!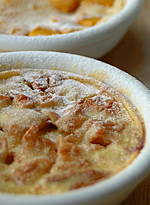 Joey from 80 Breakfasts woos us with a couple of local and delectably golden tropical Clafoutis, made with two beloved fruits from her homeland Mango Clafoutis and Chico Clafoutis.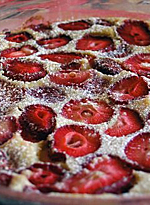 Akane @ Albahaca y Canela creates a fantastically festive looking Strawberry Clafoutis for her first ever entry into the HHDD event, her recipe uses soy milk and plenty of fresh seasonal strawberries which are available in Spain at the moment.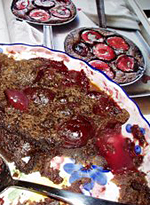 Morven @ Food, Art and Random Thoughts takes on fellow food blogging Kiwi, Tammy's advice and cuts back the cream on Donna Hay's original recipe to make her Prune et Chocolat Clafoutis a lot healthier, however definitely no less delicious!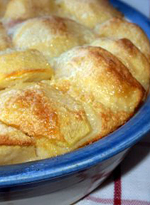 Pam from Backyard Pizzeria combines two of her childhood favourites to turn out this completely divine looking Toffee Apple Clafoutis I for one am not surprised to see there were empty plates afterwards!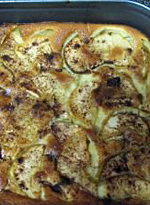 Chris from Mele Cotte initially threatened not to share and enter her delicious, gorgeous and in her words "satisfying" Apple Clafoutis because it wasn't a Donna Hay original... but I talked her around!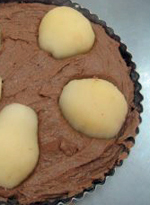 Tartasacher @ Mil postres (In English - 1000 desserts) blogs from Spain in her native tongue Spanish, where she shares her deliciously decadent recipe for "Clafoutis de pera y chocolate" (Clafoutis of Pear and Chocolate) Click here for an automatic English translation of her post.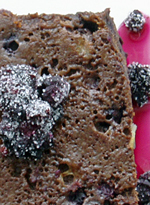 Jackie @ Gasterea's Table is fairly new on the food blogging circut and I'm truly delighted she chose "The Clafoutis Edition" to be her very first food blogging event. Her grand looking Clafoutis combines Chocolate with Blueberries, she even goes on to match a dessert wine and share five reasons to love Clafoutis, of which I couldn't agree more!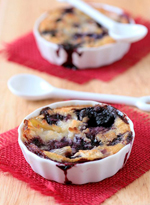 Helen our beloved Tartelette shares two adorable stories on why Clafoutis are so important to her, she regularly has them for breakfast as a delicious way to use up those less presentable fruits, however there is nothing short in her presentation of these Blueberry and Pineapple Clafoutis cuties, they look perfectly divine!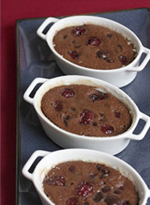 Alexandra @ Addicted Sweet Tooth shares beautiful step by step photographs with her Black Forest take on Donna Hay's recipe, using preserved Morello Cherries in place of the Plums and presenting them in these adorable little dishes.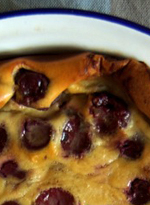 Mrs B from Round the Mulberry Bush keeps to the classic from the Limousin region in the heart of France, making a comforting traditional Cherry Clafoutis again using Morello cherries.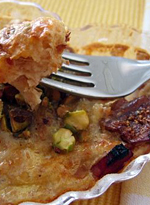 Suzana @ Home Gourmets sends in our second savoury Clafoutis with a stunning combination of Bacon and Figs topped with pistachios. I for one think this would be perfect for Sunday Brunch any weekend and I can't wait to try it!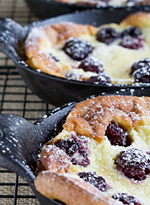 Lynne from Cafe LynnyLu describes her Blackberry Clafoutis as "fabulous" I can only concur, the little black iron bans she baked them in make them exceptionally pretty too!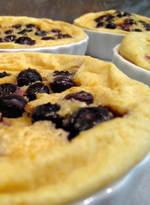 Holly from PheMOMenon has delighted me several times over, not only by taking on my challenge to enter more than one clafoutis, but also for adapting my Cherry Berry Clafoutis recipe for this her second entry! In her words it simply is a sublime Blueberry Orange Clafoutis! Thanks so much Holly!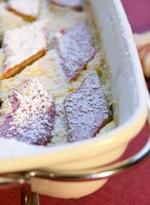 Arfi @ Homemades my blogging friend up in the North Island of New Zealand also shares a second Clafoutis to brighten my soul, once again from deliciously fresh produce out of her garden. And as Arfi quite rightly points out, we Kiwis love Rhubarb and so I can only therefore assume her Rhubarb Clafoutis to be completely heavenly!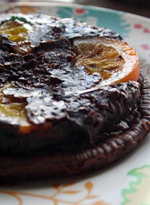 Bordeaux from Marita Says and our charming host to the previous round of HHDD wasn't sure how Clafoutis was meant to turn out, having never made or seen one before. Yet that didn't deter him, referring to his decadent creation as more like that of a "Chocolate Brownie" he then concluded his Dark Chocolate and Orange Clafoutis to be "Cla-floppies" - well I only have one thing to say to that... "I sure wish some would 'clafloppy' over into my mouth!"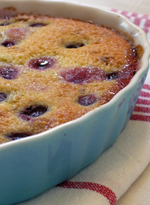 Linda @ Make Life Sweeter creates an intriguing combination for her Clafoutis entry, which I'm very inspired to try! At first look you may think she used traditional cherries, but not this time, it is in fact Red Grape and Fennel Seed Clafoutis and it looks truly irresistible.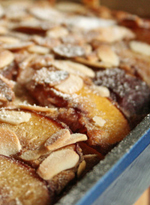 Jeanne our Cooksister and a dear friend of mine joins in Hay Hay it's Donna Day for the very first time sharing a most elegant and delicious Peach and Cardamom Clafoutis sprinkled with flaked almonds. Sigh.. now if only the peach season hadn't just finished for me, for I'd sure be making this tomorrow.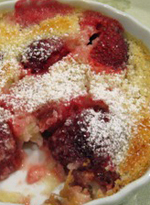 Kim A Yankee in a Southern Kitchen was disappointed with her first Clafoutis and her husband so much so, he asked her not to make another! Ouch! But one to never give up she persevered to produce this brilliant Strawberry Rhubarb Clafoutis topped of with a sugar crust, but you'll have to click through to hear how she explained it away to her husband!



Rachel from Fairy Cake Heaven also joins HHDD for the first time making a truly scrumptious and yummy Caramelised Apple Clafoutis. Rachel even goes on to report that "this dessert has taken over from Bread and Butter pudding as my favourite dessert" How's that for praise to the Clafoutis?!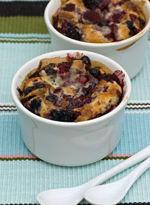 Margot from Coffee and Vanilla springs forward into a Northern Hemisphere Summer sharing her Clafoutis with Summer Fruits including blackberries, raspberries, blackcurrants and redcurrants! Talk about...YUM!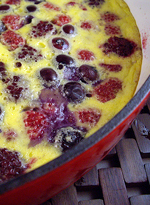 Becke at Columbus Foodie also shares a cheerful Summer Berry Clafoutis the recipe she chose to use included no flour so it closely resembled that of custard in a Berry Crème Brûlée and she was even tempted to get her torch out.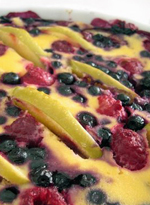 Suzana from Home Gourmets again takes up my challenge, sending in her second Clafoutis entry. This time a sweet one to balance her previous savoury one of "Bacon and Fig". Singing "Sweets for my sweet, sugar for my honey" she presents us with this stunning Red and Green Clafoutis made with Granny Smith Apples, Raspberries and Blueberries.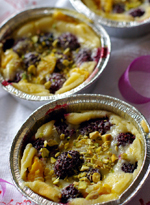 Mandy @ Fresh from the Oven yet another newbie to HHDD, shares her gorgeous take on Clafoutis with these Blackberry and Mango Clafoutis which she also made for breakfast. Who could resist breakfast with these on the table?!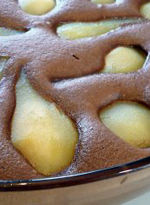 Celia from English Patis warns that her Clafoutis isn't for those who don't like their dessert "a little gooey in the middle" made with poached Conference Pears her Chocolate and Pear Clafoutis is delectably moist and sticky.

Now hopefully I have caught all the entries, if however I have missed you, I do apologise. Please, please forgive me and either let me know in the comments section or send me another email and I will fit you in A.S.A.P!

After all these truly clever and creative Clafoutis, seemingly from every corner of the globe, I'm not sure how easy picking a winner will be?! However, thankfully that's not just up to me, it's up to you all - participants and/or viewers are all welcome to send in your vote for your favourite entry.

Email your votes to

before the 9th of May and please put "HHDD Vote" in the subject, thanks! I will announce the winner the following Monday.

Good luck!
[[signout
Home · About Bron · Portfolio · Recipe Index · Unit Converter
RSS Feed · Atom Feed · Twitter · Facebook · Flickr · Bron's Amazon Store