Sunday 3rd February 2008
Caprese Salad a la Christchurch Farmers Market
We often visit the Canterbury Farmers market, which is located in the grounds of the picturesque Riccarton House and Deans Bush. Deans Bush is the oldest protected native bush area in New Zealand and it is a bitter-sweet reminder of what the Canterbury Plains looked like before human settlement.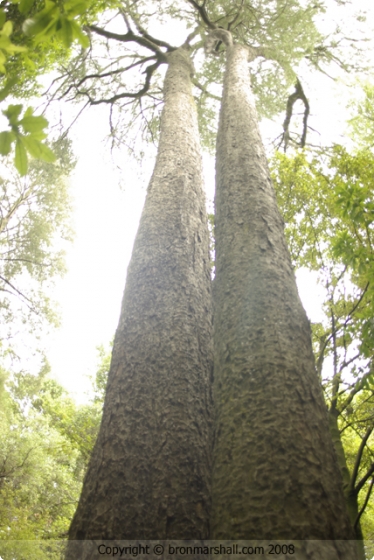 Native New Zealand Kahikatea

Many of the large trees are Kahikatea, ranging between 400 and 600 years old, other natives including Totara, Matai, Kowhai, Hinau, climbing plants and a wide range of ferns and mosses are also found there.

The Deans brothers acquired the land in 1843 after finding the land promised to them by the "New Zealand Company's colonising scheme" in Nelson and Wellington unsuitable. After the drowning of his brother William in 1851, John Deans returned to Scotland to marry his long time love Jane McIlraith, together they had one son. Unfortunately during the journey to Scotland John caught "a chill" and later on their return to New Zealand he developed tuberculosis. On his deathbed less than a year after his only son was born in 1854, John Deans asked that his wife Jane make sure that Riccarton Bush was preserved forever.

Jane continued to preserve the land and after her death in 1911 the Deans family presented the remaining 15.7 acres of native bush to the people of Canterbury, on condition that it be preserved for all time in its natural state. The bush was opened to the public on 24 February 1917.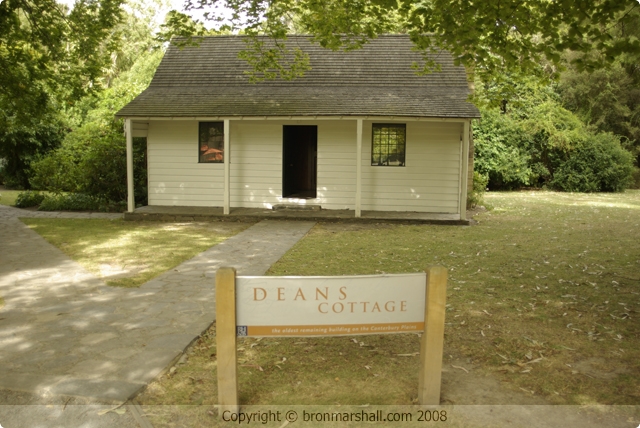 The Deans first cottage, the oldest surviving building on the Canterbury Plains, is sited and preserved there.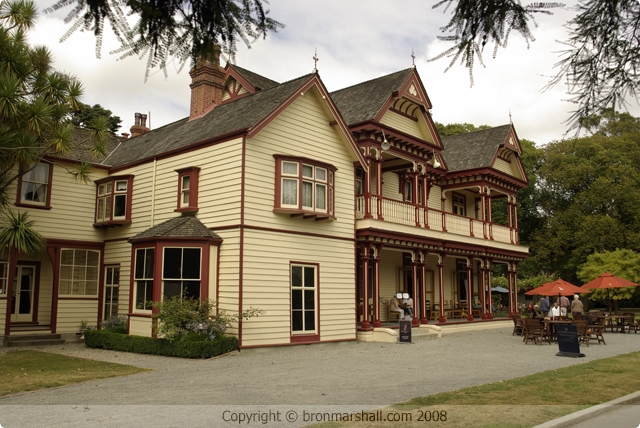 Riccarton House

As you can see, they moved into somewhat grander lodgings as New Zealand wool exports took off. In 1947, the Christchurch City Council bought Riccarton House from the Deans family and the area around the bush was extended.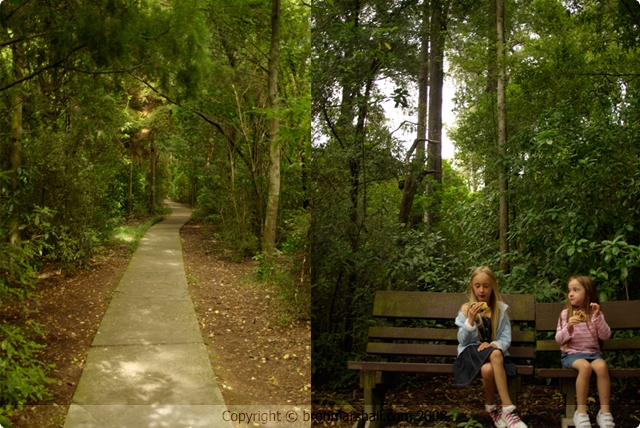 A Family Tradition

And so it has become a bit of a Marshall family tradition to visit the farmers market and then take a walk through the gorgeous bush, pausing under the shade of these majestic trees to enjoy a treat we've purchased from the market - often either a Pain au Chocolat or Apricot Danish.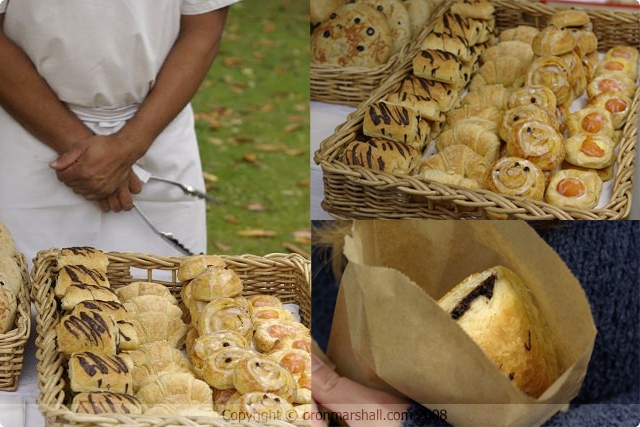 Mmmm pastries!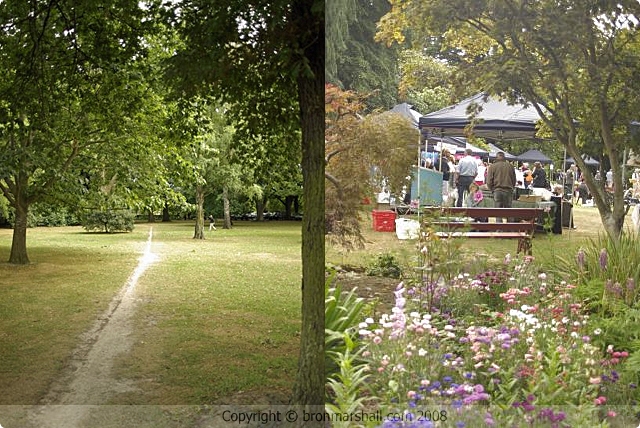 Even forgetting for a moment the extraordinary surroundings, the market is a lot of fun for me to visit. Being a foodie, it is a delight to purchase straight from the farmers delicious organic and free range meats, chicken and vegetables, or simply to sit and people watch with a cup of espresso or hot chocolate taking in the atmosphere.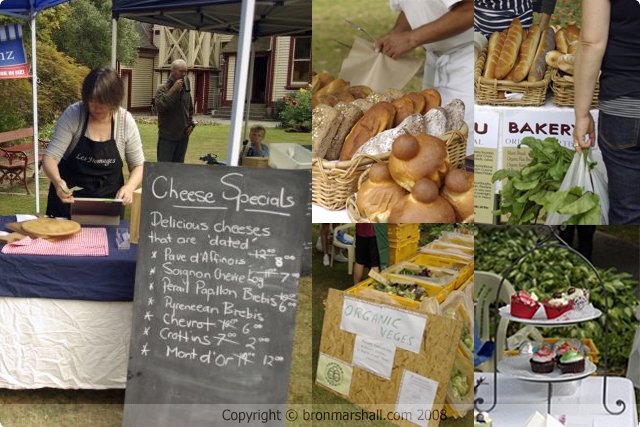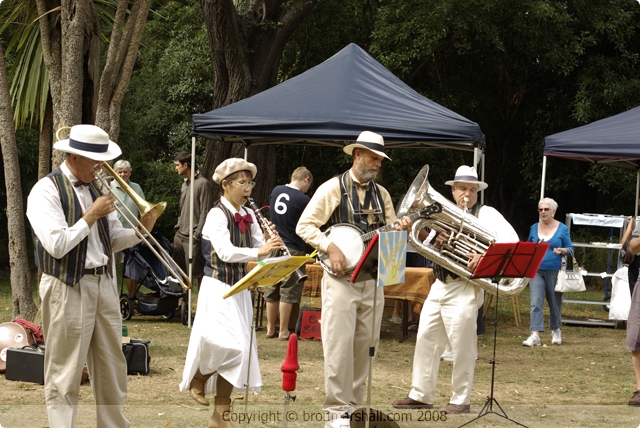 The Sunshine Band

The same Rag Time band plays each week - a man with his banjo and woman with her clarinet - they're truly delightful to watch, so full of energy and dancing jigs.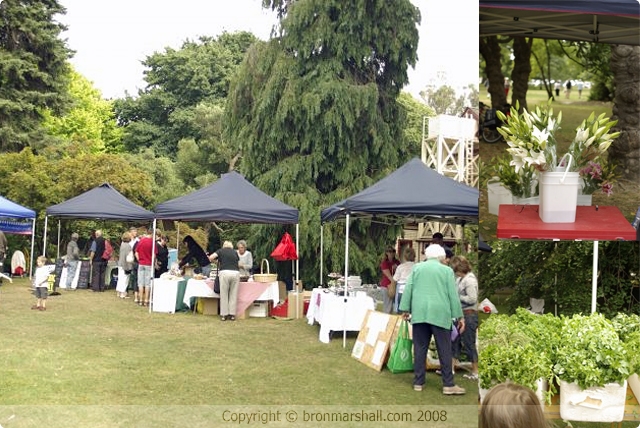 Yesterday the weather was beautiful and it seemed as though every man and his dog were there, with their wives supporting large bouquets of fragrant lillies.

I'm always inspired by the range and size of the fresh bunches of herbs. Every kind of basil you can imagine. I simply purchased the traditional Italian sweet basil, as the warm summer day had me 'a craving' for lunch - Classic Salad Caprese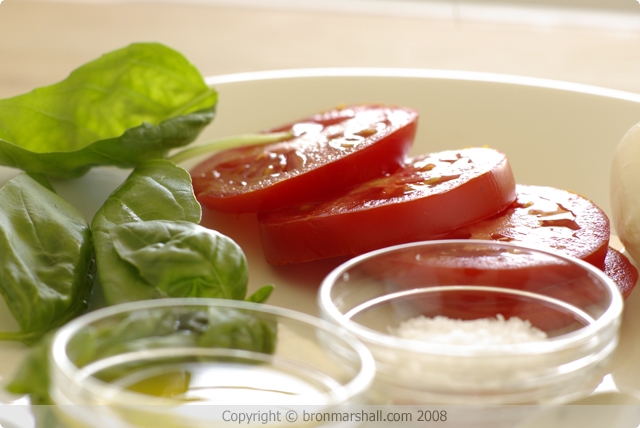 The makings for Classic Salad Caprese
Visit these pages for more Information on the...
The Deans Family
Riccarton and Deans Bush

Canterbury Farmers Market
16 Kahu Road, Riccarton House - Deans Bush,
Christchurch, New Zealand
Every Saturday 9am - 12pm
Tel: +64 3 348 6190
Website: http://www.canterburyfarmersmarket.co.nz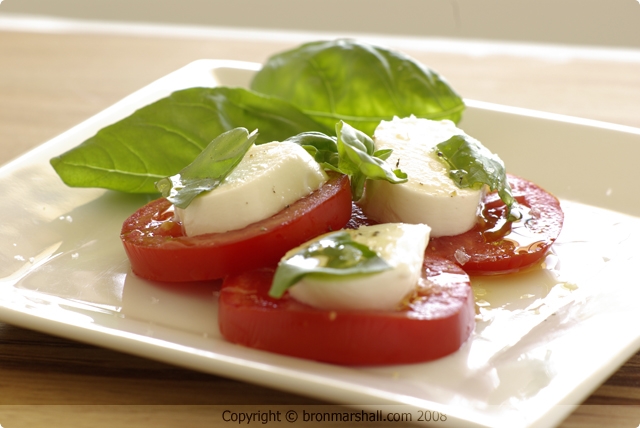 Classic Salad Caprese

Enjoy!

Home · About Bron · Portfolio · Recipe Index · Unit Converter
RSS Feed · Atom Feed · Twitter · Facebook · Flickr · Bron's Amazon Store