Monday 11th February 2008
Time to make - Mini Chocolate Matcha Doughnuts
When you have something naughty you really ought to balance that with something good, wouldn't you agree?!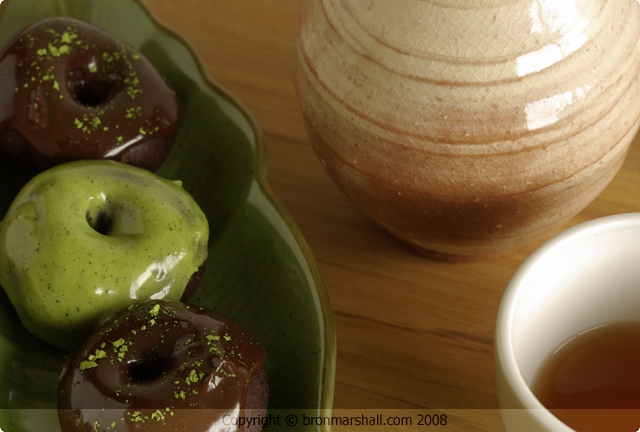 Although to be honest I am not always very good at practicing what I preach, I think I have brought a little balance into this post by combining Matcha (green tea) with my chocolate doughnuts...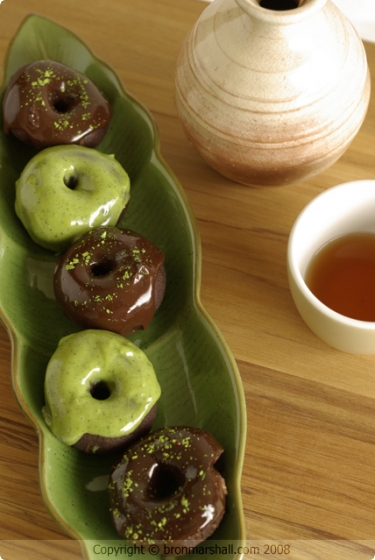 Mini Chocolate Matcha Doughnuts

Green Tea is often referred to by it's Japanese name Matcha when used in its finely ground powdered form, especially for confectionery and baking. It is rich in "catechin polyphenols" - big words basically meaning green tea is a powerful anti-oxidant.

There has been lots of research into defining the potential health benefits from the intake of green tea, some of these claims include inhibiting the growth of cancer cells, lowering cholesterol levels, assisting in the prevention of rheumatoid arthritis and cardiovascular disease, fighting infections and improving impaired immune function.

Sounds like rather good stuff, yeah?!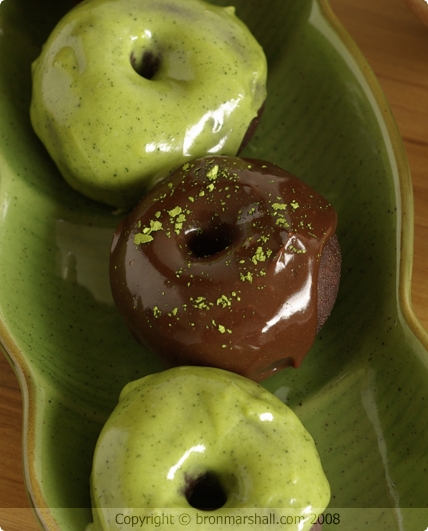 So as doughnut (donuts) have a fairly bad wrap with regards to heart and artery health, including some cholesterol lowering and cardiovascular disease prevention properties in them has to be a good thing and will cancel out the naughty, surely...maybe? hehe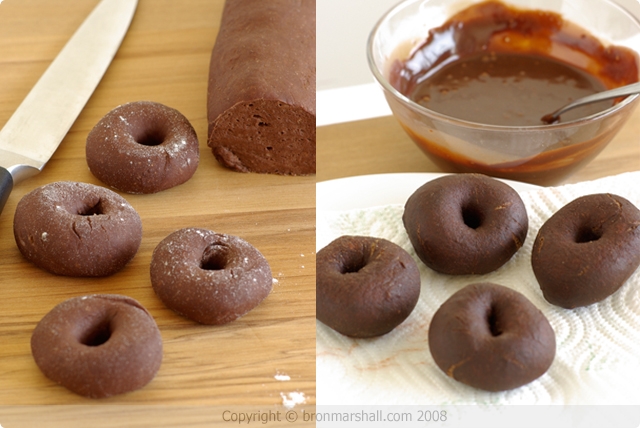 These naughty but nice "healthy" doughnuts are my submission for Helen and Peabody's event "Time to make Doughnuts"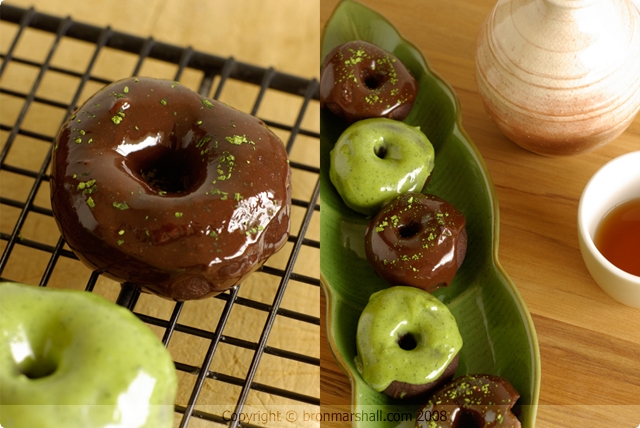 Mini Chocolate Matcha Doughnuts
2 cups of strong flour
1/3 cup of dark cocoa
1 teaspoon of salt
175mls of tepid warm milk
2 tablespoons of castor sugar
1 and ½ teaspoons of dry active yeast
1 small egg, beaten
vegetable oil for deep frying
For the ganache glazes:100 grams dark chocolate, chopped
100 grams white chocolate, chopped
160 mls of cream
1 teaspoon or more of matcha powder, to taste
Place the flour, cocoa and salt into a large bowl.
In a smaller bowl place the warm milk and castor sugar, stir to dissolve the sugar.
Sprinkle the yeast over the milk mixture and set aside to foam for 5 minutes.
After 5 minutes stir the yeast until dissolved.
Make a well in the flour and pour in the yeast mixture and beaten egg.
Stir the dough until well combined, then turn out onto a lightly floured bench and knead until smooth for 5 to 8 minutes.
Place the dough back in the bowl, cover and leave to rise for 45 minutes to an hour.
Meanwhile make the ganache to glaze the doughnuts.
Place each kind of chocolate in a separate small bowl.
Heat the cream and pour half over the dark chocolate, stir until the chocolate has all melted and is smooth in consistency.
Mix the matcha powder with the remaining half of the warm cream and add to the white chocolate. Continue to stir until the white chocolate has all melted and the ganache is green and smooth and set aside.
Knock the dough back and form the dough into 24 small even sized balls.
Using either a floured index finger or the handle of a wooden spoon create the holes in the middle. Make the hole larger than you think is necessary as they do close up as they prove.
Cover with a clean tea towel and let the doughnuts rise for 30 to 40 minutes.
Heat a saucepan of vegetable oil, no more than ¾ full to between 190°C (370°F) and 200°C (390°F) and fry the doughnuts for 1 and a half minutes or until puffed up and slightly darker brown.
Drain on absorbent paper and leave to cool.
Dip the tops of 12 cooled doughnuts into the dark chocolate ganache, and the second half of the donuts into the matcha ganache.
Place the doughnuts on a cookie rack to set and let the extra ganache drain off.
Makes 24 mini doughnuts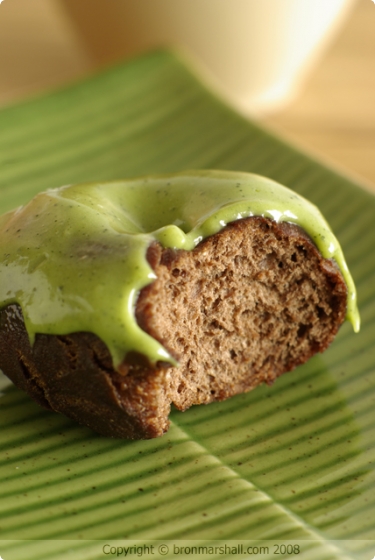 Enjoy!

Blog Recipes · Chocolate Recipes · Desserts Recipes · Food Blog Events Recipes · Sunday Afternoon Teas Recipes
Home · About Bron · Portfolio · Recipe Index · Unit Converter
RSS Feed · Atom Feed · Twitter · Facebook · Flickr · Bron's Amazon Store