Friday 15th February 2008
We Love - Smoked Akaroa Salmon Crostini and Vichyssoise - Actually
Isn't food one of the best things to share with your loved ones?!

No matter who your loved ones are, food often brings people together creating a cosy happy feeling. Food breaks all barriers.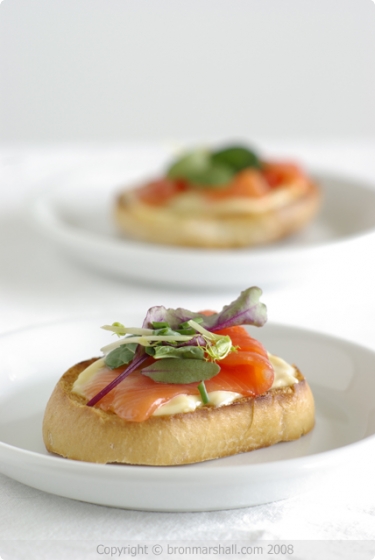 Smoked Akaroa Salmon and Garlic Aioli Sourdough Crostini

Just the other day I was talking to Barbara about how wonderful blogging is, food blogging in particular in the way it spans so many different cultures and celebrates them. Delightfully we food bloggers are all keen to share our culture, with so many different and exotic foods and the many different ways to prepare them.

Hey, who knows maybe food blogging will pave the way to world peace and harmony in regards race relations?! A long shot perhaps... but we can only try!

As a foodie, I adore making that extra effort to create things I know my loves one will enjoy, especially those most close. I also get inspired to create the right atmosphere to go with the food I've prepared. Say if it's a quiet Sunday night in, curling up on the sofa with my thick woolly socks and dressing gown on to watch a family film - a hot mug of soup and some cheesy scones fits the bill perfectly.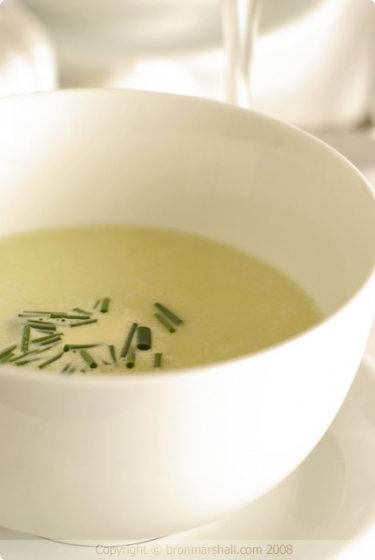 Vichyssoise - Chilled Leek and Potato Soup

However when it's a romantic night for two - just J and I - I instead try to persuade (bribe?) our girls with some warm macaroni cheese and milk and cookies for an early night!

Not that our girls would not enjoy all the treats I had planned - they love their food, just like their mum. I guess it has helped being brought up with such a large variety of food, they're not at all fussy! They are always keen to try new things, and enjoying foods prepared in a new way comes very naturally to them.

I remember when I was young, one of my younger cousins was an extremely fussy eater. On Christmas Day when the table strained under all the traditional goodies that had been prepared, all he would eat was a cold toasty pie (also known sometimes as a jaffle!) and what is worse, filled with can you believe - cold canned spaghetti?!!

St. Valentine's day is one of those days when I prefer to dim the lights and create a more romantic setting, a setting little girls of 5 and 8 years don't quite understand or appreciate in the same way! So just as it's nice to have relaxed family night on the couch with hot mugs of soup, is it also nice to get out the white linen, fine cutlery and champagne flutes for an extra special night in for two!

To set the mood for our St. Valentine's day menu I did just that, with a few red rose petals thrown in for good measure. I paid careful attention to create dishes both J and I adore. One of these happens to be smoked salmon - Akaroa smoked salmon some of which I used to top slices of toasted sourdough baguette and a light garlic aioli.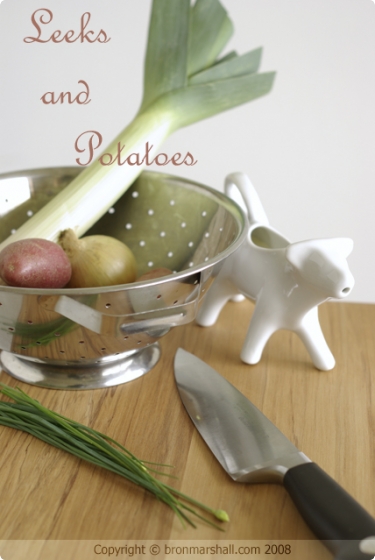 Smoked Akaroa Salmon and Garlic Aioli Sourdough Crostini
4 slices of Sourdough baguette
1/3 cup of Garlic Aioli or mayonnaise (recipe follows)
150 grams smoked salmon
a handful of baby salad leaves / micro greens, mustard or cress for example
flaked sea salt and pepper
Toast the slices of baguette.
Spread with a little garlic aioli or mayonnaise if you prefer
Share smoked salmon between the crostini.
Finish with the baby salad leaves and salt and pepper.
Garlic Aioli or Mayonnaise
2 egg yolks1 teaspoon of Dijon mustard1 teaspoon of white wine vinegar250 ml / 8.8 fl oz of olive oil (don't use extra virgin as it has a rather bitter taste)
2 teaspoons of hot water
½ teaspoon of lemon juice or to taste
1 to 2 small cloves of crushed garlic, again to taste, leave this out if you prefer mayonnaise!
salt & pepper
Place the 2 egg yolks, mustard and vinegar in a blender or large bowl.
Whisk for 1 minute.
Very slowly pour in the oil, whisking continuously until the mixture has a thick consistency.
Whisk in the hot water, this helps stabilize the mayonnaise and gives it a lighter colour.
Flavour with garlic if using, lemon juice, salt and pepper.
Cover and refrigerate before use.
Makes just over one cup.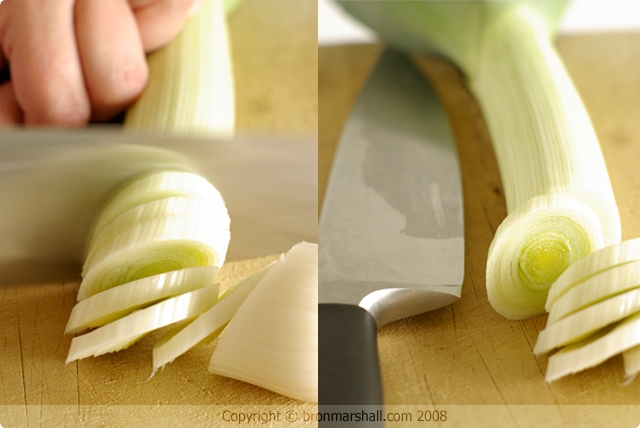 The next dish we enjoyed was my take on the classic chilled Leek and Potato soup - Vichyssoise
We both love soup and could eat and take nourishment from them all year round. No matter the weather outside, there is always a soup sure to please the loved ones in your life. Although Vichyssoise is traditionally served chilled, you can also serve it warm if you prefer.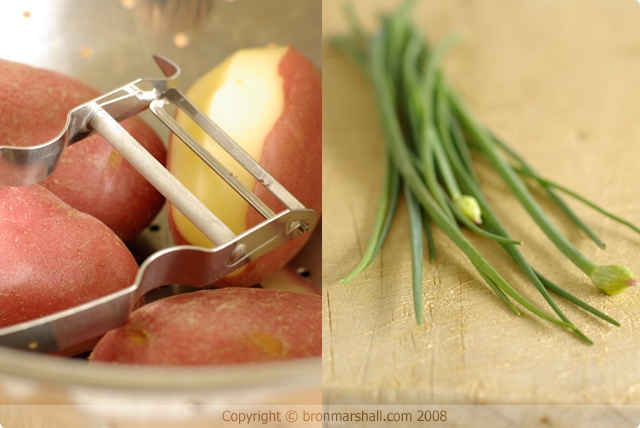 Vichyssoise or Chilled Leek and Potato Soup
25 grams of butter
1 onion, finely chopped
1 large leek, the white part sliced
4 to 6 medium small sized floury potatoes
4 cups of chicken stock (preferably homemade!)
1 bay leaf
1 large sprig of parsley left whole
¾ cup of cream
salt and white pepper to taste
extra cream to serve
small bunch of fresh chives, chopped to garnish
Peel and finely chop the onion, thinly slice the white part of the leek.
Rinse the leek really well under cold water carefully, as soil can be caught throughout the layers.
Peel and dice the potatoes.
In a large saucepan melt the butter and sweat the onion and leek until the onion is soft and translucent.
Add the potato and bay leaf to the mixture and then enough of the stock to just cover the vegetables.
Cover and simmer for 25 to 30 minutes until all the vegetables are tender.
Remove the bay leaf and parsley and blend until smooth.
Add salt and pepper to taste and finish with cream.
For a smooth finish strain the soup into a large bowl, cover and chill for at least 2 hours.
Ladle into serving bowls and garnish with extra cream and chopped chives if desired.
Serves 4.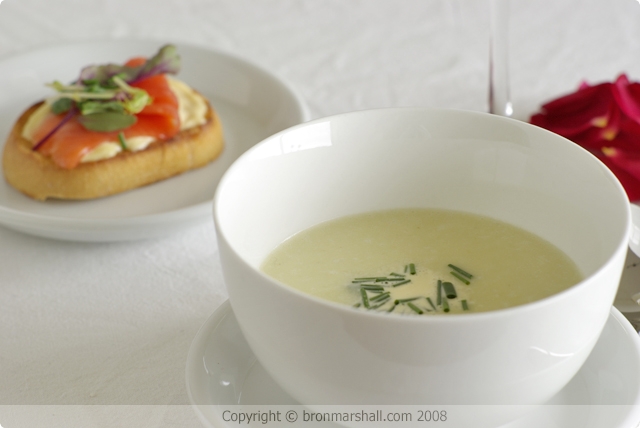 Please tune in again soon for the next instalment of "Love Food Actually"

Enjoy!


Appetizer Recipes · Blog Recipes · Culture & Tradition Recipes · Fish Recipes · Fruit & Veges Recipes · Soups Recipes
Home · About Bron · Portfolio · Recipe Index · Unit Converter
RSS Feed · Atom Feed · Twitter · Facebook · Flickr · Bron's Amazon Store