Monday 19th May 2008
Poor Man's Apple and Cinnamon Brioche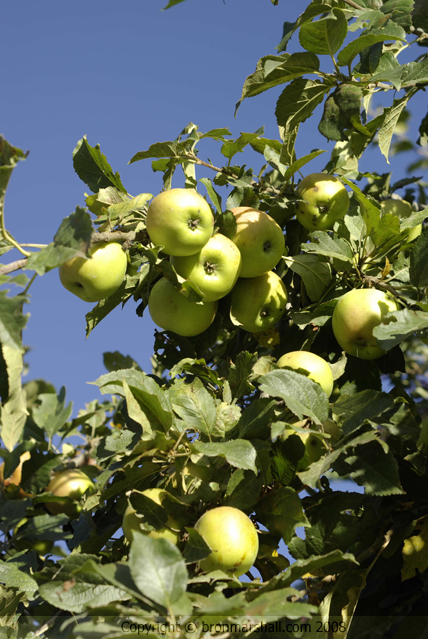 "Our Apple Tree"

These photos bring back memories of the warmer days we had in March. A couple of months later and now we have much chillier, frosty mornings and 'our' newly acquired apple tree where we gathered all the fruit we could carry, and then some, is looking decidedly bare with the only remaining apples fallen, scattered and decomposing around its trunk.

All those gorgeous green leaves are now brown and quite scarce too - mostly fallen and blown away through the fence line, forever shared across the dewy wet grass of the paddocks. The grass is dormant too, just like the apple tree, which is great for gaining a few extra hours during the week that used to be spent mowing. However it is sad too - especially being denied the luxury of dry shoes on our walks.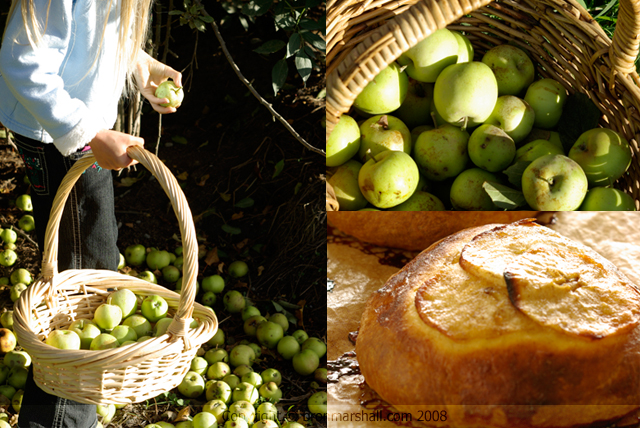 During these walks we also notice how long the shadows from the rows of pinus radiata are, created by the much lower sun which sets around 5pm these days. There are also wafts of wood smoke spreading out across the plains, with fire bans from Summer now another distant memory. We can hear many of our neighbours busily preparing for Winter, their chainsaws roaring in the background as they either clean up their properties from Summer growth, or fell trees and chop firewood for heat during the coming season.

I guess, with all of these sights, sounds and smells you could almost admit Winter has arrived.

Yet, as I haven't managed to organise many of the recipes I promised you all for Autumn, I'm not planning to admit an Autumnal defeat just yet.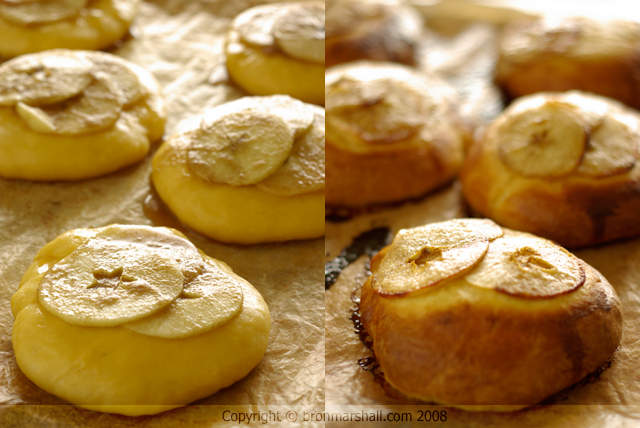 One of the first things I did with our baskets of apples that I showed you last week, was make these Poor Man's Apple and Cinnamon Brioche for one of our Sunday afternoon teas. I really like to make Sunday afternoons special, even more so in Autumn and Winter. Whether we have time for a wee drive and outing to stop in somewhere, such as one of the growing number of cute country cafés in our North Canterbury district, or to pack a flask and small picnic basket to take with us, or simply, to make a little extra effort while enjoying a small tea ceremony at home.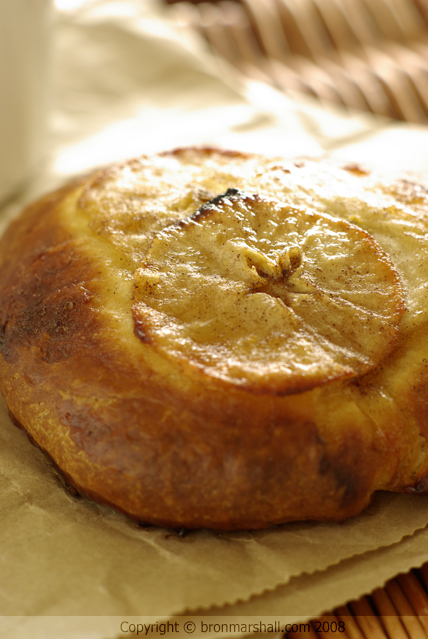 The inspiration for these came from a single larger "Apple and Cinnamon Bread" recipe I had seen in an older - in fact the 14th - Issue of Donna Hay magazine. She used a much more basic sweet bread dough, whereas I went for more decadency using my favoured brioche recipe. I so adore the way she sliced her apples without removing the core thereby retaining those magical little stars you see in the middle of each slice. I also prefer to make individual brioche, this way the stars don't get destroyed on slicing portions and everyone gets their very own.

I was absolutely delighted with the results and I'm sure these will be enjoyed again soon for afternoon tea and for many more Sundays in the future. They would be perfect for breakfast too!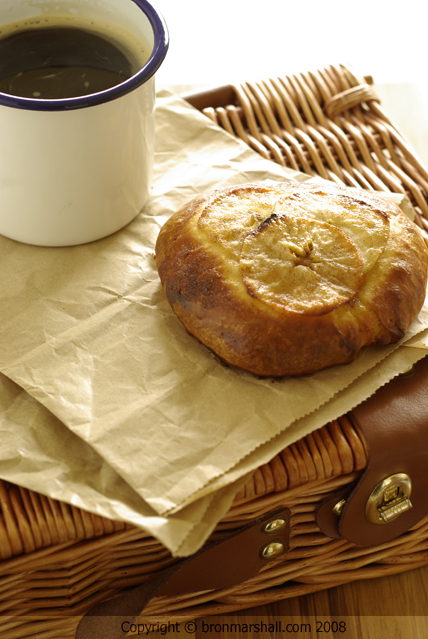 Poor Man's Apple and Cinnamon Brioche
For the Brioche Sponge:
30 grams / 1 oz of strong / high grade white flour
1 teaspoon of dried active yeast
65mls / 2 floz of warm standard full cream milk
For the Dough:
2 large free range eggs
210 grams / 7 ½ oz of strong/high grade white flour
1 tablespoon of white sugar
½ teaspoon of salt
60 grams / 2 oz of unsalted butter, at room temperature
Apple and Cinnamon Topping:
3 to 4 small Granny Smith Apples, peeled and thinly sliced
40 grams / 1½ oz of soft brown sugar
1 teaspoon cinnamon
2 tablespoons of fresh lemon juice
30 grams / 1 oz of butter, melted
1 egg, lightly beaten for brushing
The Sponge:
In a large bowl, or the bowl of your stand mixer, mix together the flour and dry active yeast.
Pour in the lukewarm milk and fold until the flour is all moistened, cover the bowl with a clean plastic bag (recycle and reduce!) and leave to rise for 1 hour or so.
The Dough:
Add the eggs to the sponge mixture and beat until smooth with a wooden spoon and a strong arm - or using the paddle attachment of your stand mixer!
Add the flour, sugar and salt and continue to mix until well combined.
Rest the dough for 10 minutes.Change to a large metal spoon - or the dough hook on your stand mixer and begin working in the butter a little at a time, until it is fully incorporated.
Turn the dough out onto a lightly floured surface and knead for 6 to 8 minutes, adding a little flour as required so the dough is lovely and soft and not too sticky, or continue in your stand mixer until the dough pulls away from the sides of the bowl.
Return the dough to the bowl and again cover with the plastic bag.
Leave the dough to rise for 1 and ½ hours or until doubled in size.
Apple and Cinnamon Topping:
In a large bowl mix the brown sugar, cinnamon, lemon juice and melted butter, the butter may solidify slightly but that's fine.
Place in the slices of apple and toss to coat in the sugar mixture and set aside.
Assembly and Baking:
Divide the Brioche Dough into 8 equal pieces, I like to weigh mine to get them perfectly even.
Shape each piece into a flat round, as you would if you were making a mini pizza.
Brush each with the beaten egg and leave to prove in a warm place for 30 to 45 minutes.
Preheat your oven to 180°C (360°F)
Top each brioche with 3 or 4 slices of the sugar and spice coated apple, brushing over a little more of the sugary syrup if required.
Bake for 20 to 25 minutes until golden.
Makes 8.

Enjoy!


Apples & Pears Recipes · Autumn Recipes · Autumn 08 Recipes · Blog Recipes · Bread Recipes · Breakfast Recipes · Fruit Recipes · Fruit & Veges Recipes · Picnics Recipes · Sunday Afternoon Teas Recipes
Home · About Bron · Portfolio · Recipe Index · Unit Converter
RSS Feed · Atom Feed · Twitter · Facebook · Flickr · Bron's Amazon Store