Saturday 17th March 2007
Baked Gingernut Cheesecake with Kiwifruit
When Peabody announced the Cheesecake themed, 10th round of Hay Hay it's Donna Day, I knew right away I was going to make a ginger flavoured cheesecake, a Gingernut and Crystalized Glacé Ginger variation of my Baked Lemon Cheesecake!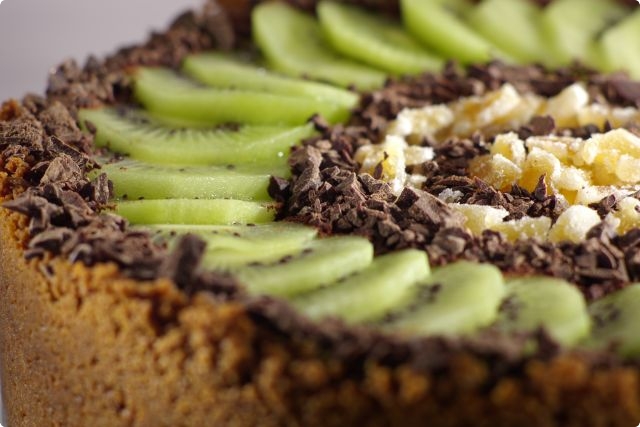 Gingernuts and Ginger flavoured beverages, biscuits, slices, cakes and not to mention desserts are hugely popular in my family and in New Zealand as a whole.

Initially I was thinking of topping my cheesecake with a plum coulis or plum jelly, as I find fresh tart plums and spicy sweet ginger a delightful pairing. However, as us girls are prone to do... I changed my mind!

In the end, simply peeling and slicing some Kiwifruit to arrange around the top, adding a little more chopped Crystalized Glacé Ginger and the ever essential dessert ingredient... some bittersweet chocolate!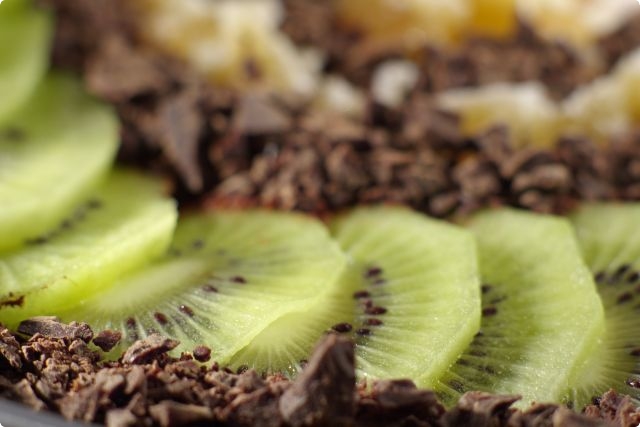 Cheesecake is characteristically a very rich dessert therefore pairing with some fresh and slightly acidic or citrus fruit is ideal. Passionfruit, kiwifruit, tart plums or berries in my opinion all work extremely well. It also became apparent my choice of kiwifruit was appropriate for a second reason. As I had nothing planned for St. Patrick's Day, the green kiwifruit therefore was a fair and befitting "Green thang."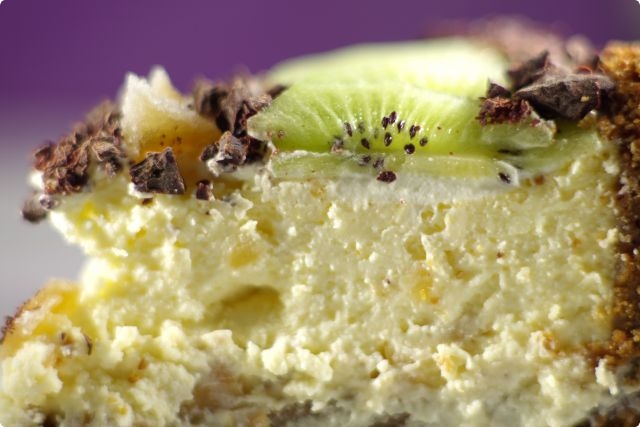 I look forward to seeing who will play host to round #11 of HHDD, especially with the gorgeous, handsome ;-) and original array of entries I've seen so far.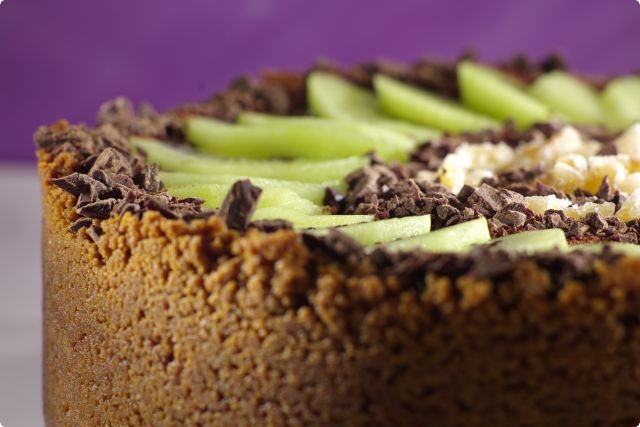 Baked Gingernut Cheesecake with Kiwifruit
375 grams (1 and 1/2 packets) of gingernuts (or similar ginger cookies / biscuits)
2 teaspoons of ground ginger
1/2 teaspoon of ground mixed spice
150 grams of butter
250 gram pack of cream cheese
250 gram pack of cottage cheese
250 gram pack of sour cream
3 eggs
1 cup of white sugar
2 tablespoons of cornflour (cornstarch)
1 tablespoon of grated lemon rind, around 2 small lemons
3 to 4 tablespoons of lemon juice, approximately 1 small lemon
1/3 cup of crystalized glacé ginger, finely chopped
Whipped cream (optional)
4 Kiwifruit, peeled and sliced
Chopped bittersweet chocolate
Extra crystalized glacé ginger
First crush the gingernuts, I found them too much for my food processor, so I recommend crushing them in batches of about 6 at a time in a large mortar and pestle until you form evenly sized crumbs.
Transfer to a large stainless steel bowl. Shake the bowl and crush any large pieces that rise to the top.
Mix the ground ginger and mixed spice into the gingernuts crumbs
Melt the butter and mix with the biscuits and spices until all crumbs are coated.
Empty into a 20cm round cake tin and press against the sides and bottom of the tin with the outer surface of a clean glass.
Refrigerate until firm.
Grate the lemon rind finely.
Push the cream cheese and cottage cheese through a sieve into a large bowl and using a electric mixer beat the cheeses until smooth.
Pre-heat oven to 140°C (280°F).
Break the eggs into a small bowl and add one at a time, beating well after each addition. Remember to scrape the mixture off the sides of the bowl after each egg.
Add the cornflour and sugar and mix well.
Blend in the sour cream, lemon juice, rind and finely chopped crystalized glacé ginger.
Pour the cheesecake mixture into the cold firm crust.
Bake for 2 hours, after which gently press the cheesecake to test if it is set through.
Turn the oven off, leaving the door ajar until the cheesecake is cool before removing it.
When cool refrigerate for several hours before garnishing with whipped cream if desired, (useful to fill in any ominous cracks!) and the freshly sliced kiwifruit, chocolate and crystalized glacé ginger.
Serves 8 generously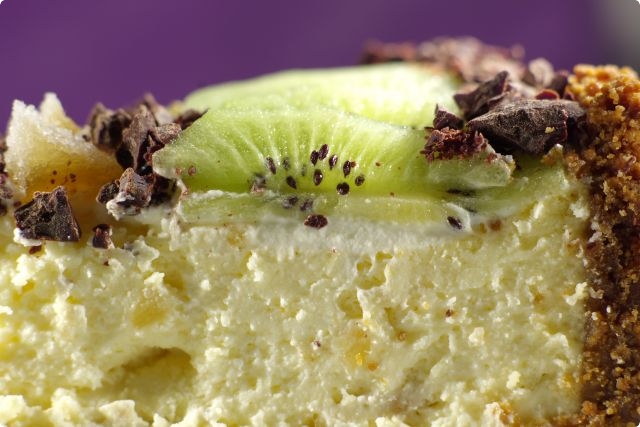 Enjoy!


Autumn Recipes · Blog Recipes · Cakes Recipes · Chocolate Recipes · Christmas Recipes · Desserts Recipes · Eggs Recipes · Food Blog Events Recipes · Fruit Recipes
Home · About Bron · Portfolio · Recipe Index · Unit Converter
RSS Feed · Atom Feed · Twitter · Facebook · Flickr · Bron's Amazon Store