Saturday 11th March 2006
Say Cheese...cake!
Andrew from Spittoon is hosting this month's Sugar High Friday #17.
"Dairy" is Andrew's chosen theme… and what says "Ma Moo" better than a deliciously rich cheesecake?!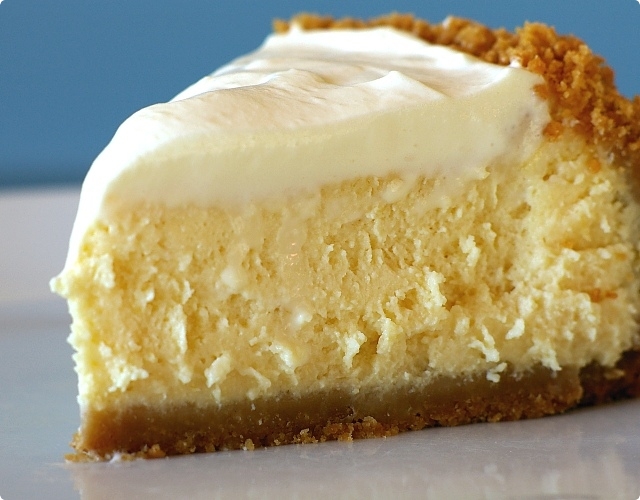 Naturally there are various forms of cheesecake from around the world and it is believed to be one of the more popular desserts internationally. Most cheesecakes are made from either cream cheese, ricotta cheese, cottage cheese, quark or some combination of these. More dairy is added in the form of cream, double cream or sour cream along with sugar and eggs producing this very rich and smooth textured dessert. Some common cheesecake flavourings are vanilla, chocolate and / or fruit. Often plainer flavoured cheesecakes include a topping such as puréed berries.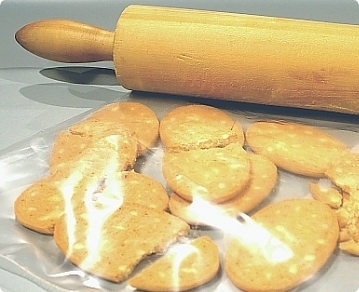 The cheesecake filling is usually formed on top of a crust or base made up of either a pastry, cake, cookie, or a mixture of cookie / biscuit crumbs (Graham Crackers if you're American) mixed with melted butter and chilled.

The first recorded mention of cheesecakes is believed to have been during an ancient Grecian Olympic Games, and an ancient Roman politician, Marcus Porcius Cato (a.k.a Cato the Elder or Cato the Censor) 234BC - 149BC wrote about preparing cheesecakes in his 160BC farming manual - "De agri cultura". Perhaps ironically, though, he is also remembered for his stringent regulations against luxury.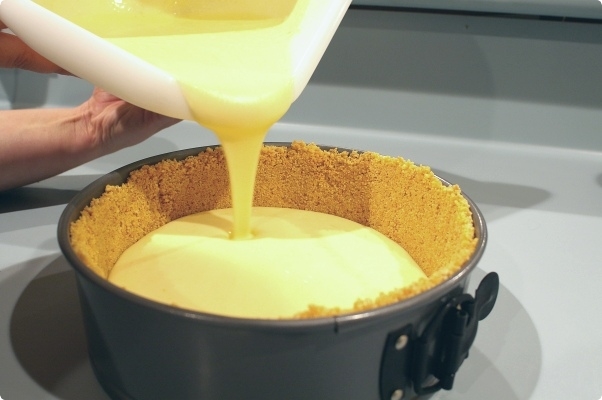 Lastly, the word "Cheesecake" sometimes refers to a female, in particular a very attractive woman, and since I like to think of myself as a bit of a "cheesecake" if only in my dreams, hehehe, here is my offering for SHF #17!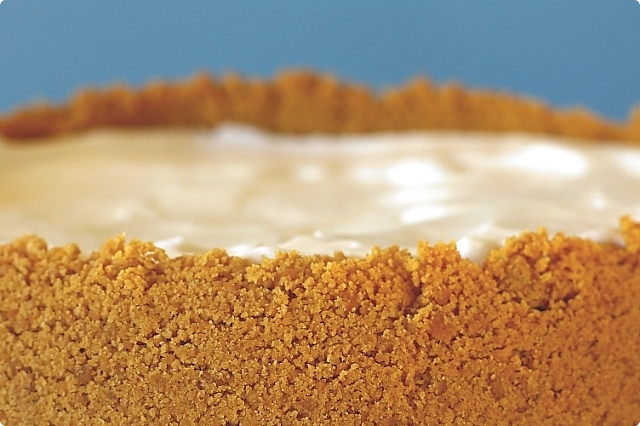 Baked Lemon Cheesecake with fresh Passionfruit
250 gram / 9 oz pack of milk arrowroot biscuits (or similar vanilla wine, simple cookie biscuit, graham crackers)
125 grams / 4½ oz of butter
250 gram / 9 oz pack of cream cheese
250 gram / 9 oz pack of cottage cheese
250 gram / 9 oz pack of sour cream
3 eggs
1 cup of white sugar
2 tablespoons of cornflour (cornstarch)
2 tablespoons of grated lemon rind, around 4 small lemons
3 to 4 tablespoons of lemon juice, approximately 1 small lemon
Whipped cream
Passionfruit
First crush the biscuits. For more even sized crumbs I recommend crushing them in batches of around ten at a time with a rolling pin or in a food processor.
Transfer to a large stainless steel bowl. Shake the bowl and crush any large pieces that rise to the top.
Melt the butter and mix with the biscuits until all crumbs are coated.
Empty into a 20cm round cake tin and press against the sides and bottom of the tin with the outer surface of a clean glass.
Refrigerate until firm.
Grate the lemon rind finely.
Push the cream cheese and cottage cheese through a sieve into a large bowl and using a electric mixer beat the cheeses until smooth.
Pre-heat oven to 140°C (280°F).
Break the eggs into a small bowl and add one at a time, beating well after each addition. Remember to scrape the mixture off the sides of the bowl after each egg.
Add the cornflour and sugar and mix well.
Blend in the sour cream, lemon juice and rind.
Pour the cheesecake mixture into the cold firm crust.
Bake for 2 hours, after which gently press the cheesecake to test if it is set through.
Turn the oven off, leaving the door ajar until the cheesecake is cool before removing it.
When cool refrigerate for several hours before serving with whipped cream and the fresh pulp of passionfruit.
Serves 8 generously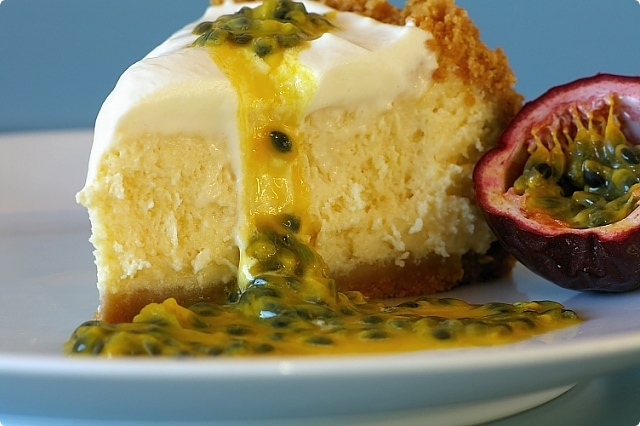 Enjoy!


Blog Recipes · Desserts Recipes · Food Blog Events Recipes
Home · About Bron · Portfolio · Recipe Index · Unit Converter
RSS Feed · Atom Feed · Twitter · Facebook · Flickr · Bron's Amazon Store