Wednesday 6th September 2006
Ginger Crunch and her Ice Cold Geminate
Ginger Crunch is a well loved slice found in most cafes, bakeries and tearooms around New Zealand. There are several versions and as many variations on different recipes, however here is my recipe, which I believe to be fairly true to 'the original'.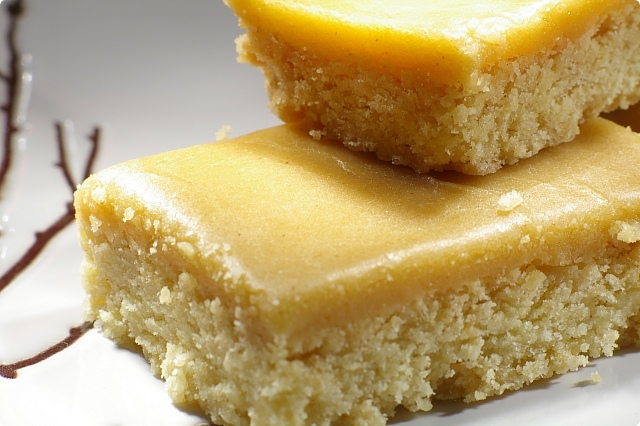 Ginger Crunch
185 grams of soft butter
¾ cup of sugar
2¼ cups of plain flour
1 teaspoon of baking powder
2 teaspoons of ground ginger
Preheat the oven to 190°C (370°F).
In a large bowl cream the butter and sugar.
Sift the flour, baking powder and ginger together and mix into the creamed butter.
Press the crumbly mix evenly into lined 20×30cm sponge roll tin.
Bake for 20 to 25 minutes or until lightly brown.
Ice with the following while the base and icing are still hot.
75 grams of butter
3 tablespoons of golden syrup
1 cup of icing sugar
3 teaspoons of ground ginger

Melt the butter and golden syrup in a small saucepan.
Sift the icing sugar and ginger and add to the butter and syrup stirring constantly until well combined.
Pour over the base while still hot and leave until almost cool before cutting into 24 squares.
Makes 24 pieces

Inspired by the much loved "Cookies 'n' Cream" flavoured ice cream, often made with crumbled "Oreo" a famous American brand of cream filled cookies, I decided to try a out a more homely and Kiwi styled version Ginger Crunch 'n' Cream Ice Cream!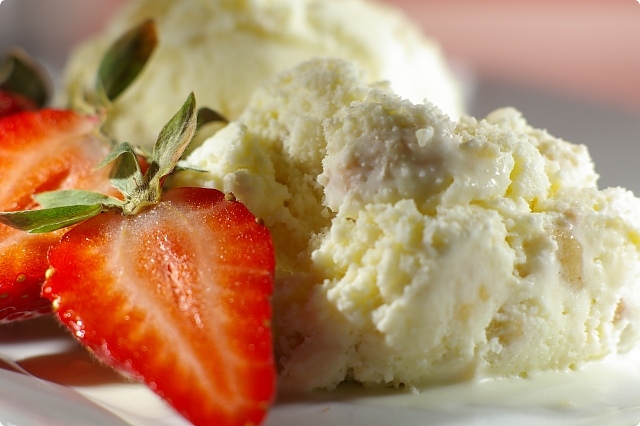 Ginger Crunch 'n' Cream Ice Cream
2 cups of cream
1 cup of full cream milk
½ cup of caster sugar
1 vanilla bean to infuse milk, or vanilla extract to taste
1 ½ cups of crumbled and chopped ginger crunch
Warm the milk, cream, sugar and vanilla to dissolve and infuse. Remove from the heat, allow to cool and chill.
Churn as per manufacturers instructions.
When the icecream is finished add the ginger crunch crumbs, being sure not to have too finer crumbs, but a good selection of chopped nuggets of pure 'gingeriness' and switch the machine back on to fold them through.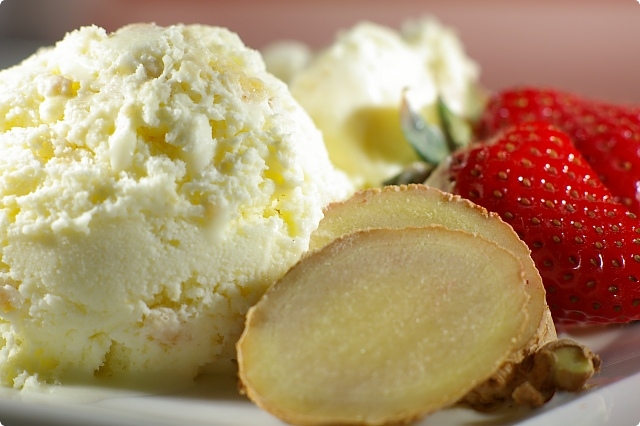 Although I was fairly pleased with my Ginger Crunch 'n' Cream ice cream, I'd be tempted to add yet more 'gingery' tones next time with the addition of some chopped crystalised ginger and perhaps even some lightly toasted walnuts.

Also since I threw some strawberries beside my ice cream, albeit not that fresh, having been flown in from Queensland, OZ. I might just qualify for Ivonne and Lis' La Festa al Fresco party on a Italian Terrace, although I'll have to run as I believe the sun has almost set on the terrace!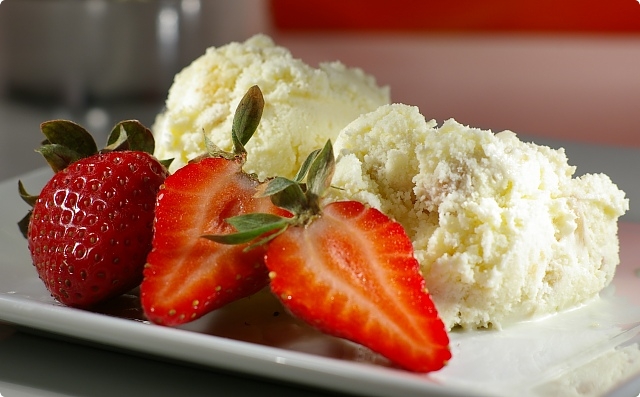 Enjoy!


Blog Recipes · Cakes Recipes · Desserts Recipes · Food Blog Events Recipes · Spring Recipes · Sunday Afternoon Teas Recipes · The Baking Tins Recipes
Home · About Bron · Portfolio · Recipe Index · Unit Converter
RSS Feed · Atom Feed · Twitter · Facebook · Flickr · Bron's Amazon Store