Monday 10th July 2006
Pumpkin and Chorizo Spanish Tagine
It's probably more than a month or two since I promised lots of pumpkin recipes, I haven't forgotten, oh no! I did however get a little distracted with a few blogging events and then the snow came… and well the rest is history as they say.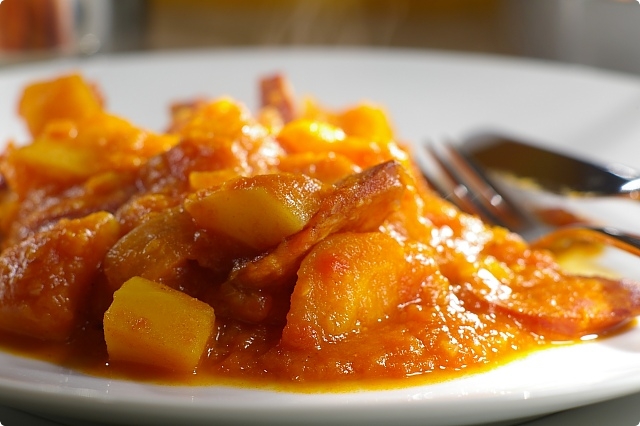 So to recap... we had a little 'Amuse-Bouche' or an appetizer in the Pumpkin and Cumin seed Croquettes, we've had the Thai Inspired Soup with Coriander Pesto, so I believe it's now time for a main course, before a couple of desserts.

Again, as with many of my recipe ideas, this is more a set of rough guidelines than a strict recipe, there are so many small tweaks you can make, change or substitute to suit your liking or alternatively to suit what's in your refrigerator at the time.
In the past I've used different salami, speck or bacon in place of the chorizo, made the additions of either parsnips and or kumara, obviously the options are endless and the quantities approximate.
The only suggestion I will make is that you make sure you have enough liquid to cover the vegetables so they have plenty of scope to become perfectly tender.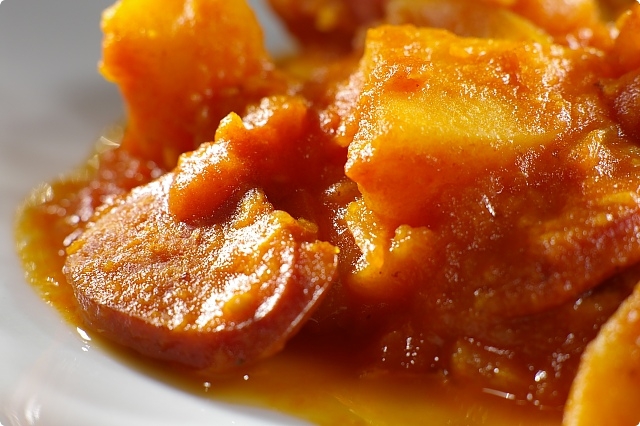 This Spanish inspired tagine makes a perfect winter warming meal for dinner, lunch or supper, it will even carry well in a warmed thermos flask for taking to work, grabbing a small bread, baguette from the bakery on the way to mop that flask clean as I'm sure you will so desire.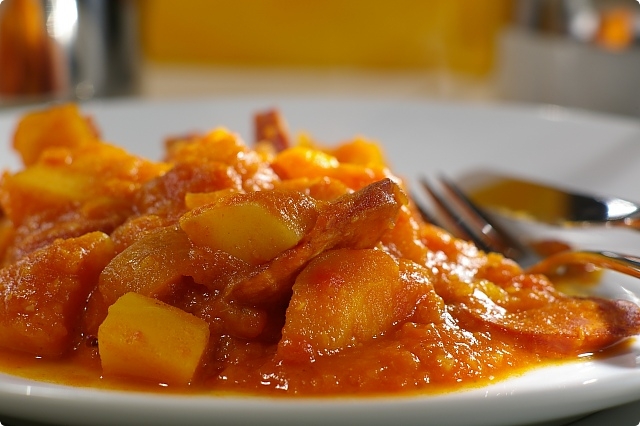 Pumpkin and Chorizo Spanish Tagine
¼ cup of olive oil
1 large onion, roughly chopped or sliced
2 chorizo sausages, approximately 250 grams, sliced
400 grams of pumpkin, peeled and diced
2 potatoes, peeled and diced
2 teaspoons of smoked paprika
400 ml / grams of chopped peeled tomatoes, or passata
1 cup of vegetable or chicken stock
1 bay leaf
4 to 6 cloves of garlic, crushed - to taste
freshly ground salt and pepper
Preheat oven to 180°C (360°F).
Heat a large cast iron or earthen ware casserole dish on the hob, add the olive oil, onion and chorizo and sauté until very fragrant and golden.
Add the pumpkin, potato cubes and smoked paprika and stir through to coat.
Continue to cook for a couple of minutes, then just cover the vegetables with enough of the tomatoes and stock.
Stir through the bay leaf, garlic and some freshly ground pepper and salt.
Cover and place into the preheated oven for 20 to 30 minutes, or until the pumpkin and potatoes are tender.
Remove the bay leaf, taste and adjust the seasoning if necessary.
Serve along side some fluffy rice, couscous or simply a crusty baguette.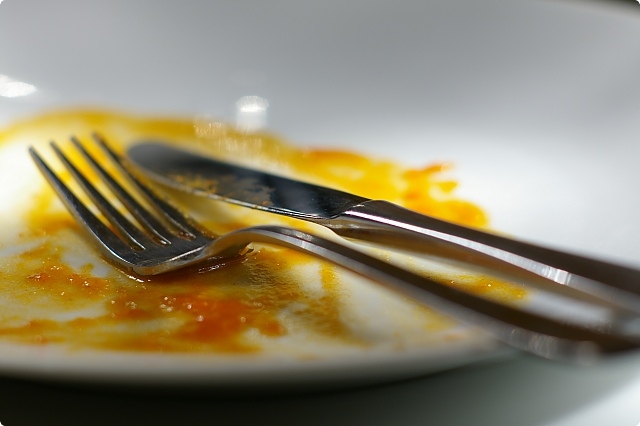 Bon Appétit!


Blog Recipes · Fruit & Veges Recipes · Ingredient Inspirations Recipes · Winter Recipes
Home · About Bron · Portfolio · Recipe Index · Unit Converter
RSS Feed · Atom Feed · Twitter · Facebook · Flickr · Bron's Amazon Store