Thursday 13th July 2006
Antipodean Blogging By Post
Mmmm yummy!

What fun it was putting together, then sending a parcel of NZ goodies to Australia … and yet, what a delight it was to receive back a foodie parcel from Australia!

Thank you so very much Kestypes for sending me such a yummy parcel!

But first let me tell you all what I sent Kes, since these are some of my very favourite things - treats I always like to have one of two of in the cupboards, just in case we happen to get snowed in, if we have some unexpected guests, etc.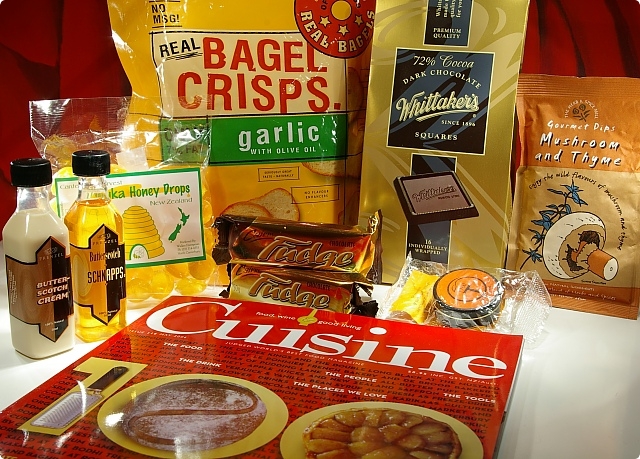 My Goodies for Kes

Butterscotch Schnapps and Cream Minis from Prenzels. These wee cuties are perfect poured over icecream or pancakes and also as a little tipple in your coffee. They're distilled in Blenheim here on the Mainland (the South Island).

Most people have heard of the famous NZ Peanut Slab, but now Whittakers make these 72% Dark Chocolate Squares. The small squares of bittersweet chocolate are great after dinner treats, or what I love to do is warm one or two with ¾ of a cup of whole milk and a sprinkle of cinnamon for an excellent single serve hot chocolate!

Cairns Fudge is made right here in Canterbury on Ferry Road, Christchurch. These creamy Russian fudge bars are the perfect secret snack hidden away in your handbag for the 3pm blues, or equally delicious diced and folded through some icecream for dessert, or mixed into various muffin recipes and other baking.

Bagel Crisps. A fantastic base for impromptu crostini, simply smear them with a little pesto or tapenade and you're away laughing!

Gourmet Dips - Mushroom and Thyme. This range is fantastic, there's also Carrot and Coriander, Dill and Wild Onion, and Beetroot flavour too, I think. Basically they're clever mixtures of dried vegetables, herbs and spices you can fold through some sour cream, mayonnaise or reduced cream to make the perfect dip with Bagel Crisps! They're also fabulous used as meat rubs etc.

I sent a little sample from the great range of teas, from my favourite NZ tea company T leaf T.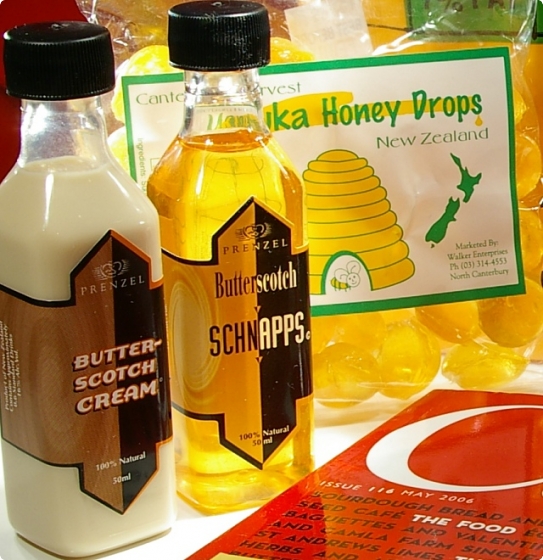 Manuka Honey Drops

And as Kes had been ill, I thought it quite appropriate to send her some soothing NZ Manuka Honey Drops. Gotta love Manuka honey and all its natural antibiotic goodness!

Finally I also sent a copy of Cuisine Magazine - the issue celebrating NZ's top 100 foodie favourites!

A few days after I sent my parcel, I was absolutely delighted to receive one back from Kes, full of scrummy yummies from Australia.


Kes' Goodies for Moi

The first thing I spotted was a bag of Delicaseys Sour Cherry Brandy Chocolates. I adore Cherry liqueur Chocolates, and sure enough they didn't last long!

Next out, was a couple of gorgeous pouches from Herbie's Spices, both of which had filled the parcel with the most delicious spicy aroma.

Quatre Epices, a European spice blend of allspice, nutmeg, cloves and cinnamon. I haven't used this yet but I'm sure this blend will be perfect in many of my Mid-Winter baking treats, or it will make a perfectly spiced old fashioned steam pudding!

Premium Australian grown Preserved Ginger. Naturally preserved in sugar and dusted with icing sugar. I quickly ripped this one open as well. I love ginger, always have. Even as a young child I loved to pinch a piece of sugary ginger to nibble on.

Next up, with my two girls poking their little wee noses into MY parcel they noticed CK, a cute cuddly?… Caramello Koala! Oh dear, poor CK got the chop I'm afraid, right down the middle, the girls quickly and happily devoured half each!

Hehe - then we found the cookie cutter every Kiwi wants ;-) This will make the best Aussie shaped lamingtons, with perhaps a cherry for Tasmania?

Last, but by no means least was a packet of Organic Cha Soba Green Tea noodles made in Australia of course! Which I can't wait to use, perhaps with some rare seared beef fillet and vegetables as a delicious noodle salad.

Thank you again Kes for the gorgeous parcel and for organising the event.


Home · About Bron · Portfolio · Recipe Index · Unit Converter
RSS Feed · Atom Feed · Twitter · Facebook · Flickr · Bron's Amazon Store