Friday 14th July 2006
14 Juillet - Bastille Day
Today, the 14th of July, is 'Bastille Day'. This is the French 'Fête nationale' which originally commemorated the 'Storming of the Bastille' (a prison in Paris), marking the beginning of the French Revolution, and the subsequent fall and demise of Louis XVI and the French Monarchy.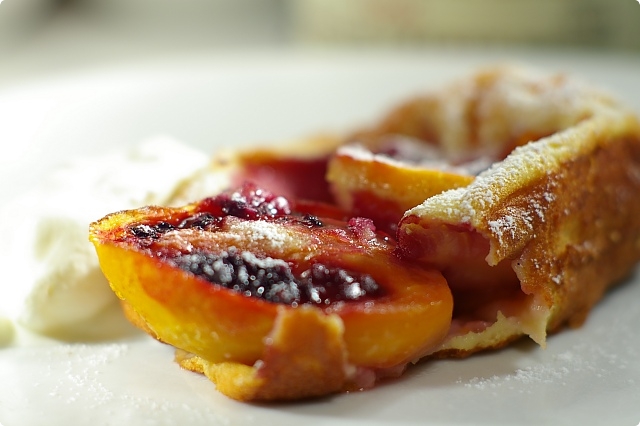 Today, as with the 4th of July in America, the day is a little less political. It's a day for celebrating everything French. Today there will many parades and festivities in and around Paris, and the city's night sky from the Arc de Triomphe to Notre-Dame will be filled with fireworks.

With all this in mind I thought it only fitting that today we eat as the French do! Vive la France!!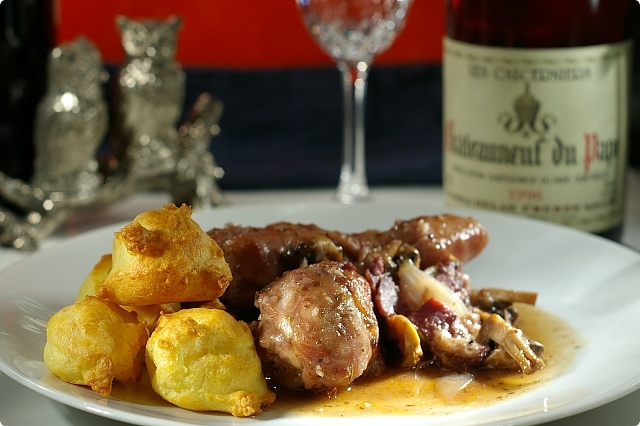 Gougère are simply small choux pastry puffs with cheese (normally Gruyère) added to the choux. They are often served cold to accompany wine tasting, especially in the Burgundy region, or warm with a filling of smoked trout or salmon as a light meal or entrée.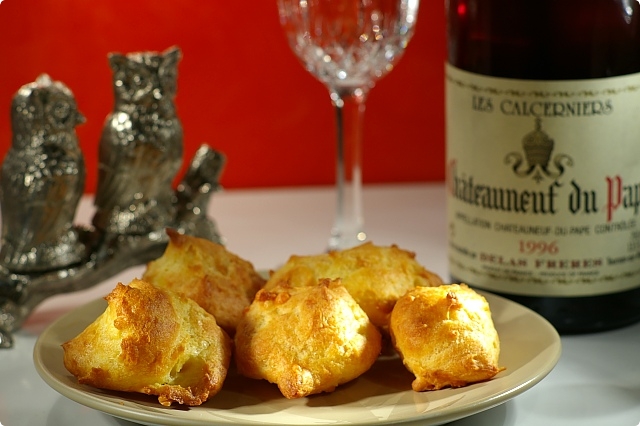 Gougère
1 cup of water
100 grams of butter, chopped
a pinch of salt
1 cup of flour
1 teaspoon of Dijon mustard (optional)
3 eggs
½ cup of grated Gruyère cheese
Preheat the oven to 210°C (410°F).
Place the butter, water and salt in a medium sized saucepan and bring to the boil.
Remove from the heat.
Add the flour all at once and beat until the mixture forms a ball.
Add the mustard and eggs one at a time and mix to a smooth, shiny paste.
Mix through the grated Gruyère cheese.
Place small spoonfuls of the mixture onto a baking tray lined with cooking paper or alternatively pipe small rosettes.
Bake for 10 minutes at 210°C (410°F), then turn the oven down to 190°C (370°F) and bake for a further 10 to 15 minutes for until golden and dry.
Immediately after removing from the oven, make a small hole or slit in each puff to allow the steam to escape.
This prevents the puffs from collapsing.
Makes 24
No French meal is complete without a glass of wine!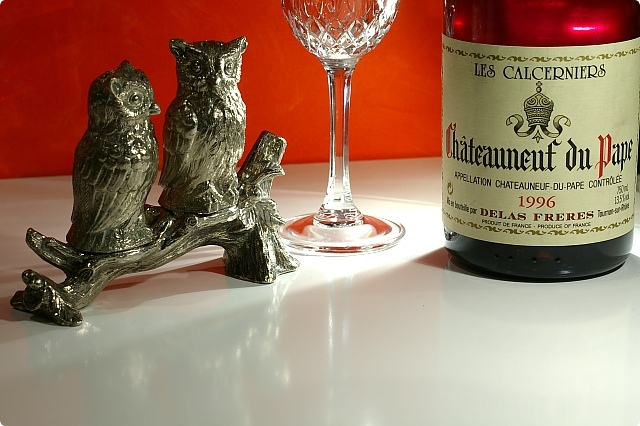 Coq au Vin was traditionally made with a Coq (cock), or rooster, a male chicken that is at least twelve months old. Red wine and slow long cooking was needed to tenderise the tough meat. Whilst the casserole is great on the first day, it is especially great when left and reheated the next day, just as it is with many soups and stews!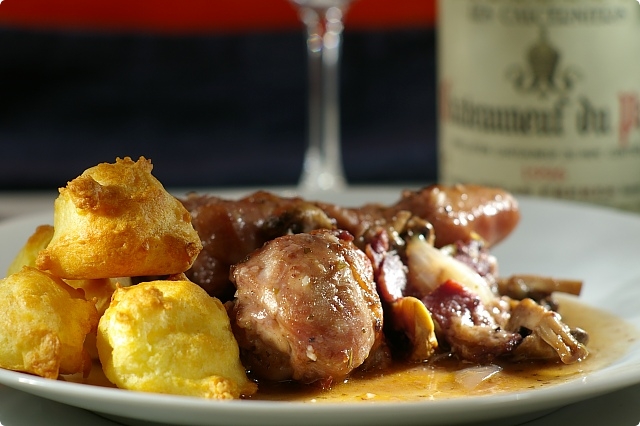 Coq au Vin
2 kg / 4 lb of chicken pieces, preferably with the skin removed
1 cup of flour
½ teaspoon each of salt and pepper
3 tablespoons of olive oil
30 grams / 1 oz of butter
3 rashers of quality bacon, cut into lardons
2 large onions, sliced or 14 very small or pickling onions, peeled
2 cloves of garlic, crushed
1½ cups / 12 fl oz of quality red wine
1¼ cups / 11 fl oz of chicken stock
2 tablespoons of tomato paste
1 bouquet garni (a small bunch of fresh herbs, thyme, parsley and bay leaves)
200 grams / 7 oz of button mushrooms
15 grams / ½ oz of butter
salt and pepper
In a clean plastic bag combine the flour, salt and pepper.
Shake the chicken pieces in the bag to coat, remove and shake off any excess flour.
In a heavy based pan or casserole dish heat 1 tablespoon of oil and half the butter.
Over a medium to high heat cook the coated chicken pieces in batches, adding more oil and butter if required.
The chicken should be almost crisp and well browned all over.
Once browned, remove the chicken pieces from the pan and set aside.
Heat any remaining oil and butter in the pan and add the onions.
Sauté the onions until soft and slightly brown and set aside with the chicken.
In the same pan sauté the bacon and crushed garlic, return the chicken pieces, onions, tomato paste, wine, stock and bouquet garni.
Bring to a rolling boil then reduce the heat.
Cover and simmer on the stove top or place in a moderate oven for 40 minutes.
Meanwhile, clean the mushrooms of any dirt. If they are large cut them into quarters, otherwise add them whole to a hot pan with the 2nd measure of butter and sauté until they also have some good colour.
Stir the sautéd mushrooms through the Coq au Vin and simmer for a further 10 to 15 minutes until the chicken is very tender.
Remove and discard the bouquet garni, bay leaves, etc.
Add salt and pepper to taste and sprinkle with some more chopped fresh herbs if desired.
Serve with the gougère, or some fresh crusty bread and accompany with seasonal vegetables if desired.
Serves 6 to 8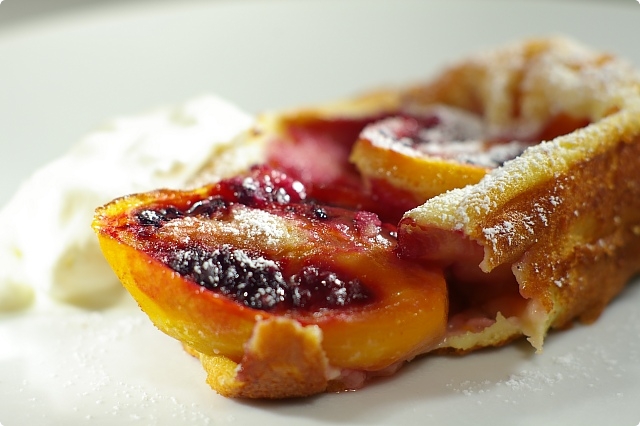 Clafoutis is yet another traditional French classic which is normally made with cherries, however here I offer a tamarillo version. It is basically a pancake batter, similar to a sweet yorkshire pudding batter poured over fruit and baked in a very hot oven until it has risen and turned golden. I use more sugar in this recipe as tamarillo can be quite tart. When making it with a sweeter fruit such as peaches, strawberries I would suggest you use a little less, say 40 grams.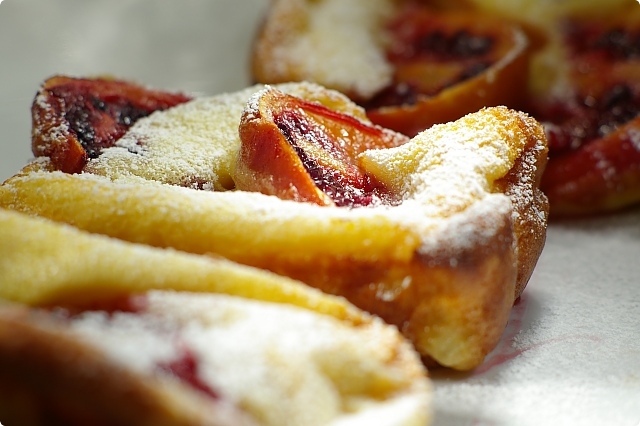 Individual Tamarillo Clafoutis
8 tamarillo, peeled and halved lengthways
200 mls of cream
1 vanilla bean, split
100 mls of milk
1 tablespoon of Kirsch (optional)
60 grams of caster sugar
75 grams of flour
3 eggs
Preheat the oven to 200°C (390°F)
Grease or line 8 individual mini loaf, baking dishes or large muffin pans approximately 1 cup in volume.
Place two tamarillo halves in each dish.
In a small saucepan warm the cream with the vanilla bean and scrapped seeds to infuse, set aside to cool.
Meanwhile whisk together the caster sugar, flour and eggs.
Add the milk and Kirsch to the cream and strain to remove the vanilla bean. Stir the cool cream mixture into the egg mixture and continue stirring to combine.
Pour or ladel the egg mixture evenly over each individual tamarillo dish and bake for 15 to 20 minutes or until puffed up, golden and cooked through.
Dust with icing sugar and serve with a little whipped cream.
Makes 8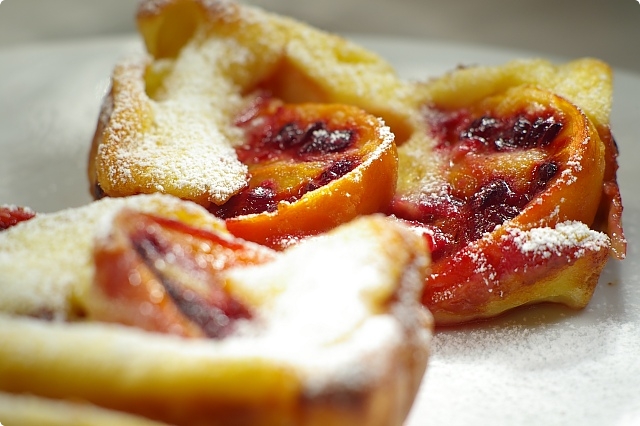 A bientôt


Appetizer Recipes · Blog Recipes · Culture & Tradition Recipes · Desserts Recipes · Fruit Recipes · Fruit & Veges Recipes · Meat Recipes · Wine Recipes · Winter Recipes
Home · About Bron · Portfolio · Recipe Index · Unit Converter
RSS Feed · Atom Feed · Twitter · Facebook · Flickr · Bron's Amazon Store