Sunday 18th November 2012
Baked Potato Samosa with Mint Yoghurt Raita
Feeling a little low and decisively lazy this afternoon as we headed towards the end of our long weekend - it was Canterbury's Anniversary or as it's better known here "Show Day" on Friday.
J was battling a headache, H grotty with hayfever, S just more than a little bored and me quickly coming to the realisation I hadn't achieved near half of the things on my list.
Know that feeling?
Yeah, we needed a little carb comfort and the answer seem to lie in aromatic potato encased in pastry.
In a word... Samosa.
The thought of pulling out the frier and loading it up with oil, (did we even have enough?) was really a turn off, not to mention the lingering smell that would be enviable afterward.
Since our Spring weather seems to be feeling a little low too and the sun decisively lazy, hiding behind a blanket of cold grey cloud I'm not afraid to have the oven on. In fact we are thankful for it's warmth and the baked Samosa.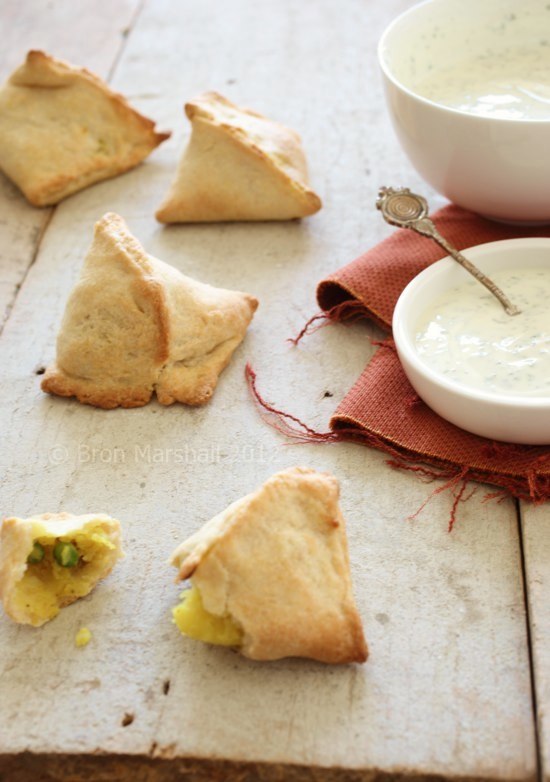 Baked Potato Samosa with Mint Yoghurt Raita
300-400 grams of short pastry, store-bought or homemade
4 to 5 medium potatoes (a starchy variety good for mashing), boiled
25 grams of butter or ghee
1 small onion, finely chopped
¾ cup of peas, fresh or frozen
2 teaspoons of whole cumin seeds
½ teaspoon ground turmeric
½ teaspoon ground cumin
¼ teaspoon chilli powder, optional
salt and pepper
plain unsweetened yoghurt
fresh mint, finely chopped
sea salt and sugar to taste
In a large skillet or frypan sauté the chopped onion in the butter until soft.
Add the cumin seeds and cook for a further minute or so until fragrant.
Sprinkle over the remaining spices and seasonings and stir through to coat.
Add the potatoes and mash them up slightly as you fold them through the onions and spice.
Mix in the peas and a little of the cooking water from boiling the potatoes if it seems and little dry and/or is catching on the bottom of the pan.
Remove from the heat and set aside to cool.
Preheat your oven to 190°C (370°F)
On a lightly floured board roll the pastry into a large square, approximately 4mm in thickness.
Cut the square in half, then cut each rectangle into 6 isosceles triangles.
Take up one triangle, fold back and crease to make a pocket.
Place 3 to 4 tablespoons of the cooled potato mixture, and crease the remaining edges to close the samosa.
Place the Samosa on a lined baking tray and continue shaping with the remaining mixture and pastry.
Bake the Samosa for 15 to 20 minutes until golden.
Serve warm with a spoonful of the yoghurt mixed with plenty of finely chopped fresh mint and a little salt and sugar to taste.
Makes 12
Hope you enjoy them as we did.

Appetizer Recipes · Blog Recipes · Indian Recipes · Pastries Recipes · Potato Recipes · Snack Recipes · Vegetables Recipes
Home · About Bron · Portfolio · Recipe Index · Unit Converter
RSS Feed · Atom Feed · Twitter · Facebook · Flickr · Bron's Amazon Store