Friday 21st September 2012
Ahoy there! Bento Lunch Fit for a Pirate
It's no secret I love to play with my food. Any excuse to play or work with a theme is major fun and something naturally my fairies have inherited and love to do too.
Since Wednesday was
"International Talk Like a Pirate Day"
we designed a little picnic Bento to celebrate.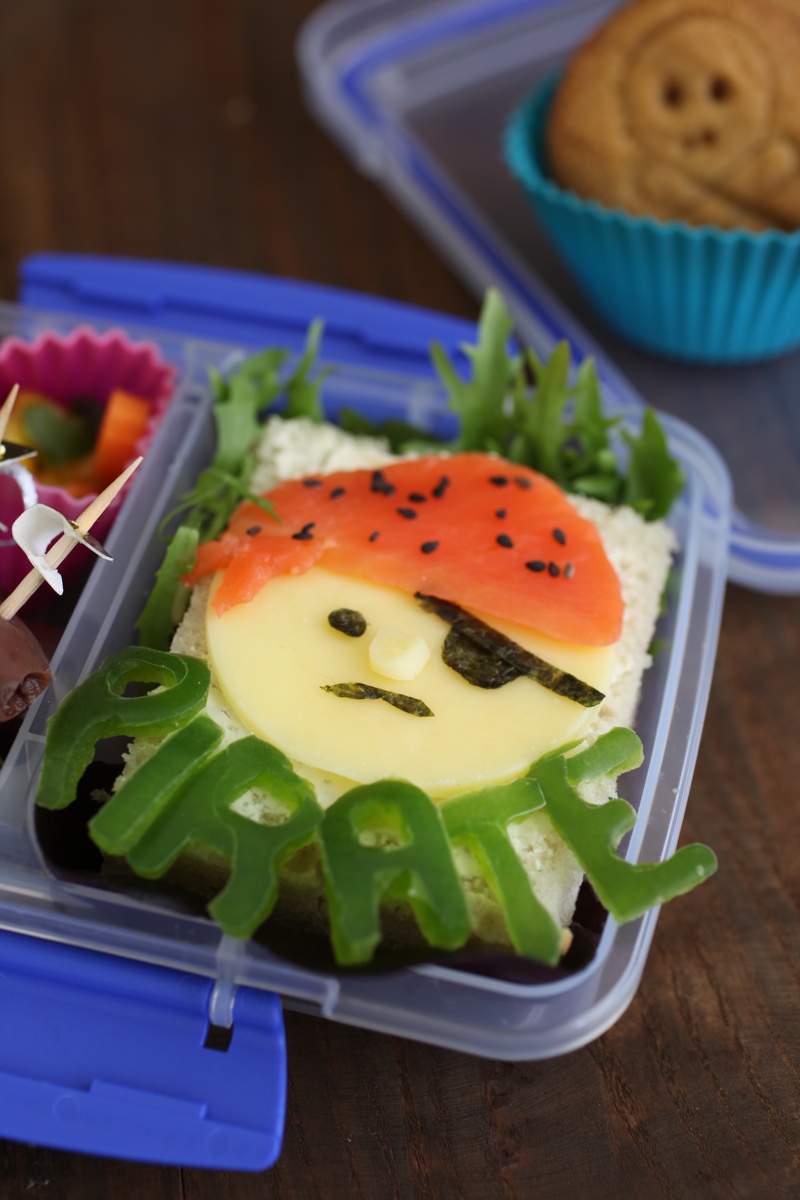 There are so many
amazing
bento
blogs
and browsing
Pinterest
will quickly give you more ideas than you could ever imagine. Many make use of very cool moulds for onigiri and boiled eggs, cute picks and hole punches for making character features.
However you can easily make a
Kawaii Bento
with what you already have in the kitchen, as we do.
(But I'm oh so tempted to splurge on some of cute accessories I see online. Or if any of you know where you can get bento accessories in New Zealand, please, I'd love you to let me know in the comments.)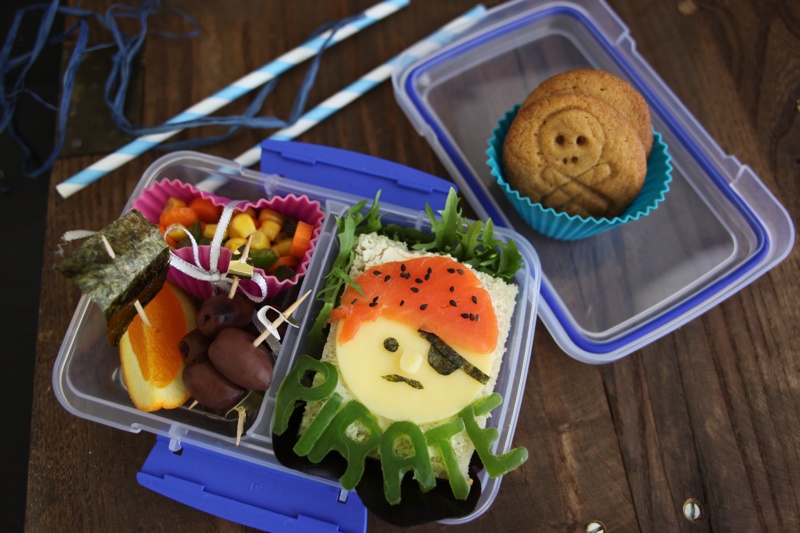 To make our Pirate Bento we used a small twin section lunchbox and lined one side with salad leaves.
Then placed a square of sourdough bread spread with cream cheese on top in the right hand side.
We made the pirate's face with a circle of sliced edam cheese and his bandana is smoked salmon sprinkled with black sesame.
We cut P I R A T E with alphabet cutters in green capsicum and placed small pieces of nori and more cheese to create his features.
On the left hand side we threaded olives onto toothpicks, together with a little metallic card stock we turned the toothpicks into swords.
A wedge of orange made for a boat with a toothpick and nori sail.
We used a silicon cupcake mould to make a treasure chest of gold and gems - frozen corn kernels, carrot and capsicum pieces.
We finished our bento with two of our
All Star Peanut Butter Cookies
embossed with a skull and crossbones design.
Ahoy! Until next time land lubbers!

Home · About Bron · Portfolio · Recipe Index · Unit Converter
RSS Feed · Atom Feed · Twitter · Facebook · Flickr · Bron's Amazon Store