Monday 19th November 2012
Green Grape and Feta Buckwheat Crepes
We had a punnet of green grapes starting to look rather sad on the counter this morning, they needed to be used now or would soon only be suitable as chook food.
Together with a block of feta in the fridge I thought I could assemble a fairly moresh tart for lunch.
On second thoughts as we had
pastry yesterday,
I considered a buckwheat crêpe might be an alternative, lighter base to bake the grape and feta mixture in.
I first sautéed a small red onion in a little butter, (if I had had some nice shallots I probably would have chosen them over the red onion) then added the grapes, some lemon zest and fresh thyme to cook down slowly - you could throw them in the oven to roast instead.
I spooned the mixture into gratin dishes lined with the buckwheat crêpes, crumbled over the feta and drizzled them with a little honey. In hindsight however I think this was perhaps unnecessary with the green grapes already being fairly sweet. Darker, thicker skinned, more sour grapes could benefit more from the honey. I'll leave that decision up to you if you decide to make them.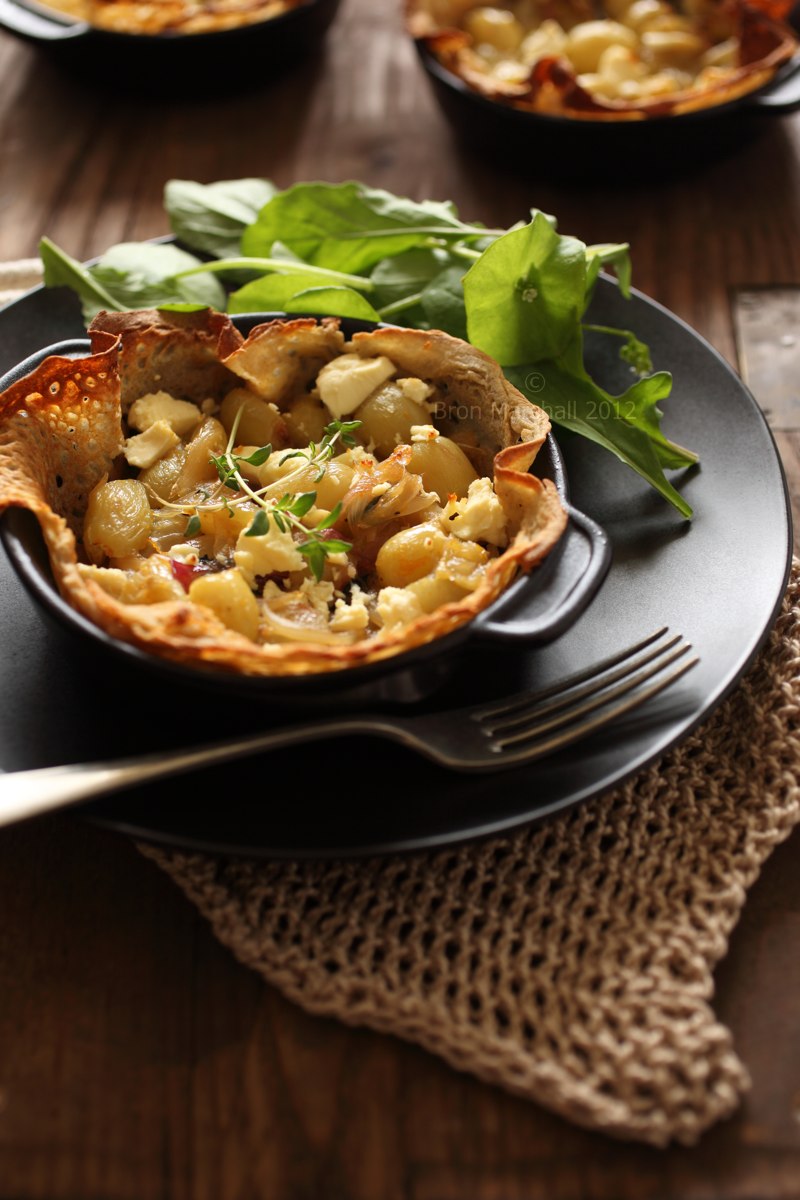 Grape and Feta Buckwheat Crêpes
For the buckwheat crêpes:
½ cup of buckwheat flour
good pinch of salt
1 egg, lightly beaten
1 cup of milk, approximately
butter
For the Grape and Feta filling:
2 cups of grapes, rinsed
1 small red onion, or 2 shallot, finely chopped
20 grams of butter
a few sprigs of fresh thyme
zest of ½ a lemon
salt and pepper
100 grams of feta
2 tablespoons of honey, optional
In a large bowl mix together the buckwheat flour and salt.
Make a well in the centre and add egg, and gradually whisk in enough milk to get a smooth runny batter.
Heat a well seasoned fry pan or crêpe pan and with a little butter cook each crêpe for 1 minute or so on each side.
Preheat your oven to 180°C (360°F)
Line 4 to 6 ramekin or gratin dishes with the buckwheat crêpes.
In a frypan sauté the red onion in butter until soft and golden.
Add the grapes, thyme, lemon zest and a little salt and pepper, cook over a low heat until the grapes are very soft and easily "smooshed".
Spoon the mixture evenly in to the crêpe lined dishes and sprinkle over the feta and honey if using.
Bake for 10 to 12 minutes.
Serve warm with a green salad on the side, makes 4 to 6.
Happy Cooking!

Blog Recipes · Fruit Recipes · Gluten Free Recipes · Grains Recipes · Lunch Recipes
Home · About Bron · Portfolio · Recipe Index · Unit Converter
RSS Feed · Atom Feed · Twitter · Facebook · Flickr · Bron's Amazon Store