Thursday 7th January 2010
Sumac Chicken and Cherry Lettuce Cups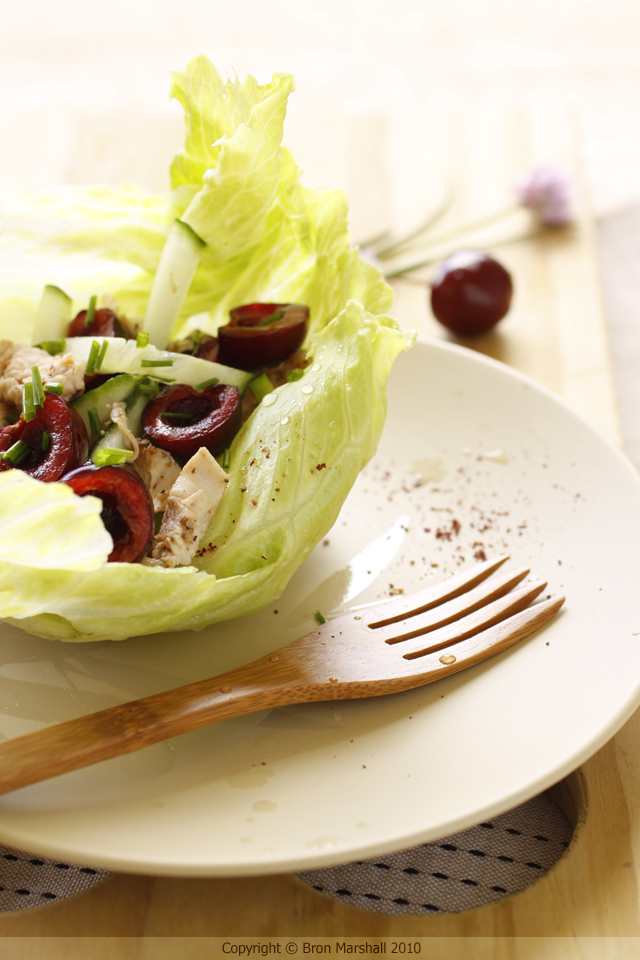 Sumac Chicken and Cherry Lettuce Cups

We often have these types of meals in Summer, filled lettuce cups are always a quick meal, easy enough for kids to prepare with little to no cooking required. They're also ideal for using up leftover barbecued meats, canned fish and we've even been known to fill lettuce with leftover curry or dahl - delish! Together with a multitude of lovely seasonal fruits and salad ingredients.

When I was preparing this particular variation for lunch today, I couldn't help but pop several delicious dark cherries in my mouth. Purposefully sucking the stones until they're completely dry of all their juicy fruit flesh. One after the other, I can't help myself and I never have been able to. I know that for sure, which is why I was immediately reminded of a story when I was pregnant with our first fairy.

We were living in a very small double story apartment, it was early in my pregnancy and we hadn't informed many friends or family of our impending arrival. On this particular day we had friends arrive bringing a basket of delicious Summer fruits from Central Otago, including a generous number of delicious dark Dawson cherries. Me being me, I couldn't help but pop dozens of these little gems in my mouth, one after the other. Very soon, I had to excuse myself from our guests rather promptly as I began to feel greener and greener around the gills, as many women do in the 1st trimester of pregnancy.

Unfortunately the bathroom proved too far as I hurriedly made my way up the stairs and bright blood red juice dripped from my hand covered mouth all the way up and worse all over the carpeted steps. It was then that J obviously knew my departure from the living room was out of character and came to investigate, the poor guy, to this day I have never seen him with a look of such horror!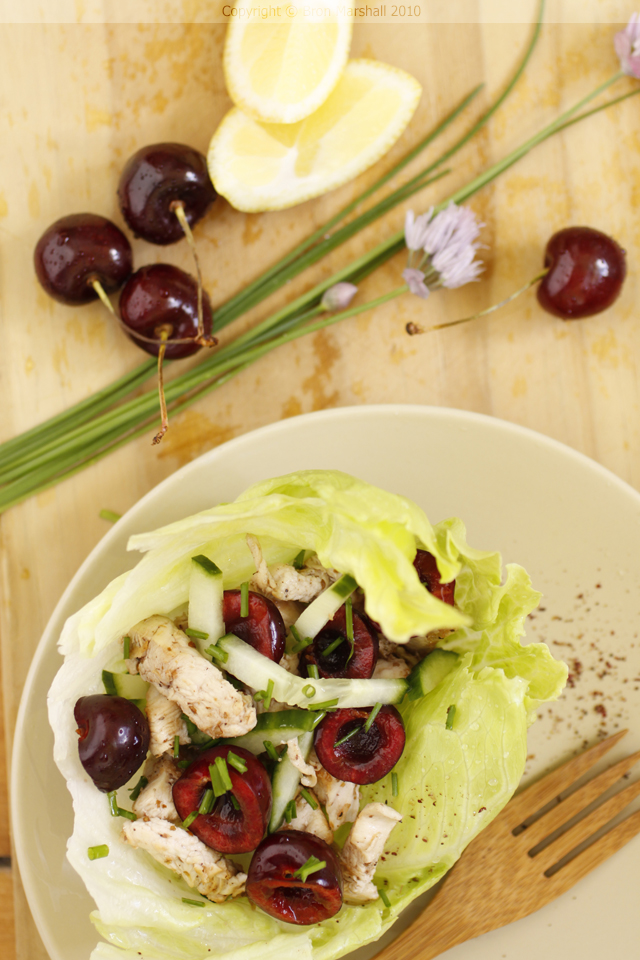 When we were enjoying these together over lunch, I told J how I was thinking of sharing the recipe on the blog, the story and how my delight in Summer's cherries hasn't changed since that fateful day. Asking also whether he thought it was a good idea to share the story.

His reply "hmmm, it puts me off my food!"

I certainly hope it's not the same case with you, as these zesty Sumac Chicken and Cherry Lettuce Cups are really good!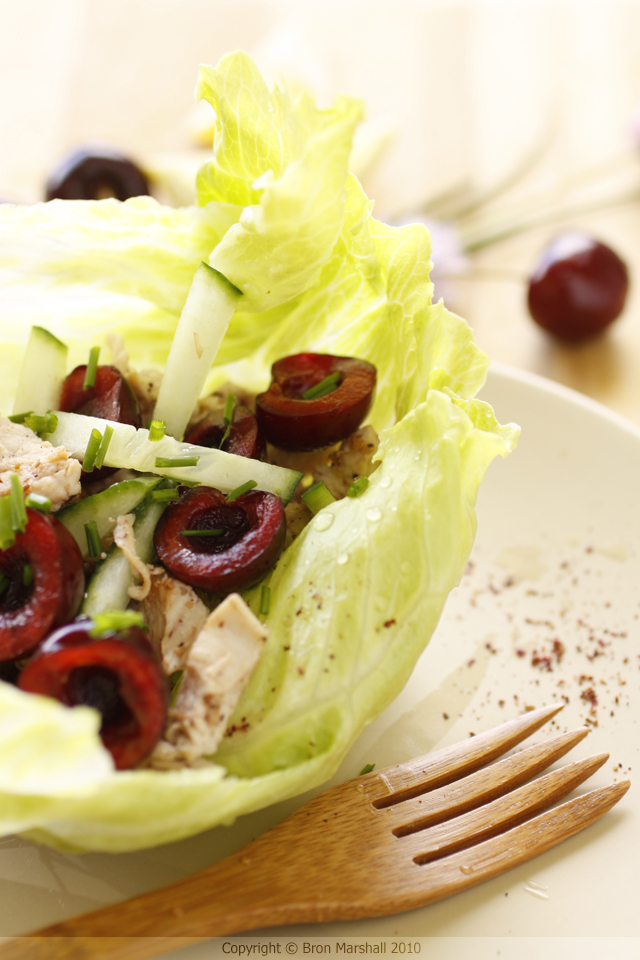 Sumac is a red-ish purple flaked spice from a berry often used in Middle Eastern cuisine, it adds a zesty lemony taste to food. Sprinkling on salads, meats, through rice and or dips such as hummus is popular. The Equa Gold brand can be found in most speciality food stores throughout New Zealand.
Sumac Chicken and Cherry Lettuce Cups
 
600 grams / 1 ¼ lb of boneless chicken meat, thighs or fillets as you prefer, sliced
olive oil
½ teaspoon of sumac
sea salt and freshly ground pepper
200 grams / 7 ½ oz of fresh dark sweet cherries, such as Dawson, halved & stoned
1 small telegraph or Lebanese cucumber, cut into matchsticks
small bunch of chives, chopped
1 crisp iceberg lettuce, leaves separated, thick centre core removed if necessary
lemon wedges to serve
 
In a large skillet sauté the sliced chicken over medium to high heat with a little olive oil until cooked through.
Sprinkle with sumac, sea salt and freshly ground pepper to taste.
While the chicken is cooking assemble the a salad ingredients, and pare away the lettuce leaves to make 'cups'.
Toss together the warm chicken, cherries, cucumber and chives and fill each 'cup' with a generous serving.
Place a 2 to 3 filled lettuce cups on each persons plate, a couple of lemon wedges to the side and sprinkle with more sumac if desired.
Serves 4
 
Enjoy!


Blog Recipes · Fruit Recipes · Fruit & Veges Recipes · Meat Recipes · Salads Recipes · Summer Recipes
Home · About Bron · Portfolio · Recipe Index · Unit Converter
RSS Feed · Atom Feed · Twitter · Facebook · Flickr · Bron's Amazon Store