Monday 2nd February 2009
Summer's Sand & Scoops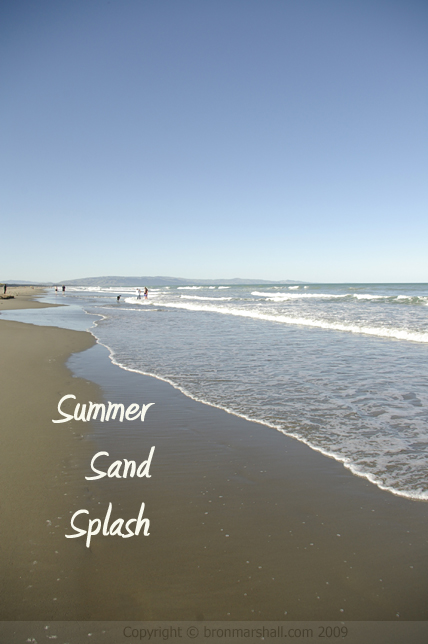 .

I waited a long time for my copy of David Lebovitz's Perfect Scoop, being a fan of David's blog right from it's conception, it truly seemed an age before I finally had more hands on a copy last July.

I did consider buying it from Amazon, however as my last experience receiving a recipe book from them resulted in a less than perfect copy of Peter Reinhart's Bread Bakers Apprentice (several of it's pages were double printed upon with other pages in the book, making it impossible to read whether you were making bagels or cinnamon rolls!) and being on the Downunder side of the Earth with the cost of return freight, it seemed too painful to correct the problem. Anyway I knew David's book had been released in NZ, it was just a matter of time before I found it.

Safe to say, it was worth the wait and I adore my copy of "The Perfect Scoop". It's been our Summer bible, in fact I've even thought of copying Carol Blymire's idea and working through every recipe starting over at the beginning, perhaps next year!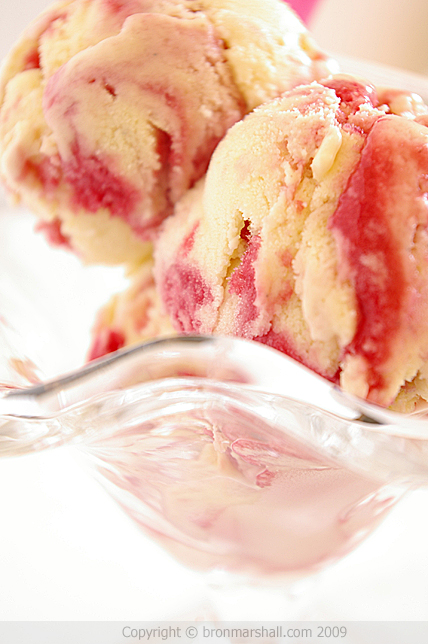 I especially love this, his Toasted Coconut Ice Cream, (page 96) it's so smooth, yet flavourful. As often the thing that puts me off eating coconut treats is the gnawing and annoyance of said coconut grit throughout my mouth. Often for sometime after I've finished chewing and then even more annoyingly settling in every available gap. We paired it with some Raspberry Sorbet made from our very own homegrown raspberries, again like the coconut the little seeds are prone to sticking in your teeth so straining out these little bits really are a key to enjoying this ice cream.

David toasts the coconut in the oven, however I toasted mine in a skillet over a gas flame as I felt I had more control and could see what was happening easier than leaning down into my oven to see. Either way is perfectly suitable and it is as much up to personal preference as good technique. I also exchanged half of the milk in the custard for coconut cream, purely as I had some leftover in the fridge that I wasn't sure what I was going to do with, for sure use 1 cup of milk if you don't have the coconut cream.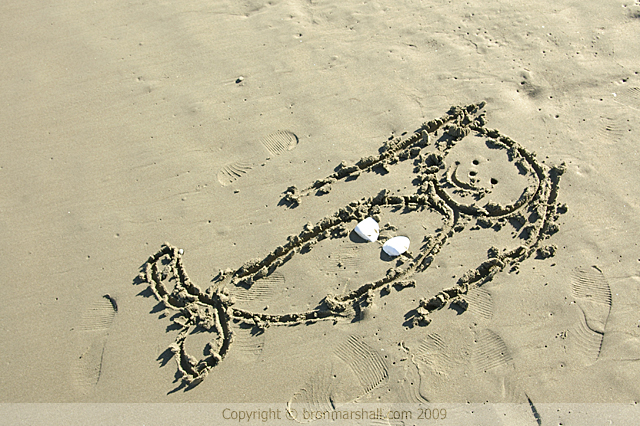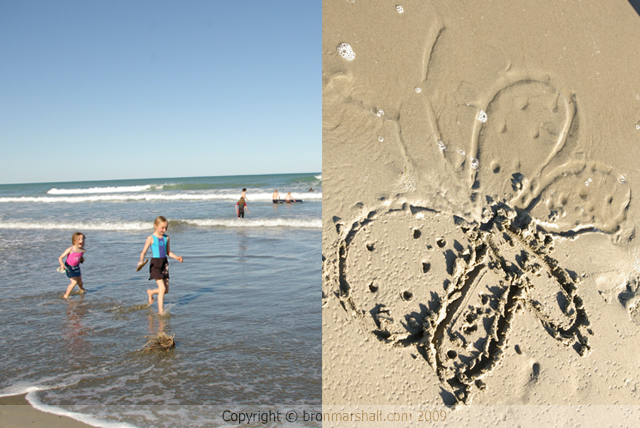 This certainly was the perfect treat to come home to after an afternoon at the beach. Waikuku beach is where we have spent many hours this Summer, improving our tans, sand drawings, sand castle and wave jumping abilities.
True occasionally we also endured a little sand blasting from the Easterly winds and sadly for myself anyway; a rather nasty scrape on the foot walking through the pine plantation behind the sand dunes.
But I digress, all in all most of our experiences were hugely enjoyable and relaxing, exactly as a Summer holiday should be!

Waikuku Beach is a charming little village of Summer holiday homes, batches and cabins, situated approximately 37 kilometres North of Christchurch, NZ and around 30 minutes drive from our place.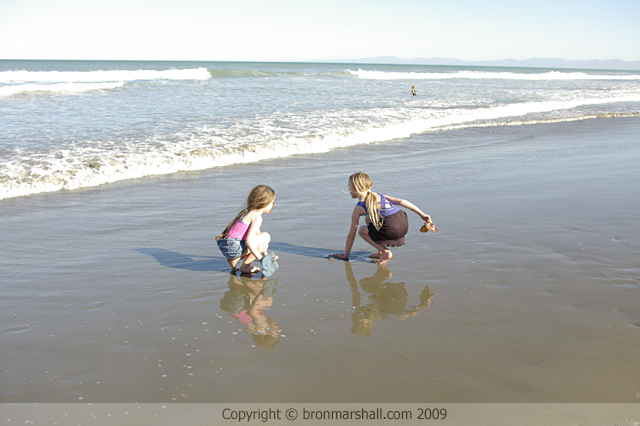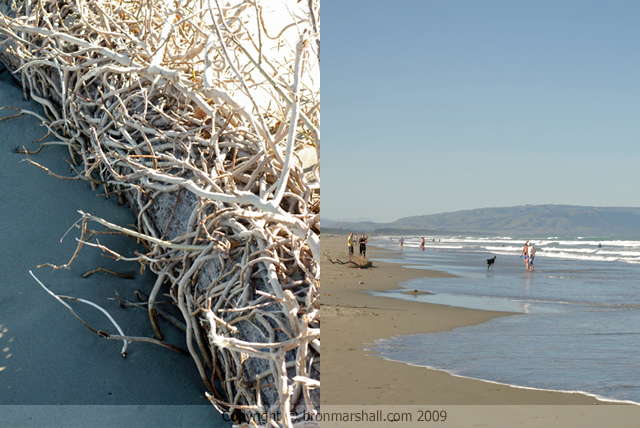 In general I don't take my camera to the beach, as I don't think cameras, lens and sand mix all that well, besides that I don't need or like the added stress of having it with me when I want splash through the waves.
Yet, how could I not share a few snaps of our gorgeous girls and this beautiful, mostly clean and thankfully often fairly deserted soft sand beach on the edge of the Pacific Ocean with you?!

The Perfect Summer Scene to go with a Perfect Summer Scoop!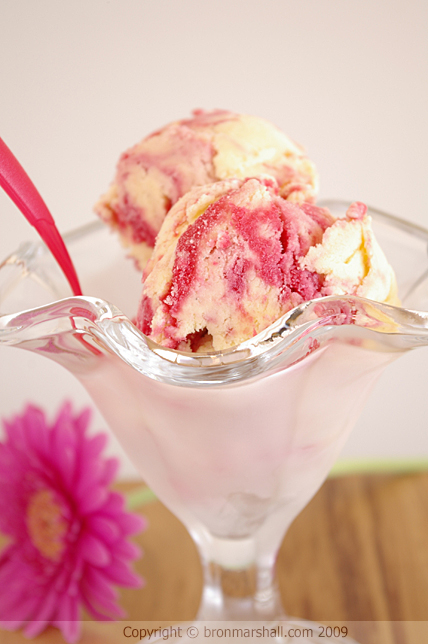 Adapted from David Lebovitz's - "The Perfect Scoop" - Toasted Coconut Ice Cream (Page 96) and Blackberry Sorbet (Page 126)


Toasted Coconut & Raspberry Sorbet Ripple Ice Cream
For the Toasted Coconut Ice Cream:
1 cup (70 grams / 2½) of unsweetened dessicated or dry shredded coconut
½ cup (125 ml / 4¼ floz) of coconut cream
½ cup (125 ml / 4¼ floz) of whole /standard milk
2 cups of (500ml / 17 floz) of heavy cream
¾ cup (150 grams / 5 oz) of white sugar
Big pinch of salt
1 vanilla bean, split in half lengthwise
5 large free range egg yolks
½ teaspoon of vanilla essence / extract
For the Raspberry Sorbet:
4 cups (450 grams / 1 lb) of raspberries, fresh or frozen
1 cup (250 ml / 8½ floz) of water
2/3 cup (130 grams / 4½ oz) of white sugar
2 teaspoons of freshly squeezed lemon juice
Toasted Coconut Ice Cream
Preheat the oven to 175°C (350°F).
Spread the coconut on a baking sheet and bake for 5 to 8 minutes, stirring frequently so it toasts evenly.
Remove it from the oven when it's nice and fragrant and golden brown.
In a medium saucepan, warm the coconut cream and milk, sugar and salt and add the toasted coconut.
Using a paring knife, scrape all the vanilla seeds into the warm milk mixture and add the pod as well.
Cover, remove from the heat and let infuse / steep at room temperature for at least 1 hour.
Rewarm the coconut-infused mixture. Set a fine sieve or mesh strainer over another medium saucepan and strain through the infused mixture to remove the coconut.
Press down on the coconut very firmly with a flexible rubber spatula to extract as much of the delicious coconut and vanilla flavours as possible.
Remove and rinse the vanilla pods - (these can be dried or frozen for a further use, such as vanilla sugar!)
Discard the coconut - or even better feed this to your chooks / hens - they'll LOVE it!
In a separate medium sized bowl, whisk together the egg yolks. Slowly pour the warm coconut-infused mixture into the egg yolks, whisking continuously, then pour in back into the saucepan.
Stir the mixture constantly over a medium heat with a heatproof spatula, scraping the bottom as you stir to avoid it catching, until the mixture thickens and coats the back of the spatula.
Strain the coconut-infused custard into a large clean bowl and add the cream. Mix in the vanilla essence and stir thoroughly until cool with the bowl settled in an ice bath.
Once cool, cover and place in the refrigerator to chill thoroughly for several hours.
Freeze in your ice cream maker according to the manufacturer's instructions.
Raspberry Sorbet
Purée the raspberries in a blender or food processor together with the water and sugar.
Press the mixture through a sieve or strainer to remove all the seeds.
Stir in the lemon juice.
Chill the mixture thoroughly in the refrigerator for at least 4 hours, then freeze it in your ice cream maker according the the manufacturer's instructions.
To make the Toasted Coconut & Raspberry Sorbet Ripple:
Layer softened Toasted Coconut Ice Cream together with the Raspberry Sorbet once it is finished in the ice cream machine.
Making stripes in the container you wish to freeze them, then swirl the two together a little with a clean chopstick or skewer.
Place in your freezer until you are ready to roll and indulge!
Enjoy!


Blog Recipes · Desserts Recipes · Eggs Recipes · Fruit Recipes · Fruit & Veges Recipes · Summer Recipes · Summer 09 Recipes · Tasty Reading Recipes
Home · About Bron · Portfolio · Recipe Index · Unit Converter
RSS Feed · Atom Feed · Twitter · Facebook · Flickr · Bron's Amazon Store